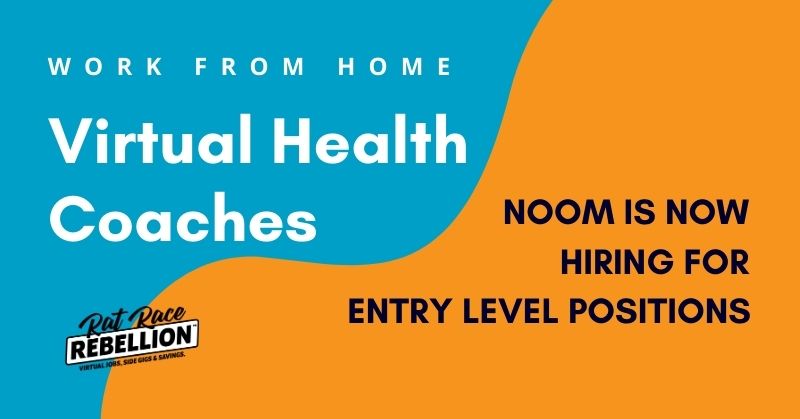 by Chris Durst         Sep. 29, 2020
Noom is seeking ENTRY LEVEL Full-Time Virtual Health Coaches to help their clients create a healthier and happier lifestyle.
They are hiring in many states as long as you live within a 5-hour driving distance of one of their hubs. Please see the location list below.
If you have a Bachelor's Degree OR an Associates Degree plus 2000 of related wellness experience, Noom wants to hear from you.
Pay is not listed in the job ad, however, Glassdoor puts it at about $38,000 per year.
Here's what the company has posted about this opportunity:
We have created a unique and constantly evolving wellness product, so expect to be constantly challenged! Expect to work in a fast-paced environment with constant new challenges to tackle. You are the face of Noom and sit at the intersection between technology, behavior change, and our users. You'll work closely with our users through every step of their journey, helping them identify goals that will allow them to achieve their ultimate healthy lifestyle. Sounds like fun? Read on.
NOTE: THIS IS AN ENTRY LEVEL POSITION
What You'll Do
Walk alongside users as they choose the goals that best fit their health journey
Use Motivational Interviewing to explore user ambivalence through OARS (Open ended questions, Affirmations, Reflections, Summaries)
Learn a ton about behavior change
Hold users accountable to their goals via online communication
Support and collaborate with teammates while also having the autonomy to work independently
Partner with users to establish goals (without prescription) that lead to sustainable, health-related behavior change
Be involved in a fast paced start-up culture where things move quickly and change often.
Who You Are
You have either a Bachelor's Degree OR an Associate's Degree plus 2000 hours of related wellness experience (Health Coaching experience a plus!)
You are very tech-savvy, reliable, and are excited by fast-paced change
You are EXTREMELY organized and can work autonomously
You love driving people to reach their goals
You understand that health looks different for everyone
You have some knowledge of Motivational Interviewing
You have openness and enthusiasm to continuously improve upon, learn more about, and regularly apply skills that are valued in your work
You love learning more about your users – using qualitative and quantitative means
You have a strong interest in behavior change
You are someone who is flexible and who puts the needs of our users first – no pre-set plans here!
Recent grads welcome! This is a great opportunity for those looking for behavioral health/lifestyle change experience
How Coach Hiring Works
We're always looking for talent to join our next training class of Noom coaches. That said, there are a limited number of positions open at any given time. These openings are based primarily on the growth of our user base and training class availability.
In order to continue meeting the best coaches possible we interview candidates on an ongoing basis. If there are no positions available immediately, we place high-performing candidates who pass our initial interview rounds on a waitlist. As positions become available, we'll reach out with the next steps.
Notes
At this time, we do not offer a work visa (such as H-1B, etc.) sponsorship.
This is a Full-Time Remote Role. Therefore, the benefits will have a slight variation from the Full-Time Regular benefits posted on the Noom Career page.
PLEASE NOTE:
We require coaches to meet two criteria: 1. Live within a state we hire from 2. Live within a 5-hour drive of one of our hubs. See the lists below.
1. We are currently ONLY hiring for remote positions in the following states:
Arizona
Colorado
Connecticut
District of Columbia (Washington DC)
Florida
Georgia
Illinois
Indiana
Kentucky
Massachusetts
Maryland
Michigan
Minnesota
Missouri
North Carolina
New Jersey
Nevada
Ohio
Oregon
Pennsylvania
South Carolina
Tennessee
Texas
Virginia
Vermont
Washington
West Virginia
Wisconsin
2. We are currently ONLY hiring for remote positions coaches who live within a 5-hour drive from the following hubs. Please, note that even though New York City is one of our hubs, we are not hiring from New York State (including New York City).
Atlanta
Chicago
Columbus
Denver
Houston
Las Vegas
Minneapolis
New York City (*** Please note we are not hiring from New York State including NYC)
Nashville
Orlando
Phoenix
Portland
Raleigh"
CLICK HERE for full details and to apply. For more jobs like these, check our Newest Jobs & Gigs page. To be the first to hear about jobs like these, like our Facebook page and check your feed for our posts. May you be working from home soon!
PLEASE SHARE this post – turn your friends into Rat Race Rebels!