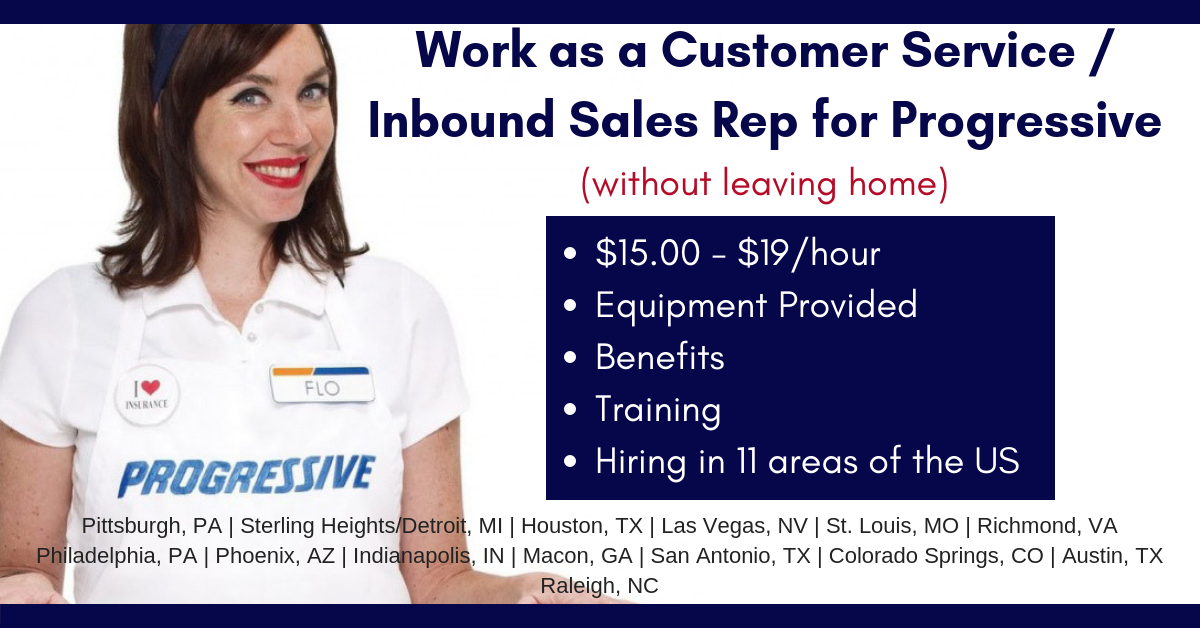 by Chris Durst Oct. 29, 2018
Progressive, one of the largest providers of car insurance in the United States, is now hiring work from home Inbound Sales Representatives.
You must live within 60 miles of one of the following areas:
Pittsburgh, PA
Sterling Heights/Detroit, MI
Houston, TX
Las Vegas, NV
St. Louis, MO
Richmond, VA
Philadelphia, PA
Phoenix, AZ
Indianapolis, IN
Macon, GA
San Antonio, TX
Colorado Springs, CO
Austin, TX
Raleigh, NC
If you (or your friends and family) live in any of these areas, these opportunities are well worth looking in to. TRAINING STARTS SOON – APPLY QUICKLY!!
The pay is $15 – $19 an hour, the company provides all of the equipment you'll need, and training is paid and virtual. (But note — you'll need an "active insurance license" for these roles!)
Here's what they say on the Progressive site:
We are seeking those that have an active insurance license to join our team as an inbound sales rep working remotely from your home. On our team, you'll be taking inbound calls from customers interested in buying insurance. NO COLD CALLING!
We'll provide you with office equipment and training virtually so that you can feel confident you're providing the best possible customer service while still in a work from home environment. As the voice of Progressive to our customers, you'll explain policy coverage and sell insurance products and services. You'll have the support of a virtual, collaborative team, which includes ongoing coaching and development.
Pay Rate: $15.00 -$19.00 per hour, plus:
$500 Property & Casualty or Personal Lines license sign-on bonus!
Additional 10% shift differential pay when you work evenings or weekends
Top performance awards and contests with cash payouts
Annual gainshare bonus of up to 16% of your salary! Our bonus program rewards each of us based on company performance
Duties & Responsibilities:
Build trust by understanding the unique needs of our customers, and resolving those needs effectively and efficiently
Help customers with insurance needs like adding/deleting vehicles and drivers from policies, or processing renewals, cancellations, reinstatements, and payments
Qualifications:
Must live within 60 miles of the listed city
One or more years of college education or relevant work experience
Work or educational experience must include:

Customer service, sales and/or influencing others
Fast paced and changing environment
Multitasking and time management skills
Effectively communicating verbally and in writing
Computer skills
Prefer previous remote work experience and/or contact center experience
Benefits & Perks:
As one of the largest auto insurance companies, Progressive offers the confidence and stability that comes with working for a growing, always evolving organization. As an employee, you will enjoy an inclusive culture that embraces strategic thinking, drive and passion. Progressive employees also benefit from:
Paid training, tuition assistance and career development
Diverse, welcoming team with Employee Resource Groups
Wellness program with discounts & rewards
Standard benefits (medical, dental, vision)
401k which includes dollar-for-dollar company match of up to 6%
Work From Home Office Details:
Designated workspace that is free from noise and other distractions and allows for dedicated focus
Remote office internet connection should be via DSL or Cable Modem with minimum speed of 1mbps down and 0.5mbps up.
Your computer or router should be physically connected to the modem by a cable. No wireless connection
All Progressive hardware you receive needs to be connected to a surge protector
For more, and to apply, please visit the link associated with your location:
Inbound Sales Reps
To be the first to hear about work from home jobs and side gigs, like our Facebook page and check your feed for our posts. Good luck in your work from home plans!
PLEASE SHARE this post – turn your friends into Rat Race Rebels!