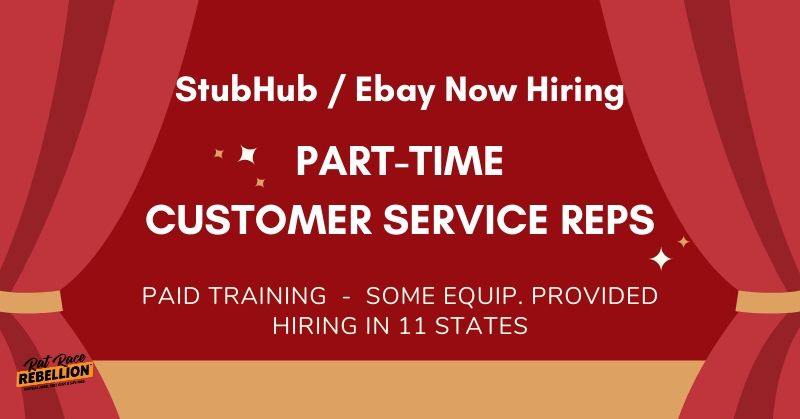 by Chris Durst            Feb. 25, 2020
StubHub (owned by eBay) is now Part-Time Customer Service Reps in MA, CO, WA, PA, NJ, MD, UT, CT, TX, FL, and IL.
Training is paid and delivered online. StubHub will provide a standard phone and headset for taking customer calls.
Here's what they have to say about this role:
"Are you ready to help us connect with fans around the world, from the comfort of your own home? You'll have the flexibility and the convenience of working from home, supporting our fans by answering questions and resolving issues via phone/chat.
Additionally, you will have the opportunity to support and engage with our fans face to face at live events!
Work-From-Home
You'll work where you live. You'll need a private secure space or room with a door, away from noise and distractions, and your own computer, wired internet and landline. Specific requirements outlined below.
Part-Time Schedule
You'll choose your own schedule from a block of available hours, working around your other responsibilities. Ideal for stay-at-home parents, care-givers, those who are home-bound, retirees, college students, veterans, military spouses, or anyone looking to work part time.
You are able to provide StubHub a minimum of 25 hours of availability, within the following days/hours:
Mon-Fri 8am – 12 noon EST and 6pm – 12am EST
Sat/Sun 8am – 11pm EST
With a minimum of 4 hours available on weekends (either Sat/Sun)
More availability during weekend days/hours always appreciated
Based on the availability you provided, you will be scheduled for a minimum of 10 hours per week – maximum flex up to 16 hours per week

Training
You'll get paid as you learn StubHub technology and tools, as well as our approach around connecting with our fans. Training is online, guided by live instructors. Training is five weeks, training hours are: 9:00 AM – 3:30 PM EST.
Support & Connection
You will be supported by a team of Coaches, Team Leads, and Supervisor who will work with you every day to help you succeed. You will have daily connection to your support team as well as your team mates via online video and chat tools, team meetings and video conferences.
You Are:
Passionate about sports, entertainment and attending live events
You are tech-savvy, motivated and self-disciplined and thrive in a home office environment
A proven track record of 2+ years customer service experience (call center preferred but not required)
What You'll Get:
10-15% Evening/Weekend Differentials
Yearly Performance Raises
$200 StubHub Credit Per Year
Continued Career Development & Opportunity
Employee Discounts
Are you interested in joining an ambitious and close-knit team dedicated to solving meaningful customer problems? Your work will have a significant impact on the business, and help spread the joy of concerts, theater, and sports around the world.
We love creating opportunities for others by connecting people from widely diverse backgrounds, perspectives, and geographies. So, being diverse and inclusive isn't just something we strive for, it is who we are, and part of what we do each and every single day. We want to ensure that as an employee, you feel StubHub is a place where, no matter who you are, you feel safe, included, and that you have the opportunity to bring your unique self to work."
Click here for full details and to apply. For more jobs like these, check our Newest Jobs & Gigs page. To be the first to hear about jobs like these, like our Facebook page. Good luck in your work from home plans!
PLEASE SHARE this post – turn your friends into Rat Race Rebels!