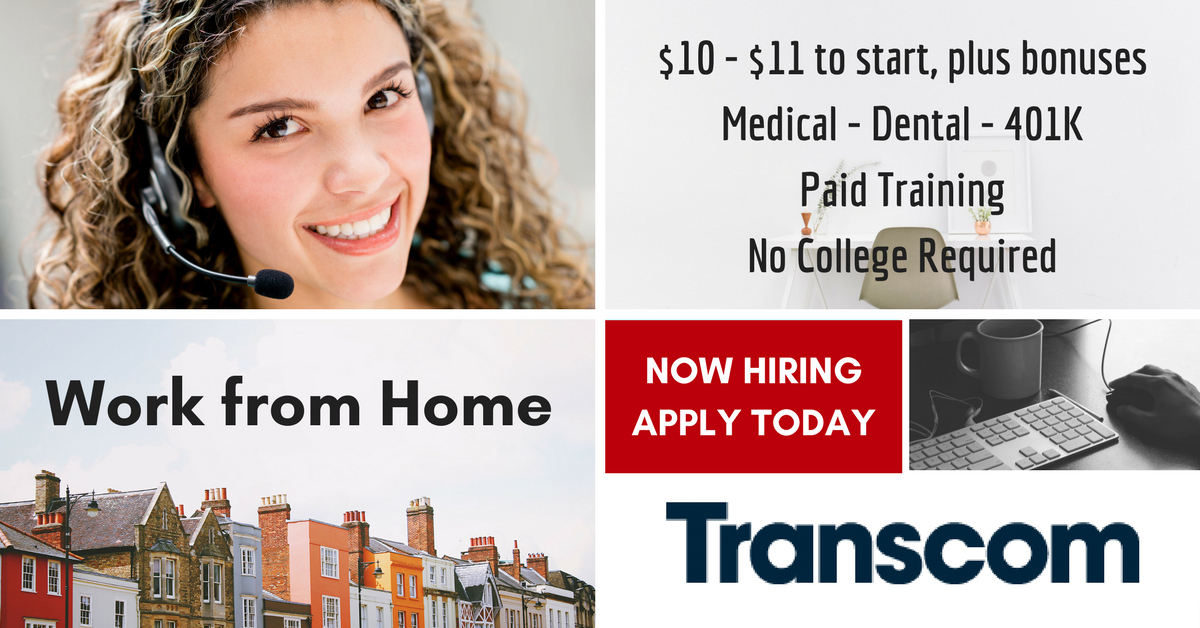 by Chris Durst      July 26, 2017
Before I launch into this post, let me preface it by noting that, while the position is "Tech Support" in nature, you need not be an IT professional to qualify! So, read on, you may be more qualified than you realize!
I recently spoke with Christine Koter, US Home Agent Recruiter at Transcom, and learned that the company is hiring for over 1,000 At Home Technical Support Customer Service Agents positions.
Here's the "inside scoop" for our Rat Race Rebels (and those you love enough to share with)!
        AT A GLANCE – The details you want the most, all in one place! 

Work Status:
Employee
Pay Rate:
Starting pay is $10.00 – $11.00

*

plus awesome bonus payouts​

* If you are offered the job, you will be given a choice between:

1. "Full-Time Regular Employee" which starts at $11.00/hr (.50 increase and eligibility for benefits at 60 days); OR

2. "Temp to Hire Employee" which starts at $10.00/hr (.25 increase after 60 days and again every month after until month six (6) when you will reach $11.50/hour, and receive a $1,000 bonus, and become eligible for benefits.

Pay Frequency:
Bi-Weekly via direct deposit
Hours:
Full-time with a variety of shifts
Benefits:
Medical, dental, 401k: multiple options catered to the individual
Training:
Four (4) weeks paid online training
Education:
High School Diploma/GED​
Advancement:
Many advancement opportunities – the company frequently promotes from within based on performance
Hiring In:

34 US states AL, AR, AZ, CO, FL, GA, IA, ID, IL, IN, KS, KY LA, MI, MN, MO, NC, ND, NE, NH, NM, NV, OH, OK, PA, SC, SD, TN, TX, UT, VA, WA, WI and WY.
---

About The Position
We learned from Christine that, "Ideal candidates will be tech-savvy and possess an expanded level of troubleshooting technique and have the ability to provide excellent customer service and technical support to one of our renowned clients."
We also learned that the position is full- time with benefit enrollment options.
Candidates should be available to work evenings, weekends, split shifts and holidays. New hires are paid a competitive hourly wage regardless of call volume and a comprehensive benefits package.  Transcom offers a paid training program via means of a virtual classroom in your home. Pay starts at $10.00 – 11.00 per hour plus incentives (please see the "At a Glance" box above for details).
Required Skills:
Experience with products or computer based personal content management applications
User-level knowledge of computer technology, personal computer or other devices
Ability to identify and describe the function of major hardware computer components.
Experience with Mac OS X or Windows, web browsing, Email, various software applications and common files
Ability to install and remove applications
Previous call center experience
Great customer service and are courteous, friendly and have a professional manner
Able to listen to customer needs and demonstrate empathy
Willingness to follow procedures and adhere to policies
Strong written, verbal communication and organizational skills
Sufficient skills in understanding training material in both written and verbal format
Have the ability to multitask
Enjoy working in a fast paced environment
Ability to remain calm and focused in stressful situations
Complete schedule flexibility, including overnight schedules, weekends, holidays and split shifts.
Strong attendance record
HS Diploma or equivalent
Regarding your home office set-up, this position requires that you have:
Internet access via DSL or cable modem (Dial up, Wireless or Satellite internet service cannot be used) with the minimum download speed of 5 Mbps and minimum upload speed of 1000 Mbps
A dedicated analog phone line to use for this position (must be an Analog land line; not VoIP or digital) and/or a computer that meets minimum requirements may be required depending on client
Quiet work environment without any conflicting responsibilities during your scheduled work shift  (Conflicting responsibility may include caring for a family member)
Successfully pass a criminal background check and employment verification
Click here to apply for this position. For more jobs and gigs like these, see our Newest Jobs & Gigs page. To be the first to hear about jobs like these, like our Facebook page, and check your feed for our posts.

PLEASE SHARE this post – turn your friends into Rat Race Rebels!