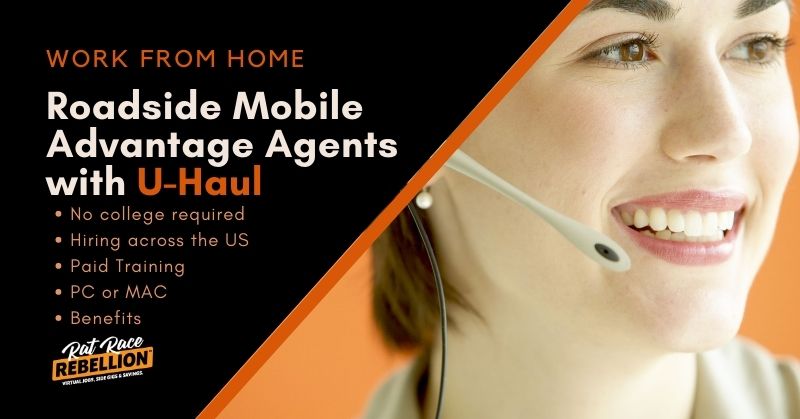 by Chris Durst       Mar. 29, 2021
U-Haul has posted openings for part-time work from home Roadside Mobile Advantage Agents. While you do NOT have to live in Arizona, you do have to be available to work AZ time zone hours.
Pay is not listed in the job posting, however, we've heard from many RRRebels who currently work in this role — some report making over $14/hour while others report a starting rate closer to $11/hour.
They also offer some benefits to their part-time employees, including Medical Reimbursement Indemnity Plan, Rx Savings Plus Discount Plan, Dental Plan, Vision Plan, Retirement Savings 401(k) Plan.
Training is virtual and paid.
Here's what the company has posted about this opportunity:
"Do you enjoy working with people in a fast-paced environment? If so, consider a work from home position as a Roadside Mobile Advantage Agent! This is a part time position working from home or in office.
Roadside Mobile Advantage Agents take back-to-back files submitted online from customers needing immediate assistance. Agents handle online roadside requests and initial outbound calls to customers and roadside assistance service providers (occasionally take inbound calls). U-Haul Roadside Assistance works hard to ensure our customer's safety and experience is handled with professionalism, care, and support. At times, unexpected hurdles arise that warrant our Roadside Assistance team to step in and guide our customers back en route to their destination.
Agents are expected to follow established methods and procedures, handle all files and calls expediently and efficiently, meet all the quality-related metrics and goals, and above all act in a courteous and friendly manner while servicing the customer.
This job might be for you if:
You enjoy helping people and problem-solving.
You like a fast pace starting day one and staying busy every day.
You enjoy working closely with your manager and receiving daily feedback.
You are comfortable learning and using multiple computer programs.
U-Haul offers its Roadside Mobile Advantage Agents:
Train and work from home – various schedules!
Contact center career path available including work from home!
Hourly base, no bonus.

Opportunity for base pay merit increases based on performance
Part-time benefits include:  Medical Reimbursement Indemnity Plan, Rx Savings Plus Discount Plan, Dental Plan, Vision Plan, Retirement Savings 401(k) Plan
Minimum Qualification:
Intermediate keyboarding and computer skills
Ability to navigate and use multiple computer programs at once
Work under pressure
Excellent verbal communication and listening skills
Clear speaking voice
General knowledge of U.S. geography
Willingness to incorporate feedback to constantly improve performance
Training and Education Explained:
Fast-paced, hands-on education working with your manager from day one.
Self-paced education at our very own U-Haul University online.
Learn and begin performing some of your job duties with customers the first week.
Build on your skill-set through on-the-job, continued education.
Begin performing additional job duties with the customer as you learn them.
Scheduling Requirements
Total number of hours scheduled each week will be based on business need.
Be available to work between 12pm-6am (all in Arizona time).
Must be available to work Friday, Saturday and Sunday (three eight-hour shifts scheduled).
Working holidays is required. We are open and customers need our help.
A note about how we schedule:  Availability to work that aligns with the business need may increase the opportunity to be scheduled more hours.  We pride ourselves on being flexible with schedules, especially for students and teachers. However, if availability to work does not align with the needs of the business the result may be less hours scheduled.
The following is required to work from home:
You must have a quiet, private work area.
Dependent and child-care arrangements must be made as if you were working at a U-Haul site.
All work duties including education must be performed at your home address.
If you want to switch or substitute computers at any time, manager approval is required in advance."

CLICK HERE for full details and to apply. For more jobs like these, check our Newest Jobs & Gigs page. To be the first to hear about jobs like these, like our Facebook page. And if you'd like to see more Customer Service Agent positions, check our Customer Service Jobs page. Good luck!
PLEASE SHARE this post – turn your friends into Rat Race Rebels!