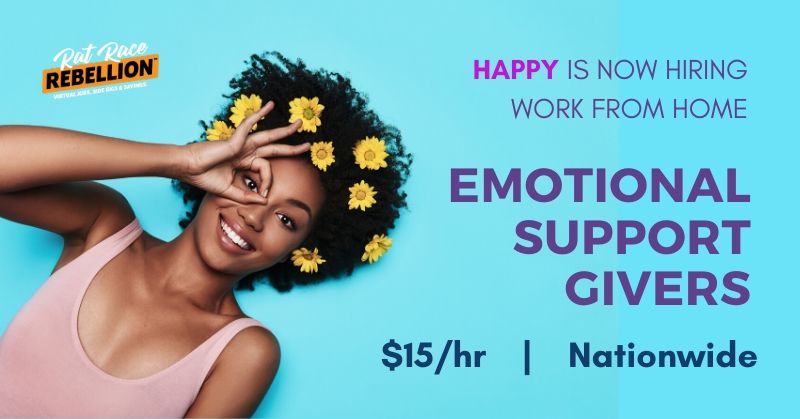 by Chris Durst         Nov. 25, 2019
Happy, an app that's been vetted by the American Heart Association and Mental Health America, is seeking Emotional Support Givers for their users.
If you are a compassionate and empathetic listener who can ask good questions, and validate and acknowledge callers' experiences without giving advice of any kind, you might be a great fit for the role.
College not required, but you do need to be people-oriented, dependable and adaptable.
Here's what the company has to say about this opportunity:
At Happy, we are changing the conversation about how our country addresses mental health and wellbeing. Everyone during their life journey goes through tough times – sometimes we have trusted people in our life to talk it through, and sometimes we don't. We are dedicated to giving everyone access to a trusted, compassionate ear, someone who is there to simply listen and provide support in a time of need, whether that be dealing with a relationship loss, job change, parenting struggles, feeling alone or just the everyday stresses of life that can get to us all from time to time.
Happy connects with our customers using a mobile app where users connect with our Support Givers when they need someone to talk to, day or night. If you like to genuinely help people and are really good at listening, at simply being there to support someone in a time of need, and you have an iPhone, read on.
Required Experience:
We are looking for exceptionally compassionate people who are incredible at being present and caring for others through non-judgemental support with the ability to demonstrate skills to inspire, lift up and create a positive user experience for our customers
Minimum education is a high school diploma or GED equivalent, but we do prefer some level of college or post-secondary education or training
We strongly encourage those who have limited or advanced healthcare or clinical backgrounds, ranging from registered nurses or social workers to individuals with previous experience as a peer support specialist, health coach or care coordinator or who have worked in community social services or a health care-related setting to apply.
The ideal candidate is someone who can state that they have been performing this role for friends and family for a long time and that is just something they do for anyone they come into contact with. You will have a comfortability talking to strangers and quickly creating authentic connection and digging deep into the unique story of every caller. Our Support Gives report a natural calling to support others in the most non judgmental way possible and really holding unconditional space for everyone to be heard and see as they are.
We are looking to hire natural fits to this role and those willing to follow guidelines for the execution of truly quality emotional support. We are always seeking to create a diverse team and welcome all backgrounds, ages, life experiences and capabilities, including and honoring veterans of the military services.
Do not let anything stop you from applying for this incredible position. If you have a passion in your heart for helping others and for what we do at Happy, we want to talk to you. We humbly invite all to apply that are called to shifting the culture of support, one compassionate call at a time.
Application Process and Minimum Requirements:
Please complete our Initial Screening
Background checks are performed on all applicants
To be a Support Giver, you will need an iPhone 6 or higher at the minimum
We are not yet available to support the use of Android on the giver side
Ability to commit to 20 hours per month and be on our call schedule rotation
Attend weekly and monthly support and educational sessions with our Support Team
Compensation: $15/hour per hour, paid weekly. For those that excel in their position and have additional layers of support to offer the mission, internal company positions may also be available.
Job-Type: Part-time, [contract], work at home position. Due to the remote nature of the position we are hiring all across the United States, building compassionate teams in every city in the US.
This Job Is Ideal for Someone Who Is:
Dependable — more reliable than spontaneous
People-oriented — enjoys interacting with people and working on group projects
Adaptable/flexible — enjoys doing work that requires frequent shifts in direction
Click here to apply or here to learn more about the app and company. For more jobs and gigs like these, see our Newest Jobs & Gigs page. To be the first to hear about jobs like these, like our Facebook page, and check your feed for our posts.
PLEASE SHARE this post – turn your friends into Rat Race Rebels!