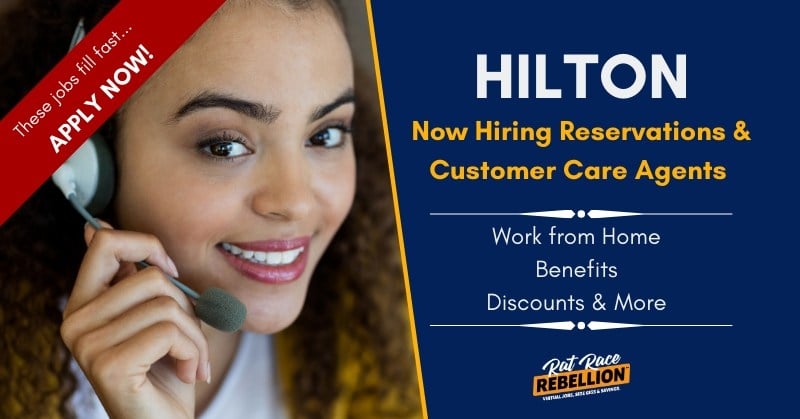 by Chris Durst       Dec. 2, 2019
First things first – THESE JOBS FILL QUICKLY so don't dawdle if you're interested.
Hilton is hiring Full-Time Remote Sales and Customer Service Representatives for its Hilton Reservations and Customer Care (HRCC) Team. This role involves helping Hilton guests with their reservations and handling customer service issues.
They are currently hiring candidates in 28 states across the country, including: Alabama, Arkansas, Delaware, Florida, Georgia, Idaho, Indiana, Iowa, Kansas, Kentucky, Louisiana, Michigan, Mississippi, Missouri, Nebraska, New Hampshire, New Mexico, North Carolina, Ohio, Oklahoma, Pennsylvania, South Carolina, Tennessee, Texas, Utah, Virginia, Wisconsin and Wyoming. If you don't live in one of these states, we encourage you to share with a friend who does! (Sharing is caring!)
Here's what the company has to say about this role:
"What will you do?
In this role, you'll be a critical part of Hilton's industry-leading guest experience, all from the comfort of your own home. You will be part of a talented team that interacts with guests to provide personalized solutions to their travel needs through reservations sales and customer service.
Why should you join TeamHilton?
When you work for Hilton, you enjoy:

Meaningful work that positively impacts the guest experience
Enhanced family-friendly benefits, including expanded parental leave, adoption assistance, extended bereavement leave
401K Matching
Exclusive, discounted rates at Hilton properties around the globe through the Go Hilton Program (search #GoHilton and #HiltonWorkPerks on Instagram to see how Hilton's Team Members are using this benefit!)
What are we looking for?
The success in this role will demonstrate itself through the following attributes and skills:
You think and act independently, use good judgment, and build rapport with customers.
You deliver great customer experiences, thrive in a virtual environment, and are invigorated by constant personal interaction.
You are willing to learn and embrace Hilton values and HRCC tenets, which guide our unique style of service.
You take ownership, are accountable, and take initiative.
You are high-energy, positive, and have excellent communication and active listening skills, including speaking, reading, and writing fluently in English.
You possess strong sales and service skills and can influence customers.
You have the ability to support a flexible working schedule.
You can set up job related computer equipment, run various computer programs, troubleshoot, and fix issues independently. You are accountable for downtime related to technology issues and report outages in a timely manner.
How much money can I make while working from home?
The base pay for this position is $11.00 per hour. Upon successful completion of training, you will also be eligible for our incentive programs. Incentives are paid monthly and, once you are fully up to speed after training, can expect an average incentive payout of $250 per month in the first year. Our incentives are based on individual performance in both sales and partner transfers. Individual incentive payouts will fluctuate up or down based on business seasonality and personal performance.
To fulfill this role successfully, you must possess the following minimum qualifications and experience:
High School Diploma/GED
Three (3) years' job experience in a consultative customer service oriented and/or sales role
One (1) year of successfully meeting specific metrics/goals in a performance-driven role, including high customer satisfaction scores, negotiating, overcoming objections, and/or up-selling and cross-selling
It would be advantageous in this position for you to demonstrate the following capabilities and distinctions:
For work-at-home positions, have previously held a work-at-home job
Experience with virtual training, which required you to complete self-paced modules
Prior experience in the hospitality industry
Next Steps
After submitting your application, if your qualifications meet our requirements, you will receive a text message from Ally, our Virtual Recruiting Assistant, providing further details regarding the position and a link to complete a HireVue video interview. Please also check your email, including Spam folders, for application status updates.
NOTE: There is a HIGH VOLUME of interest in these remote roles. Apply ASAP to remain competitive."
Click here for more and to apply. For questions, please contact [email protected] or visit jobs.hilton.com. For more jobs like these, check our Newest Jobs & Gigs page. To be the first to hear about jobs like these, like our Facebook page.
PLEASE SHARE this post – turn your friends into Rat Race Rebels!