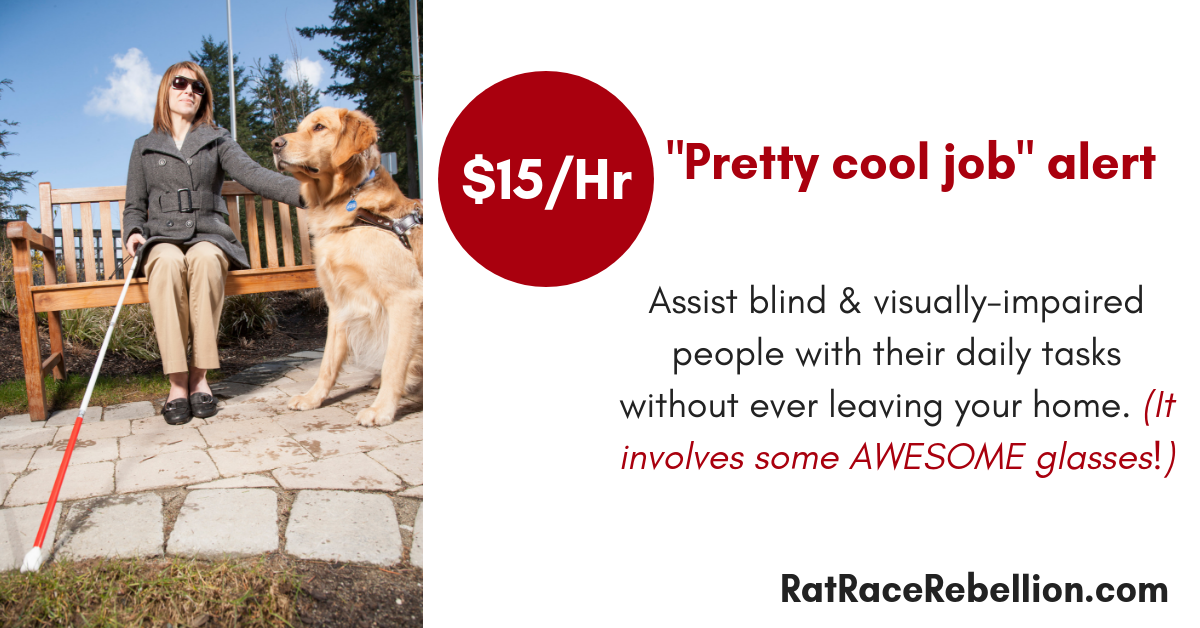 by Chris Durst      Mar. 11, 2019
Work from Home Jobs – Assist Blind and Low-Vision People Remotely – No State Hiring Restrictions Mentioned – Training Provided
In our opinion, this is a pretty cool work from home job!
Aira has developed glasses that have a webcam and audio built into them. People who are blind or have low vision wear the glasses and, when they need help, they push a button and YOU SEE what's in front of them.
Now you, as an Aira Agent, can help them with shopping, reading email or computer screens, identifying obstacles on walking routes and helping them change their course to get around them, and so much more. No state hiring restrictions mentioned. Training provided.
A note on pay and status — When we first posted about this job last year, Aira's job listing mentioned a pay rate of $15/hr. The new listing doesn't mention pay. We assume it's still $15, but will update here if we hear anything different. These positions are independent contractor rather than employee, so no benefits are included.
Here's what the company has to say:
Working as an Aira Agent is unlike most jobs. That's why we've developed our own training and certification process to ensure you'll be ready and able to help our blind and low vision Explorers accomplish any task, from day one. Aira agents provide immediate information in order to accomplish any task as a team. From stopping for morning coffee on the way to work, to making that dream journey around the globe.
How does Aira work?
Aira is an information-providing service that empowers individuals who are blind or visually impaired to live with greater freedom and independence. We want you to join our growing network of Aira agents! Regardless of your current stage in life, becoming an Aira agent is an incredibly fulfilling career with a flexible schedule.
As an Aira agent you simply log onto our specialized dashboard from your personal computer at home and begin answering live video calls from our Explorers who reside across the United States. Every day, the scenarios are varied and unique – you could help them shop, read books to their children, cook meals, or navigate to locations in their daily lives.
We are looking for:
People who are enthusiastic, eager, and well-spoken.
People who love to search the web and find the best, most relevant information.
People who can multitask while remaining focused and calm.
People who can work through complicated tasks and technical difficulties.
People located in the United States.
Requirements:
A personal computer, our dashboard is NOT compatible on tablets or smartphones, and a great internet connection.
A minimum of 2 years of customer service experience.
Must be a high school graduate, some college preferred.
A quiet place from which to work free from family, friends, pets, etc.
Computer Requirements:
A minimum of a CPU 4 CORE.
A minimum of 8 GB RAM.
A minimum of 40 GBS available disk space.
A Windows or Mac computer using Windows 10 or Mac OS Sierra, respectively.
Internet Requirements:
A minimum speed of 25 MBPS.
Bonus Skills:
Military experience or Military spouse.
2 years or more of secondary education.
Experience working with the Blind and Low Vision community.
They have a great video that really helped us grasp the concept – you can view it here.
Click here for the FAQ page on the job. BUT NOTE, to APPLY for the job, click here. (If the site is having tech difficulties, bookmark the pages and check back later!) For more jobs like these, check our Newest Jobs & Gigs page. To be the first to hear about jobs like these, like our Facebook page. Good luck in your next steps toward working from home!
PLEASE SHARE this post – turn your friends into Rat Race Rebels!
[social_warfare]