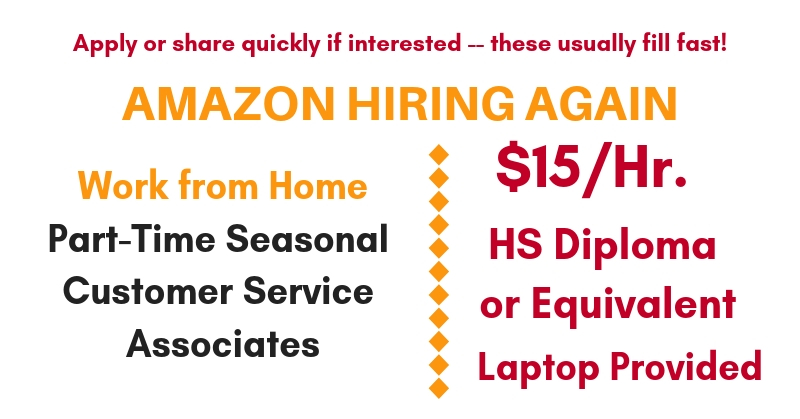 By Mike Haaren – Co-Founder Rat Race Rebellion – March 7, 2019
Apply or share quickly if interested — these jobs usually fill quickly! 
Amazon is hiring more p/t Seasonal Customer Service Associates. Pays $15/hr., HS diploma or equivalent required. Laptops and headsets were provided before, and we assume they still are. But that's not official. The job listing mentions "equipment" provided, but doesn't specify what kind. Health benefits after 90 days.
For these openings, Amazon is hiring from 18 states, up from 12 last time. They include Alabama, Arizona, Arkansas, Iowa, Kansas, Louisiana, Mississippi , Missouri, Nebraska, New Mexico, North Dakota, Oklahoma, South Dakota, Tennessee, Texas, Washington, Wisconsin and Wyoming. (If your state isn't listed, or you'd like to land your ideal job or gig ASAP, check out our new course, How to Find a Work from Home Job or Gig in 30 Days or Less. A 55% discount expires today, so don't wait if you're interested!)
Here's what the company has to say about the openings (excerpted):
What is Amazon Customer Service All About?
As a CSA, the majority of your time will be spent helping a variety of Amazon customers and drivers by phone, and sometimes via email and chat. You will use tools and programs to navigate the site, research accounts, review options and solutions for customers, and communicate them effectively. CSA's will learn other areas of the business and support specialty departments as needed.




What Does Amazon Need From Me?
— Commitment to change your schedule frequently, with a two week advance notice.
— Commitment to work when our customers need us the most. Shifts will include mornings, afternoons and evenings and typically one or both weekend days. Being available to work a flexible schedule that falls within our operating hours is required and expected.
— Amazon provides paid mandatory training and resources for new associates. All hours assigned to you for training are mandatory, no time can be missed. After training, you will transition into your work schedule.
— Associates are measured on several areas including, but not limited to, schedule adherence, contact quality, efficiency, and process compliance.
— Learn a variety of skills within the Customer Service organization to support the customer and move to the area of business that needs you the most.
— Candidates who will be flexible in their work schedule based on customer need. Flexibility is expected and required of all associates.
Why Amazon (What's In It For Me)?
— Except as otherwise required by law, this role pays $15.00 per hour
— No Commute
— Overtime pay at 1.5x base rate
— After 90 days of employment, eligibility for health care coverage plan
— Employee Discount
— Employee Assistance Program
— A supportive team of leaders and peers
— Gain customer service experience and build your resume
BASIC QUALIFICATIONS
Basic Requirements:
— The average amount of scheduled hours per associate generally consists of 20-29 hours per week, with the expectations to work up to 60 hours a week if there is a customer need, large-scale event or if peak season requires.
— Support a varying work schedule to meet our business and customer needs.
— Complete mandatory training (this schedule will be different from your work schedule upon hiring)
— Provide a work area free of any and all distractions. You must be able to devote your full undivided attention to the Amazon customer.
— Agree you will not provide child or adult care during hours of scheduled work.
— Possess a High School Diploma or equivalent.
— Support customers through typing, phone, and computer skills by navigating the internet and website, multiple browsers, email, social media, and instant messenger or chat tools.
— Follow detailed verbal and written instructions.
— Empathize with customers and prioritize their needs.
— You must not be a current Amazon employee. If you are an internal applicant please reach out to your local HR representative to discuss transfer eligibility.




To go to the jobs and to apply, click here. For more jobs like these, check our Newest Jobs & Gigs page. To be the first to hear about jobs like these, like our Facebook page and check your feed for our posts. May you be working from home soon!
PLEASE SHARE this post – turn your friends into Rat Race Rebels!