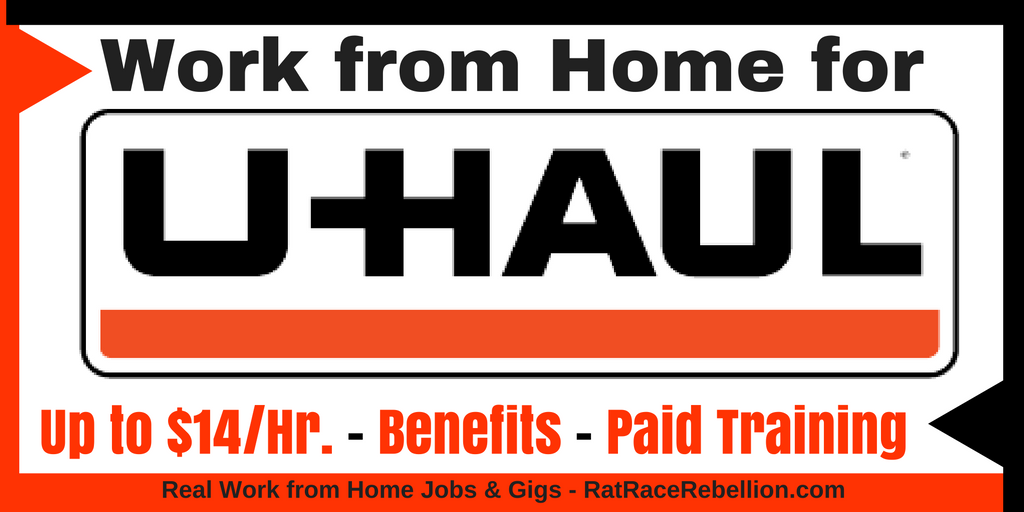 By Mike Haaren – Nov. 8, 2016
Work from Home Jobs – P/T Reservations Agents – $12-$14/Hr. – No Experience Necessary – Paid Training – Benefits – No Separate Phone Line Required
U-Haul is hiring part-time Reservations Agents again. Base pay plus commission can reportedly reach $14/hr. One of our Facebook members posted about his Reservations job: "I make much more than $14/hr…. I average $20/hr and I've been doing it for 3 years." However, this may not represent a typical rate. But $12-$14/hr. is often reported. The base hourly rate without commissions (bonuses) is $8.25.
No experience necessary. Virtual paid training provided. You'll need a HS diploma or GED. Quiet work area, a PC (desktop or laptop), and high-speed wired internet. You'll need a USB headset, but "No separate phone line is required."
Benefits for part-timers include limited-care medical plan, dental plan, 401(k), stock ownership plan, credit union, and travel insurance. For more on benefits, click here.
Employees give U-Haul overall 3.3 stars out of 5 on Glassdoor.
To go to the job, click here, then click on "Center Sales – Reservations Agents." No state hiring restrictions are mentioned in the listing.
PLEASE SHARE this post – turn your friends into Rat Race Rebels!