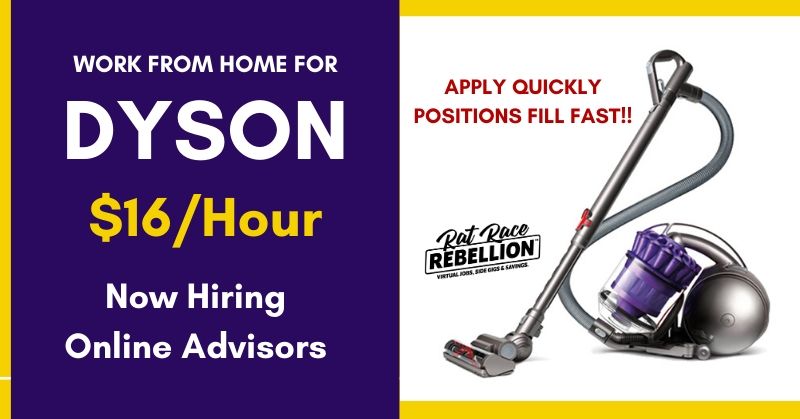 By Chris Durst      Jan. 24, 2020
HOT JOB ALERT! THESE POSITIONS ALWAYS FILL QUICKLY – DO NOT DELAY IN APPLYING!
UPDATE — Friday, 1:27 PM ET — Looks like Dyson has received all the applications it needs and has deleted the listing. Good luck to everyone who applied! We'll post again when they resume hiring.
*****
Dyson is looking for Customer Experience Online Advisors. No college required, no state hiring restrictions mentioned. Pays $16/hr. to start, and a "full benefits package" is included.
You'll be providing customer service and (inbound) sales via email, chat, and SMS monitoring. You'll also help out on phones during peak times and overflow.
The company clearly states, "Previous Online Sales Chat Experience Required," so please respect their wishes and apply only if you are well qualified.
Here's what the company has to say about the openings.
"Come join Dyson's fun, fast paced, and growing Owner Experience team as a Customer Experience Online Advisor! As an Advisor you will be responsible for delivering an outstanding, positive customer service and sales experience to consumers via live chat, email, and SMS monitoring. Advisors will also provide support for projects related to the Dyson.com online spares and accessories e-commerce store, the Dyson.com support section, as well as contact customers to address issues that are raised through the Dyson.com user review program. You will also support customers by phone during peak times and overflow. This is a full-time REMOTE position with a starting hourly rate of $16.00 and a full benefits package available the 1st of the month following 30 days of employment. Training will be provided and performance bonus/incentive opportunities are available.
Accountabilities:
MAIN ACCOUNTABILITIES AND SUPPORTING ACTIVITIES
Live Chat
Resolve a plethora of customer issues including sales, check out support, technical trouble-shooting, and service requests
Conduct real-time research to determine the best solution for the customer – this requires immediate responses and quick thinking
Identify and capture sales opportunities to drive revenue and achieve conversion rates
Communicate information on other Dyson products to promote cross-selling opportunities to existing customers
Input customer sales information into CRM system in order to process orders efficiently and in a timely manner
Achieve effective and timely resolution of customer inquiries, issues, or questions, aiming for a first contact resolution and escalating where appropriate
Email Correspondence
Review and enthusiastically respond to customer concerns via email within 3-hours of receiving
Conduct research to determine the best solution that fully resolves a customer's concerns, and capture customer data and input it into CRM system
Identify sales opportunities and drive revenue – situations where a customer may benefit from a new product and an upgrade in technology
Use concise and specific language that upholds the Dyson brand and resolves customer concerns expeditiously
Telephone Support
Handle telephone calls from customers with pre-sales support inquiries, after-sales support issues, and technical questions on products (as needed during peak times and overflow)
Embody the qualities of an engaged, motivated, and proactive team member
Demonstrate resilience and adaptability in a continuously changing work environment
Take ownership of the impact of decisions and actions; exercise sound judgment in all interactions
Take initiative to think outside the box and identify opportunities for improvement
Relish opportunities to pick up new projects or responsibilities that fall broadly in the purpose of the role
Skills – Individual Qualifications
Experience and Education
High School diploma or equivalent required, some college preferred
1 year of recent experience in an online customer support role that includes live chat required
Minimum of 3 years' experience in a high quality customer service role required
Prior experience selling a product or service is ideal
Knowledge of CRM systems (SAP) and live chat platforms (BoldChat) preferred
Experience working in a major e-commerce customer support environment preferred
Experience working in a remote, work from home environment a big plus
Familiarity with social media websites (i.e. Facebook, Twitter, Yahoo Answers, YouTube, etc.)
Skills
Ability to understand the Dyson brand and uphold its integrity.
Ability to work a flexible schedule including evenings, weekends, select holidays and required overtime
Proven technical aptitude including proficiency with Microsoft Office, a computer and other systems; ability to type 50 wpm
Strong/advanced written and oral communication skills required – must be demonstrated
High level customer service orientation required including a desire to help or serve others, identify and meet their needs, and build rapport
Proven technical aptitude including proficiency with Microsoft Office, a computer and other systems; ability to type 50 wpm
Demonstrated experience applying the following skills: negotiation, multi-tasking, analytical & conceptual thinking, and time management
Self-awareness including knowing when to work independently and when to ask for help
Punctuality and consistent work attendance are required
0-5% travel may be required
Must have a designated (separate from general living areas), distraction-free space to work in that is free from background noise during work time
Click here for full details and to apply. For more jobs like these, check our Newest Jobs & Gigs page. To be the first to hear about jobs like these, like our Facebook page and check your feed for our posts. May you be working from home soon!
PLEASE SHARE this post – turn your friends into Rat Race Rebels!
[social_warfare]