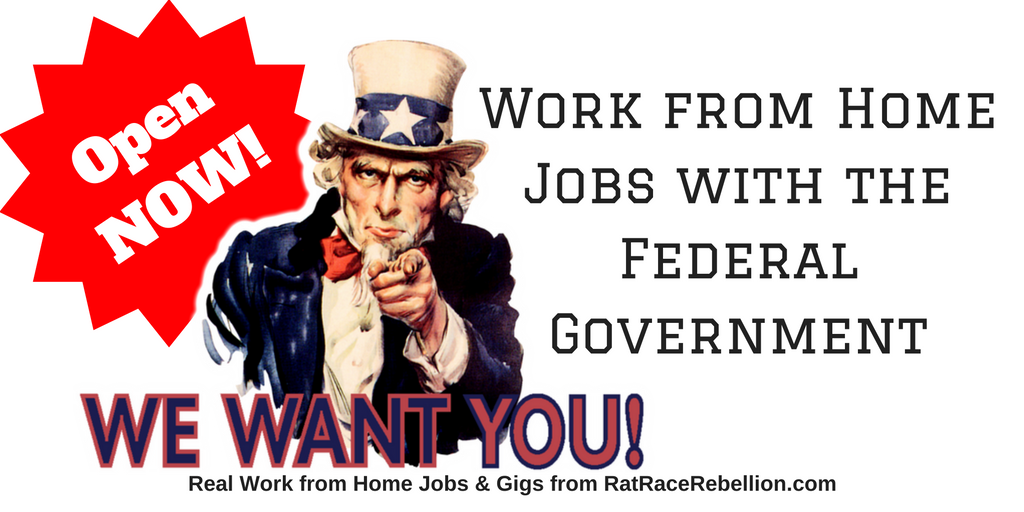 By Mike Haaren – Aug. 17, 2016
"Teleworking has never been more important." — Office of Personnel Management
The federal government — like any other employer — has to compete to get good job applicants. As more and more companies let employees work from home, "Uncle Sam" has to do it, too. As the government's giant Office of Personnel Management (OPM) says, "Teleworking has never been more important."
Telework Pressures Mount
Besides competition with private companies, federal agencies are under telework pressure for emergency preparedness, too. Hurricane Katrina was the big wake-up call, and other weather crises have followed. Studies have also repeatedly shown that people working from home are more productive than cube-bound workers. Federal agencies have to show productivity progress, too.
Although some federal managers have resisted letting their employees work from home, 39% of all eligible federal employees teleworked in 2013, OPM reported.
=> Earn $3 per survey with PineCone Research, one of our Top 5 picks for survey cash. <=
The Top Telework-Friendly Agencies
Some agencies are known to be more telework-friendly than others, and permission to work from home will often come down to your supervisor. The top 14 agencies for telework — with the percentage of their employees teleworking — as of 2011 were:
General Services Administration – 78%
National Science Foundation – 76%
Pension Benefit Guaranty Corp. – 74%
Office of Personnel Management – 74%
Dept. of Education – 69%
Securities and Exchange Commission – 68%
Environmental Protection Agency – 67%
Nuclear Regulatory Commission – 63%
Federal Communications Commission – 63%
National Credit Union Administration – 59%
Federal Trade Commission – 58%
NASA – 57%
Dept. of Housing & Urban Development – 51%
Dept. of Commerce – 50%
Telework Jobs Open Now
A recent search of federal jobs turned up a wide variety of telework-eligible positions open in various locations. They include Office Automation Assistant, Government Information Specialist, HR Specialist, Technical Writer/Editor, Registered Nurse, IT Specialist, Contract Specialist and many more.
There are multiple ways to find federal jobs. But for this post I searched OPM's federal jobs database USAJOBS. I used the keyword phrase (with quotes), "this position is telework eligible."
One way or another, if you land a federal gig there's a good chance you'll be able to telework. And the chances are getting better as working from home spreads through the jobscape.
PLEASE SHARE this post – turn your friends into Rat Race Rebels!
BE SURE TO CHECK OUT OUR OTHER RECENT POSTS FOR MORE JOBS