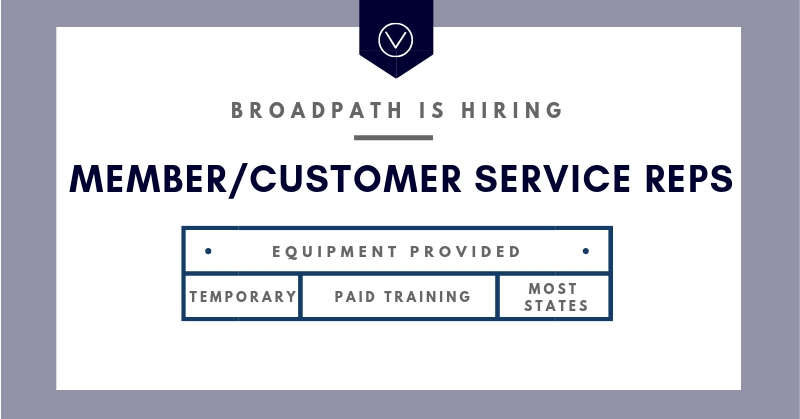 by Chris Durst          Feb. 28, 2019
Paid Training – Equipment Provided – Temporary
BroadPath Healthcare Solutions is gearing up for the fall health insurance enrollment season. The company will send you all the necessary computer equipment to use during your project, but you will need to secure high speed internet service.
As we understand it, this is a project-length opportunity with a possibility of assignment to another project if one is available and you are qualified.
No state limitations are listed in the job post, but we do know in the past CA and HI were excluded.
Here's what the company has to say about this opportunity:
"BroadPath is building our talent pool for remote, work from home Member / Customer Service Representative positions for this fall's Health Insurance Enrollment Season! Apply & qualify now. Member / Customer Service Reps. will be responsible for navigating Healthplan members through the Health Insurance landscape through excellent service. Join our team of Member / Customer Service professionals who have exceptional experience and are dedicated to excellence. Come work remotely with BroadPath as a Member Service representative!
Responsibilities
Our Member / Customer Service Representatives will receive inbound calls from current and potential health insurance members responding to inquiries regarding benefit and eligibility information, claims and billing questions, and primary care physician assignments. Representatives may also receive calls from providers with questions regarding member eligibility, coverages, benefit types, copays, and claims. Remote team members are reliable, experienced, motivated, tech savvy and exceptional at providing outstanding service. Ideal candidates have:
Excellent Schedule adherence – time management is a must
Are dependable, organized and service minded
Have quality focus and are detail oriented
Ensure compliance with BroadPath, Client, and HIPAA regulations
Basic Qualifications
100% attendance during training
Work duration of project
Computer literacy (Microsoft Windows, keyboarding skills, strong systems aptitude)
Maintain balanced performance in areas of production and quality
Maintain confidentiality and project a professional business image
Positive attitude and ability work independently from home, as well as with a team
Strong written and verbal communication skills
Strong active listening skills
Empathy, patience, adaptability, and a strong work ethic are critical to your success
Internet with 5 Mbps download and 2 Mbps upload speed (we provide you with the equipment)
Click here for full details and to apply. To see more jobs like these, check our Newest Jobs & Gigs page. To be the first to hear about jobs like these, like our Facebook page and check your feed for our posts. Good luck!
PLEASE SHARE this post – turn your friends into Rat Race Rebels!