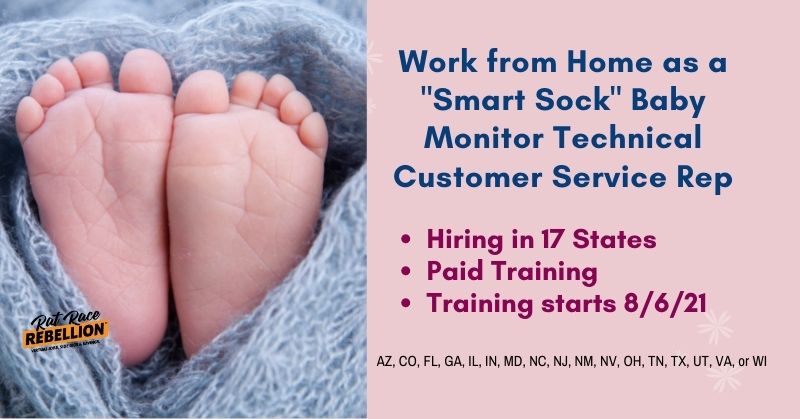 by Chris Durst July 19, 2021
If you live in AZ, CO, FL, GA, IL, IN, MD, NC, NJ, NM, NV, OH, TN, TX, UT, VA, or WI and are looking for a work from home Technical Customer Service position with a reputable company — no college required — this could be a fit.
Training begins on or about August 6, 2021 with daily classes.
Pay is not listed, however, historically it has been around $15 an hour.
VIPdesk Connect refers to their Technical Customer Service Reps as "Brand Ambassadors," as they're tasked with creating the best brand experience possible for their clients.
People hired for these positions will be "dedicated exclusively to the Owlet Care customer care program and provides customer and technical support for the award-winning company focused on infant wellbeing."
Here's what VIPdesk Connect has posted about this opportunity:
"The Remote Technical Customer Care Representative (we call Brand Ambassador) is dedicated exclusively to the Owlet Care customer care program and provides customer and technical support for the award-winning company focused on infant wellbeing. Owlet's innovative products include HD live-streaming monitors and the Smart Sock that tracks heart rate, oxygen levels, and sleep trends, alerting parents and caregivers via a connected base. Intelligent apps available on the iOS and Android platforms provide real-time notifications and historical data with insights into sleep behaviors and infant wellbeing.
Remote Technical Customer Care Representatives assist customers via all channels (phone, chat, e-mail, SMS) while meeting metrics including quality and customer satisfaction using empathy as a way to engage and build rapport—communicating from the heart, as well as the head. The representative answers questions about products, policies, promotions, and provides general customer service resolution. The Remote Technical Customer Care Representative also provides technical support using passion and knowledge of the clients' brands to ensure an authentic and personal experience that promotes brand loyalty.
The Remote Technical Customer Care Representative provides general customer service including order placement, order tracking, warranty returns, and product advice with a thoughtful, friendly, and empathetic tone. The position also troubleshoots and resolves customer issues including Wi-Fi connectivity, device setup, app setup, and configuration. The team member takes ownership of customer issues and follows through to solve problems while exercising patience and willingness to provide assistance for simple and complex inquiries with positive energy.
Qualities of Brand Ambassadors:
Dynamic Communicators –With the voice of our client, team members provide responsive, accurate, and authentic interactions. While resolving technical issues, they simplify the complex, breaking down to make understandable to those less tech savvy—and maybe even sleep deprived.
Empathetic – Brand Ambassadors know how a message is conveyed is equally important as what is said. By putting themselves in a new parent's shoes, they focus on the customer's experience and connect, human-to-human.
Knowledgeable –Brand Ambassadors are constantly working on improving skills. When new products are released and apps are updated, Brand Ambassadors enthusiastically learn how to support new features, functions, and integrations to confidently resolve customer issues. No matter what the issue, no matter how complex, Brand Ambassadors are problem solvers who welcome and lean into challenges.
Essential Duties and Responsibilities include the following. Other responsibilities may be assigned.
Creates positive customer touchpoints using a friendly, respectful, and professional tone while exhibiting genuine empathy
Accurately follows and complies with all client's Health and Safety Policies
Maintains discretion and confidentiality in all areas pertaining to data and proprietary information
Provides customer assistance with device installation and app setup and configuration on both iOS and Android platforms
Applies high-quality customer service guidelines, policies, and procedures
Assess customer problems, troubleshoot, and confidently remedy issues including network connectivity and device configuration
Escalates critical support issues following appropriate policies and procedures
Retains and conveys deep knowledge and benefits of products and troubleshooting techniques
Embraces the commitment to customer service and nourishes brand loyalty
Attends meetings and training as required to obtain new and pertinent information about the client and their products and services
Meets or exceeds all program metrics as outlined in training and manuals (e.g., attendance, quality, sales)
QUALIFICATIONS:
HS Degree or equivalent required. Associate degree or some college preferred
2+ years customer service experience required, experience in a virtual contact center a plus
6+ months experience with problem-solving and complex troubleshooting in technical support or online Help Desk role
Experience with troubleshooting apps on both iOS and Android platforms preferred
Committed to providing excellent customer service and an elevated customer experience
Ability to collaborate with team members, contribute ideas, opinions, and skills toward the achievement of common goals
Excellent interpersonal skills; strong oral and written communication skills
Polite, friendly, warm, and courteous phone demeanor
Flexible, adaptable, and willing to take on new challenges
Microsoft Office proficiency required
Able to type at least 35 words per minute with minimal errors
Technically savvy with the ability to pick up new technology, processes, and procedures quickly
Strong comfort level and familiarity with desktop platforms and mobile devices
Experience working with Bright Pattern or Zendesk (or a comparable customer service ticketing system) preferred
Ability to work well under pressure in a fast-paced environment, adapting easily to changing priorities
Detail oriented with a focus on quality and accuracy, ability to multitask, strong sense of urgency, and commitment to excellence
Self-starter with strong initiative and able to work independently
Strong sense of urgency, demonstrates ownership, high energy, and team player
Due to the home-based nature of this job, the Brand Ambassador is required to have a secure home-office environment, internet access, USB headset, router, modem, and a computer system that meets VIPdesk Connect policies and maintenance requirements, including system upgrades as applicable, which may change over time
Able to provide a work-at-home environment that is ergonomically sound, conducive to taking customer calls, quiet, and free from distraction
Able to successfully pass a credit, criminal, and employment reference security checks where permissible by state and local regulations
Currently reside in AZ, CO, FL, GA, IL, IN, MD, NC, NJ, NM, NV, OH, TN, TX, UT, VA, or WI
Training
Our next training class is scheduled to begin on or about August 6, 2021. New team members will attend training remotely via web cameras from secure, noise-free, distraction-free home offices that meet our requirements."

CLICK HERE for full details and to apply. For more jobs like these, check our Newest Jobs & Gigs page. To be the first to hear about jobs like these, like our Facebook page and check your feed for our posts. May you be working from home soon!
PLEASE SHARE this post – turn your friends into Rat Race Rebels!