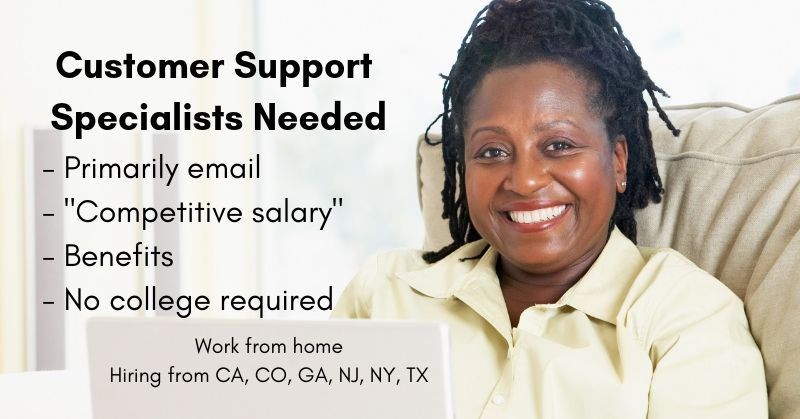 By Mike Haaren – Co-Founder Rat Race Rebellion – June 17, 2019
Work from Home – Support is Primarily by Email – No College Required – Benefits – "Competitive Salary" – Full-Time – Flexible Schedules
DonorsChoose.org — an established non-profit whose board includes the CEO of LinkedIn and Stephen Colbert — is looking for one or more Customer Support Specialists. Support is given primarily by email, sometimes by phone. Benefits included. "Competitive salary."
Extra credit if you have customer service experience. Also if you're eager to work from home or, even better, you've already done it.
Hiring States
They're currently hiring from CA, CO, GA, NJ, NY and TX.
About the Organization
DonorsChoose.org enables "crowdfunding" for public schools:
"Since our launch in 2000, more than 3 million 'citizen philanthropists' have donated to classroom projects on DonorsChoose.org, channeling books, field trips, technology, and other resources to more than 28 million students in public schools, overwhelmingly from low-income households."
The Job in Their Words
As a Customer Support Specialist at DonorsChoose.org you'll answer between 50 – 120 emails a day (depending on the day). These inquiries will span a variety of different topics across the entire teacher and donor lifecycles.
You may help a donor navigate our marketplace to support a school in their hometown. Or you may help a teacher get donations multiplied by qualifying for a partner-backed offer. You may walk a mother through surprising her daughter (a first-year teacher!) by fully funding her classroom project. Or you may spend some time tracking down a shipment of live crickets (yikes!) for a sixth grade science class. And sometimes you'll have to do things like explain policies that won't make the customer super happy, deliver difficult news about eligibility, or simply help a customer reset a password. It's not all glamor and live insects, but at the end of every day you'll have helped a bunch of people bring joy to a bunch of students!
In addition to this core work, sometimes you'll —
— Hop on the phone to resolve particularly gnarly issue. (We work primarily in email right now, but sometimes it's just easier to get on the phone and hash it out!)
— Attend and participate in trainings as scheduled by your team leaders.
— Provide feedback to your peers on their tickets and coach newer teammates.
— Build documentation to support our work.
— Write up bug reports for our Product and Engineering team.
— Update or write public-facing help content.
— Answer support questions for colleagues across the organization.
— Lead mini-projects or fact-finding missions — and present ideas or findings to teammates, managers, or others across the organization.
The details:
— Location: Remote (we're currently only accepting applicants whose primary residence is in CA, CO, GA, NJ, NY, or TX).
— Schedule: 40 hours per week (schedules can be flexible Mon – Sun)
— Compensation: Commensurate with experience
— Benefits: This role is eligible for a competitive salary and benefits package, which includes health, dental, and vision coverage; a matching 401k plan (up to 5% of base salary); an annual professional development stipend, and three weeks paid vacation plus national holidays.
— Education: A bachelor's degree is not required, but is preferred
Click here for full details and to apply for this position. For more jobs like these, check our Newest Jobs & Gigs page. To be the first to hear about jobs like these, like our Facebook page. Good luck in your next steps toward working from home!
PLEASE SHARE this post – turn your friends into Rat Race Rebels!