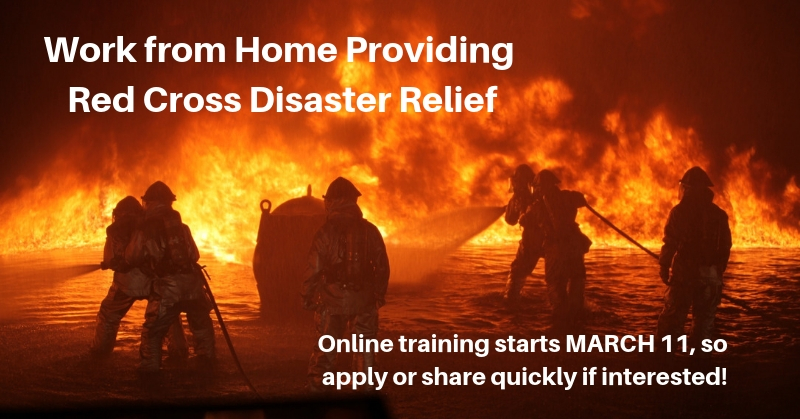 By Mike Haaren – Co-Founder, Rat Race Rebellion – Updated March 25, 2019
Update March 26 – An RRR FB member reports that the company is informing applicants that the position is filled. The company is still listing the job as open, but it's possible that they just haven't had a chance to take it down.
***
Direct interactions has partnered with the American Red Cross to help those recovering from hurricanes and wildfires. They're still recruiting part-time people to take inbound calls. Online self-paced training started March 11, but since they're still recruiting, training appears to still be open. No state hiring restrictions mentioned. 
You'll begin working after the short self-paced training and a short (online) course on call-taking and finding answers. The pay rate is $10/hr.
Pick your own hours (minimum 15 hrs./week) from among three shifts.
Here's what they have to say about their company and the openings:
Based in Seattle, Direct Interactions provides contact center solutions using American agents that work from home. We are socially responsible in our business practices and seek to provide great at-home work opportunities for all Americans, including people with disabilities. Our clients rely on Direct Interactions to support their customers by telephone and email while representing their brands with care and professionalism.




About the Position
Help those in need from the comfort of your own home!
Direct Interactions is partnering with American Red Cross efforts for Hurricanes and Wildfires! You can help those recovering from Natural Disasters. Take inbound calls from those impacted by Hurricanes and Wildfires after a short self-paced training and by passing a short (online) course on call taking and finding answers.
Requirements:
· Laptop or Desktop Computer running Windows Operating System Windows 7 or Windows 8.1 or Windows 10. Chromebook, Microsoft Surface,Tablet/ipads, Vista. Due to the discontinuation of Windows XP Support and updates by Microsoft Windows XP is no longer supported by our client's software.
· Internet Explorer 7 or greater required with Mozilla Firefox as needed.
· DSL or Cable internet (Wireless and Satellite are not compatible with our software)
· Current antivirus and antispyware
· Installed, operational firewall




Summary of Essential Skills
· Excellent verbal communication skills including grammar and voice quality
· Ability to remain poised under pressure for back to back calls
· Ability to show empathy for their frustrations or concerns and resolve the issue in a timely fashion
· Documentation, data entry, organization and problem-solving skills are desirable
· Ability to handle detailed work with a high degree of accuracy and speed
– Ideally able to respond and be ready to take calls within 1-2 hours of notification
– Must be able to pass a criminal background check
– Legally Able to work in the United States
– High school diploma or GED required
– Minimum of two years' experience working in a virtual, work at home call center required
Pay Rate:
$10 per hour
Shifts:
Pick your own hours for a minimum of 15 hours per week within the hours of operation listed below:
Monday-Friday 8:30 AM-11 PM EST
Saturday 8:30 AM-9 PM EST
Sunday 11:00 AM- 7 PM EST




To go to the jobs and to apply, click here. For more jobs like these, check our Newest Jobs & Gigs page. To be the first to hear about jobs like these, like our Facebook page and check your feed for our posts. May you be working from home soon!
PLEASE SHARE this post – turn your friends into Rat Race Rebels!