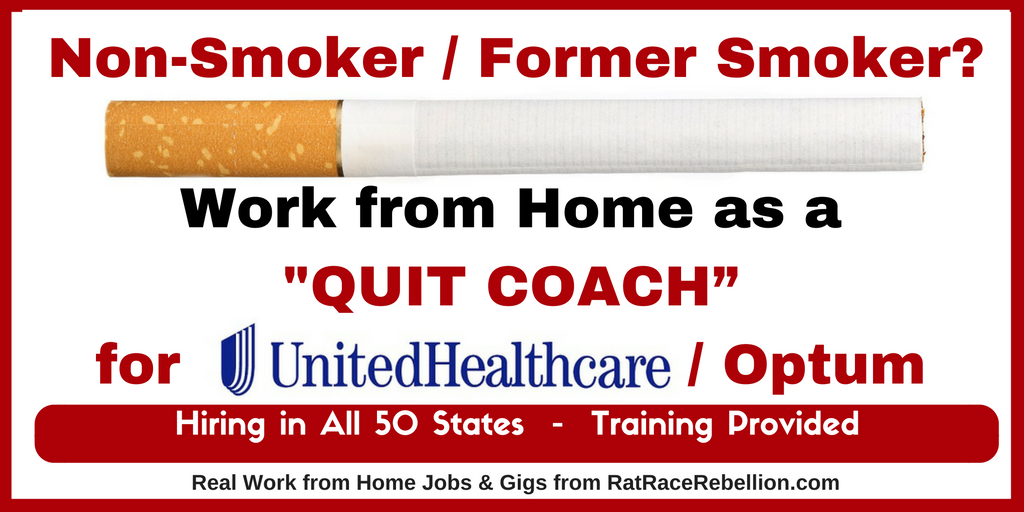 Work from Home as a Quit Coach for UnitedHealth Group

by Chris Durst Oct. 24, 2016
"This is a telecommuting position for candidates living in one of the US 50 states."
Optum, a unit of UnitedHealth Group, is seeking "Quit Coaches" to support participants' process to quit tobacco use.
Using the highest standards of customer service, the Tobacco Cessation Specialist is a phone-based specialist who supports people in their stop-smoking process. Specialist are trained in the Quit for Life model, which has over 25 years of evidence based success. Positions in this function are responsible for participant-focused behavior.
Services are provided via the telephone to support participants' process to quit tobacco use. Coaches utilize participant-focused interventions, as well as Cognitive Behavioral Therapy and Motivational Interviewing to move participants along the change continuum to quit tobacco.
Requirements
To be considered for this position, applicants need to meet the qualifications listed below:
Bachelor's Degree
Must be able to work regular schedule, after training, between the hours of 12:30 PM – 9:00 PM in the time zone of residence with at least 1 weekend day per week
2+ years tobacco and nicotine free (includes all forms of nicotine including electronic cigarettes, chewing tobacco, cigarettes or any other form of nicotine/tobacco)
Must be able to create, edit, save and send documents utilizing Microsoft Word, Excel and Outlook
Must be able to navigate a PC to open applications, send emails, and perform data entry
Must have hard wired high speed internet connection at home (DSL or cable modem) – no wireless connection
Must have two Ethernet ports available – one for computer and one for phone (

both sent prior to class

)
Smokers, even if "only occasional," will not be accepted.
To learn more about this opportunity, click here.
PLEASE SHARE this post – turn your friends into Rat Race Rebels!