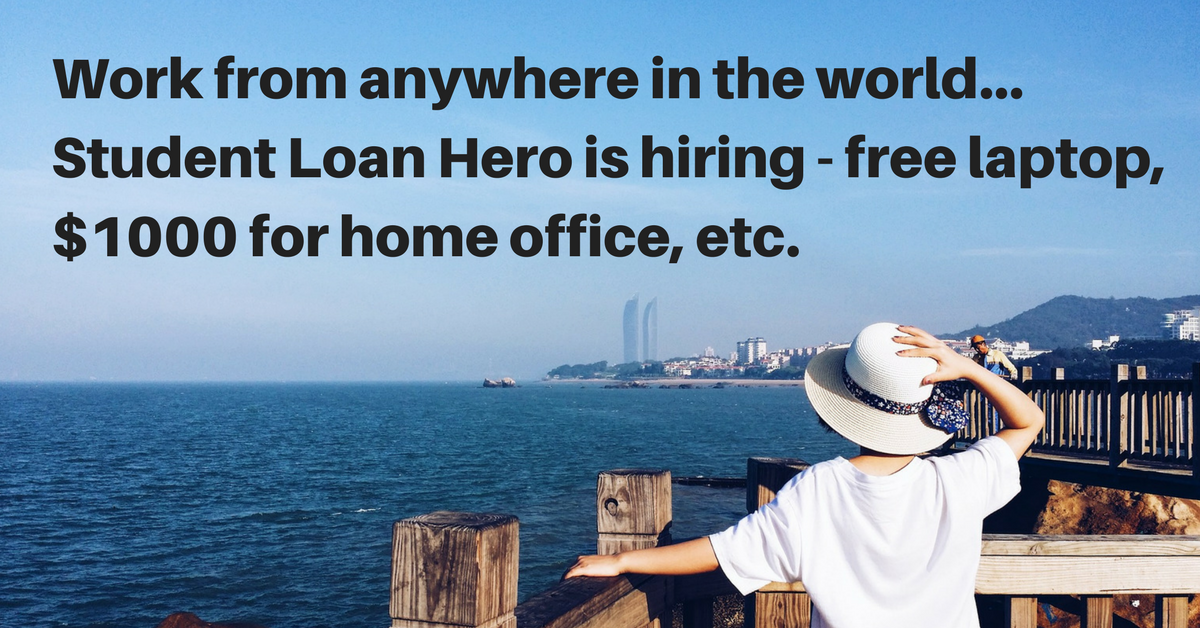 by Chris Durst    Jan. 4, 2018
Student Loan Hero offers both current and former students free loan calculators, as well as unbiased, personalized advice and repayment plans through an easy-to-use online dashboard.
The company has work from home positions available in three departments – Content, Marketing, and Operations. "We're a fun, passionate and fully remote team. Join us and be a Hero!"
The company offers great benefits, check this out (quoting from the site):
Competitive salary: Based on experience and location.
Equity: We'll give you vested shares in the company.
Vacation: Unlimited.
Flexible hours: Work when you're most productive.
Work remotely: Work from wherever you want in the world. (Costa Rica, anyone?)
New equipment: We'll hook you up with a brand new MacBook Pro, and a $1,000 technology stipend to purchase a desk or whatever helps you work.
Remote workspace: We'll pay up to $500/month for a remote office space (e.g., co-working space).
Wellness: We cover 100% of premiums for employees and dependents on a silver-level health insurance plan, plus you get up to $150/month for gym, fitness classes, nutrition counseling, weight loss programs, nutritious food delivery service, acupuncture, massages, workout equipment, or race registrations.
Continuing education: Up to $100/month for courses, books, or anything you'd like to learn!
Financial contribution: Receive a 100% match of up to 3% of annual salary to a retirement account, as well as a 100% match of up to $2,000 toward student loan repayment assistance.
Their current job postings include:
Social Media Editor: "There are over 44 million Americans living with student loan debt. As the Social Media Editor, you will be the resident expert on connecting with the existing Student Loan Hero community as well as growing our brand presence across social media platforms including but not limited to Facebook, Pinterest, Twitter, LinkedIn, and Instagram."
Writer – Personal Finance: "The mission of the Writer is to craft amazing blog posts and other content that knocks our readers' socks off. We want the reaction to our writing to be 'Wow! This is the most useful resource I've ever read on the topic!'"
Director of  SEO: "The Director of SEO's role is to be the team's go-to expert for all things SEO. The SEO Director will be primarily responsible for guiding SEO strategy and growing organic search traffic to the SLH site. The Director of SEO will also be responsible for working with the Outreach team to formulate and execute our linkbuilding strategy, keyword research and any on-site SEO analysis and reporting as well as reporting on SEO traffic and rankings."
Copy Editor: "Copy editors work closely with Student Loan Hero's team of writers and editors to publish high-quality, error-free content that helps our readers answer important questions about their student loans and their finances in general."
VP of Marketing: "There are over 44 million Americans living with student loan debt. As the Vice President of Marketing you'll be responsible for creating, implementing, and optimizing our marketing strategy that helps us find, connect, and assist student loan borrowers."
Digital Optimization Analyst: "The Digital Optimization Analyst plays a critical role at Student Loan Hero by evaluating on-site consumer behavior and creating and running tests (optimizations) across StudentLoanHero.com to drive audience engagement and revenue growth. Impacting all parts of the business, the Analyst will drive insights leading to revenue-generating actions and will participate in key conversations across the Product, Design, Content, Marketing, and Optimization Teams."
For more job options, see our Daily Jobs & Gigs page. To be the first to hear about jobs like these, like our Facebook page. Good luck in your work from home goals!
PLEASE SHARE this post – turn your friends into Rat Race Rebels!