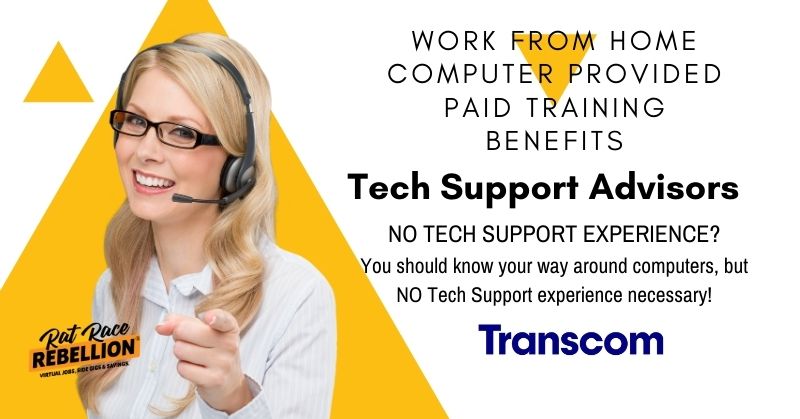 by Chris Durst       Aug. 13, 2020
Transcom is currently hiring Remote Technical Support Advisors in AL, AR, FL, GA, ID, IN, IA, KS, KY, LA, MI, MS, MO, NE, NV, NH, NC, ND, OH, OK, PA, SC, SD, TN, TX, UT, VA, and WI.
Pay is not listed in the post, however, it was previous posted at $11 per hour during training / nesting and a raise to $13.46 per hour upon successful completion of training and nesting.
The company offers benefits, including: Medical, Dental, Vision, 401(k), and Paid Time Off (PTO).
Here's what the company has posted about this opportunity:
"Do you love exploring the ways technology helps you do all your favorite things?
Do you love helping people and sharing your knowledge?
Do you want to grow your career with a company that rewards your hard work?
Do you want to improve your work / life balance and work from the comfort of home?
You'll be the friendly voice of our Telecommunications client to support their customers with smartphones, tablets, and computers. As a CSR, you'll listen to the caller and use your technical expertise, and passion for outstanding customer service, to answer questions about products and services, or troubleshoot technical issues to find solutions.
We've got an exciting career opportunity for you, if you can:
Effortlessly engage with callers, actively listen, analyze, and isolate tech issues
Comfortably navigate multiple applications to research solutions
Multitask in systems while patiently providing step-by-step instructions
Calmly provide conflict resolution and navigate frustrated customer situations
Work independently with discipline and motivation to succeed in a virtual environment where you work remotely with coworkers and supervisors from the comfort of your home.
Work in a highly structured environment with strict adherence to your assigned full-time schedule taking high-volume inbound calls from customers.
Work at a desk and wear an approved headset for the duration of a full-time schedule in order to talk to customers in a high-volume, fast-paced, and sometimes stressful environment
What's In It For You?
Position as a Transcom employee (not an independent contractor)
Improved Work / Life balance with paid time off (PTO)
Health Benefits for you and your family, including: medical, dental, vision
401(k) Investment options with employer match opportunities
100% work at home, including training
Ability to develop your skills and grow your career
An opportunity to work for a company passionate about people
Requirements
At least 18 years or older
High School Diploma, or equivalent
Able to successfully pass a criminal background check
Able to work a full-time work week of 32-40 hours, with opportunities for overtime during peak season
Able to maintain 100% strict adherence to the assigned schedule
Able to work a variety of shifts influenced by current business needs (including evenings, weekends, and holidays)
Able to work full-time hours, with reliable attendance, as outlined in the assigned schedule
Strong computer knowledge, including ability to accurately type at least 40 wpm
Excellent English written and verbal communication skills
Courteous and friendly with high level of professionalism
Willingness to follow procedures and adhere to policies
Able to multi-task applications while talking to customers on the phone
Able to thrive in a fast-paced work environment
Able to actively listen to customer needs and demonstrate empathy
Ability to work in an environment where you must sit, reach, communicate (verbally and electronically), type, read, multi-task, and concentrate in a prolonged setting.
Experience in a technical support role or troubleshooting technical issues preferred
Previous call center and/or work from home experience preferred
*Must live and work in one of the following states:
AL, AR, FL, GA, ID, IN, IA, KS, KY, LA, MI, MS, MO, NE, NV, NH, NC, ND, OH, OK, PA, SC, SD, TN, TX, UT, VA, WI
Home Office Requirements
Transcom provides you an all-in-one computer and monitor for this position. The computer contains a built-in webcam that is required to be used for training and meetings.
You must have a secure, quiet, distraction-free work environment without any conflicting responsibilities during your scheduled work shift. (Conflicting responsibilities may include caring for a family member) 
You must have a hardwired DSL, Fiber, or Cable Internet via an Ethernet connection (Dial up, Wireless, or Satellite internet service cannot be used)

Minimum download speed 20 Mbps
Minimum upload speed 3 Mbps
Ping less than 100 ms
Although the computer is provided if you are hired, you will need a home desktop or laptop computer that is hardwired using an Ethernet connection to complete the typing and internet speed assessments during the application. This is a requirement to be considered for this employment opportunity. "
Remote Technical Support Advisor (Work From Home)
In this permanent employee role you will be the friendly voice of our Telecommunications client to support their customers with questions about their smartphones, tablets, and computers. You'll take inbound phone calls, actively listen to the customer, and use your technical expertise to research and find solutions.
CLICK HERE for full details and to apply. For more jobs like these, check our Newest Jobs & Gigs page. To be the first to hear about jobs like these, like our Facebook page and check your feed for our posts. May you be working from home soon!
PLEASE SHARE this post with your friends!