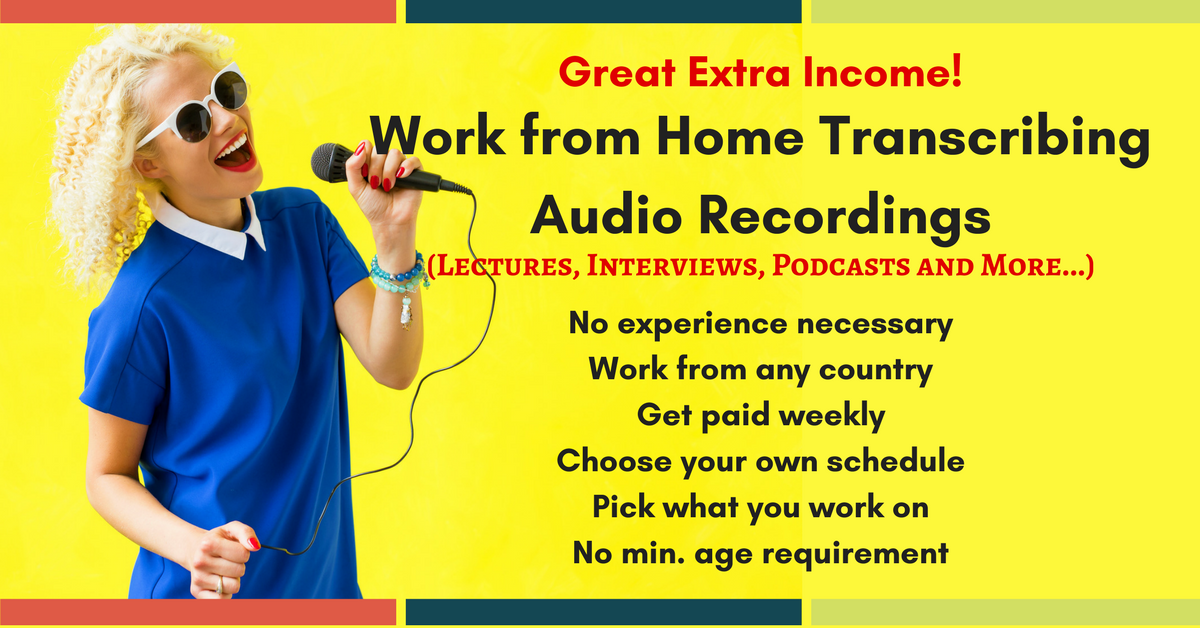 by Chris Durst       Updated Feb. 13, 2019
Rev continues to recruit part-time Tanscriptionists, no experience required, no state hiring restrictions mentioned. Many Rat Race Rebels are making extra cash there.
Getting started is pretty straightforward. You'll fill out your name and email on the page we've linked to below, and take a grammar and transcription test. The company generally lets you know within 48 hours if you're approved to start working as a freelancer. On the pay side, you won't get rich — Rev says its top monthly earning is $1,495. But training is free, you can get paid while you gain experience, and you'll also get the work-from-home track record that many companies are looking for.
Here's what Rev has to say:
What does this job entail?
As a transcription freelancer at Rev, you'll have access to a constantly updated list of audio files that need transcriptioning. You can claim one audio file to work on at a time.
Your job will be transcribing the audio file you've claimed using our online transcription editor. The audio content, job subject, pay, and deadline are all listed upfront so you can decide if it's a good fit for you and your schedule. We never force you to take a certain type of job or work specific hours.
After you submit a job, you can go back to the jobs list to find the next audio file that interests you!
You get paid out every Monday based on all the audio files you transcribed you completed in the prior week.
Do you provide training?
Yes! We provide transcription tutorials, practice jobs, and constructive feedback from experienced transcriptionists after you complete a job.
We also have an very active forum, an amazing Support team, and additional transcriptionists on call to help you answer specific questions. We are here to help you succeed!
Can I apply if I do not live in the US?
Yes! You can apply and work from any country and location.
Do I need transcription experience or qualifications to transcribe at Rev?
We look for applicants who have a strong mastery of English and the ability to learn and apply transcription skills. Please carefully read through our Style Guide and take your time when applying.
No, you do not need prior experience or any special qualifications to transcribe at Rev. (If you do have them, you're off to a great start!)
Is there an age requirement?
No, Rev does not have an age requirement.
How does payment work?
Our transcriptionists are paid weekly through PayPal based on the amount of work completed in the prior week. As of now, Rev only pays out through PayPal.
We pay out in USD, which can be converted into other currencies through PayPal.
Can I take time off? Will my account close if I don't work consistently?
We never close accounts due to inactivity – if you need to take a break from working and come back later, we will always be happy to have you back.
Click here to learn more and to apply. For more work from home jobs and gigs, see our Newest Jobs & Gigs page. We post new leads every day except Sunday. Good luck!
PLEASE SHARE this post – turn your friends into Rat Race Rebels!