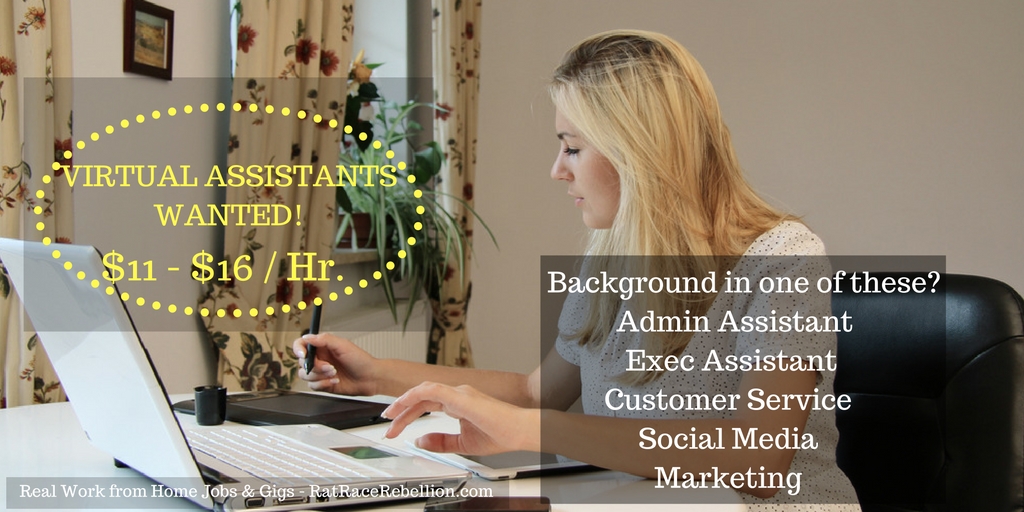 By Mike Haaren – Aug. 6, 2016
Time etc is looking for a variety of people to be Virtual Assistants, from anywhere in the US. Pay starts at $11/hr. and reportedly can go up to $16. If you have a background in any of these areas, they want to hear from you:
— Personal assistant, admin assistant, or executive assistant
— Marketing or social media
— Writing or blogging
— Telesales or customer service
Time etc reportedly offers its clients over 350 VA skills, so the range of VAs it needs is clearly wide. Here's the company's list of typical tasks:
— General administration
— Document work including formatting and typing
— Travel arrangements
— Schedule management
— Arranging meetings and appointments
— Making phone calls
— Sorting expenses
— Social media
— Blogging
— Content writing
Sir Richard Branson's former personal assistant, Penni Pike, created Time etc and is a Special Advisor to the company, its site says. The company was founded in 2007 and has 4,500+ clients. VA reviews of Time etc are scarce, though several of our Facebook members have reported being hired there. Customers give its VAs rave reviews, however, so resume-wise you'd be benefiting.
=> One of our Top Picks for survey sites is Ipsos i-Say. Redeem points for cash and other great prizes! <=
What does Time etc say it needs from you?
— Availability during the working week (Mon-Fri)
— Available for at least a year
— Ideally able to work at least five hours per week
— At least 2-3 years relevant experience
— Good English skills
— Good organizational skills
— A reasonable home office set up / quiet area to work
On a last note, you'd be working as an independent contractor, aka freelancer, rather than an employee. (For the difference, see Chris's video here.)
For details, click here!
PLEASE SHARE this post – turn your friends into Rat Race Rebels!
BE SURE TO CHECK OUT OUR OTHER RECENT POSTS FOR MORE JOBS