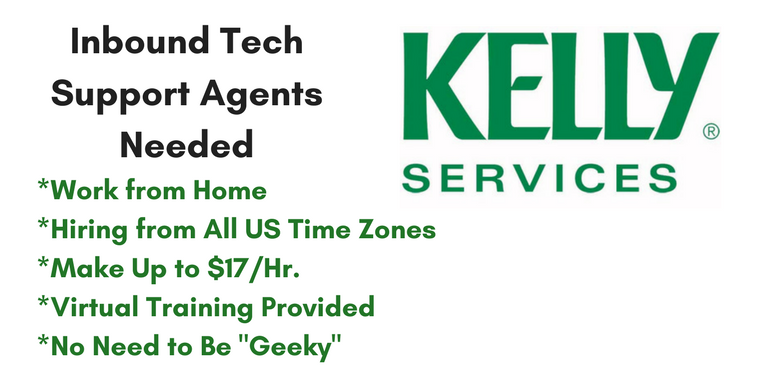 by Chris Durst      Nov. 17, 2017
Work from Home at KellyConnect – HS Diploma & Six Months' Customer Service – Pays Up to $17/Hr. – Hiring from All US Time Zones – Paid Virtual Training
KellyConnect has openings for Inbound Technical Support Agents (no need to be "geeky") in all US time zones. Requirements include a HS diploma and at least six months' customer service experience.
Paid training at $12-$14/hr. and, after 90 days, you'll be eligible for a $500 training-completion bonus and a $250 performance bonus. "Earning potential $15-$17/hr.," the company says.
In their words:
Our Technical Support Advisors provide support to resolve customer technology problems through a series of trouble shooting activities in a virtual call center environment. Common solutions include resolving username and password problems, data sharing & synchronization, uninstalling/reinstalling basic software applications, verifying proper hardware and software configuration and set up, power cycling devices, navigating customers through application menus, and troubleshooting email issues. This is a performance based organization where all calls are recorded, monitored, and reviewed on a daily basis. You will be responsible for support of Computers and Operating Systems, tablets, MP3 players and other technical devices.
Perks of joining KellyConnect:
Paid training at $12-$14/hr
After 90 days Advisors are eligible for a one-time $500 Training completion bonus and $250 performance bonus
Advisor earning potential of $15-$17/hr
Explosive growth opportunities into departments such as Leadership, Quality Assurance, and Training
Duties and Tasks/Essential Functions:
Interact with customers in response to inquiries, concerns, and requests about products and services
Gather customer/product information and determine the issue by analyzing the symptoms
Diagnose and resolve technical issues involving internet connectivity, email, application downloads, and more
Research using available resources, including article database systems
Complete required training to stay current with system information, changes, and updates
Participate in frequent 1:1/classroom video coaching sessions with leadership
Exemplary attendance and punctuality
Position Requirements Skill and Knowledge Qualifications:
• Proper phone and chat etiquette, including using client verbiage and positive positioning
• Ability to speak and type clearly and accurately, using proper grammar
• Ability to multitask between customer calls and logging of case notes
• Skilled at responding to multiple chat conversations simultaneously, including messages from your team, leadership, and support groups, like Quality Assurance
• Experience with mobile devices (mp3 players, tablets, smartphones)
• Ability to empathize with customers, making them the primary focus of your actions, then tailoring communication to each caller
• Openness to constructive coaching and ability to implement performance objectives
• Willingness to work evenings, weekends, and holidays
• Ability to adjust to constantly-changing technology, processes, and team structures
• Maintain stable performance under pressure or opposition (such as time pressure, job ambiguity, escalated customer calls); handling stress in a manner that is acceptable to others and to the organization.
• Sets high standards of performance for self, assuming responsibility and accountability for successfully completing assignments or tasks
Conditions of Hire:
High School Diploma
18 years or older
Minimum 6 months customer service experience
Previous experience working overnight shifts
Must provide phone and internet services and quiet work environment, as position is virtual
Click here > leave the "-select all-" as is > click on the "Search for Jobs" button to see the jobs. To see more jobs like these, check our Newest Jobs & Gigs page. To be the first to hear about jobs like these, like our Facebook page and check your feed for our posts. Good luck!
PLEASE SHARE this post – turn your friends into Rat Race Rebels!