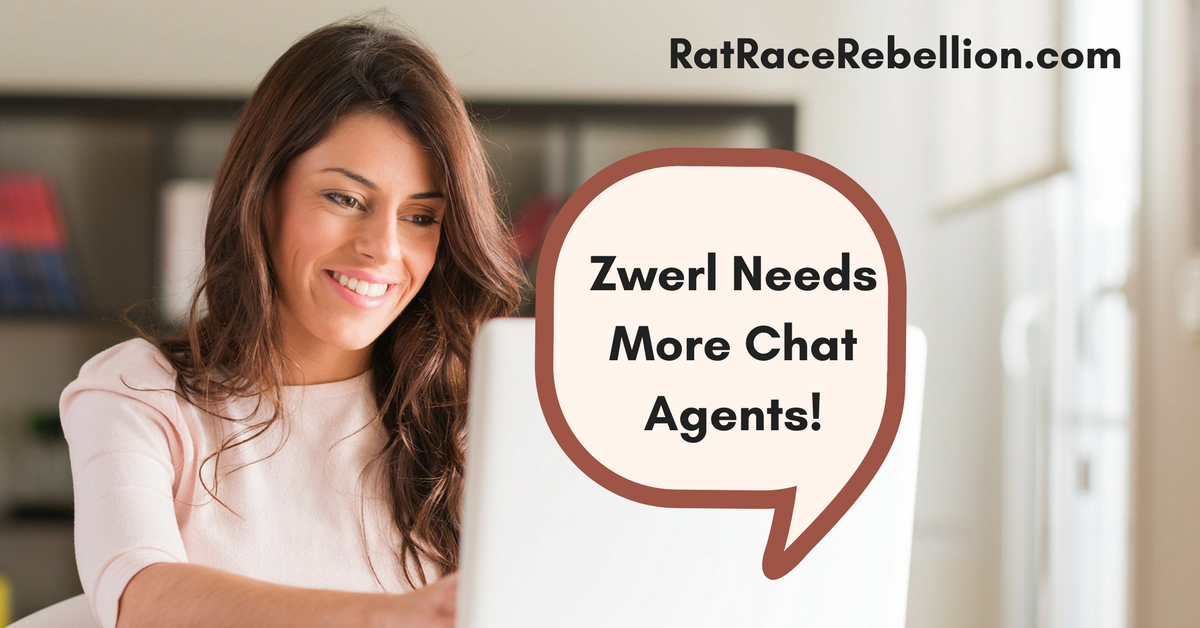 By Mike Haaren – RRR Co-Founder – Feb. 26, 2018
Work from Home Chat Jobs – Part-Time Openings at Zwerl 
Are you into makeup? Or are you the friend people come to for relationship advice? Fashion? Cooking? Pets? Diet? Music? These are just some of the 85+ openings currently listed at Zwerl.
Zwerl is an app that lets people get answers via chat on 150+ topics. And each topic has multiple people working part-time behind the scenes to answer the questions.
You can work from home and set your own schedule, Zwerl says. No state hiring restrictions are mentioned. You won't need a PhD. A practical understanding of the subject seems to be what they're looking for, overall.
What are the Topics?
Right now, the following topics are open:
Art and Design
Art – Photography
Books & Literature
Business
Accounting – Finance – Startups – Sales – Marketing – Human Resources
Coding
C++ – CSS – HTML – Java – JavaScript – PHP – Python
Entertainment
Betting Tips – Book Tips – Gaming – Movie Tips – Music Tips
Fashion
Makeup – Men's Fashion – Women's Fashion
Health
Counselling – Drugs – Fitness – Medical – Nutrition




Home
Cooking – DIY – Gardening – Pets – Sushi – Wine
Legal
Commercial Law – Contract Law – Corporate Law – Criminal Law – Family Law – Employment Law – Personal Injury Law
News
Business News – Entertainment News – Science News – Tech News – UK News – US News – World News – Weather
Relationships
Dating – Parenting – Sex Advice
Shopping
Electronics
Sport
Athletics – Baseball – Basketball – Boxing – Cricket – Football (Soccer) – Formula 1 – Golf- Ice Hockey – Rugby – Tennis – Volleyball
Translation
French/English – Italian/English – Spanish/English
Travel
Bangkok – Istanbul – London New York City – Paris – Singapore – Amsterdam – New Delhi
Tutoring
Biology – Chemistry – Economics – Education Guidance – English – Geography – History- Mathematics – Music – Philosophy – Physics – Politics – Psychology – Religious Studies




What's the Pay?
Pay appears to depend on the subject. For example, the hourly pay rate for people to answer questions on Math was recently advertised at $8-$16. The current rate for Books & Literature, in a recent company ad, was $8/hr. It may also depend on how many questions you get per hour (the hourly rate is prorated). The last time we posted about Zwerl, they paid per question, and you have to claim the question before others do.
These jobs definitely won't be a fit for people looking for core income at a good hourly rate. But despite their limitations, you can still leverage them to reactivate or refresh your resume, and/or get the work from home experience that companies are increasingly looking for. You can also combine these "side hustles" to create a meaningful monthly income. To see how, check out Cathy's story in I'm a Professional Side Hustler.
Applying for the Job – The Assessment
To apply for the job, you'll need to take a very short assessment in the subject you've chosen. Many of the assessments are four multiple-choice questions. And they don't appear to be timed, so you can prep before you answer. Zwerl says that if you pass the assessment they'll be in touch via email.
Also, don't be discouraged if your skill isn't on their current list of openings. Zwerl has been advertising for topics that don't appear on their "master list," and the list itself may change. You may want to bookmark it and check back regularly, and run occasional Google searches, too.




For more on the jobs and to apply, click here. For the Books & Literature opening, click here.  To see their app on Google Play, click here. Zwerl says you should get a reply within three business days if they're interested. (But please don't call them. They'll get back to you if they want to hire you.) "We're currently dealing with a large volume of test applications. Our team is working hard to process them all – if your application is successful you should expect to hear from us within 3 business working days." Good luck!
PLEASE SHARE this post – turn your friends into Rat Race Rebels!
[social_warfare]