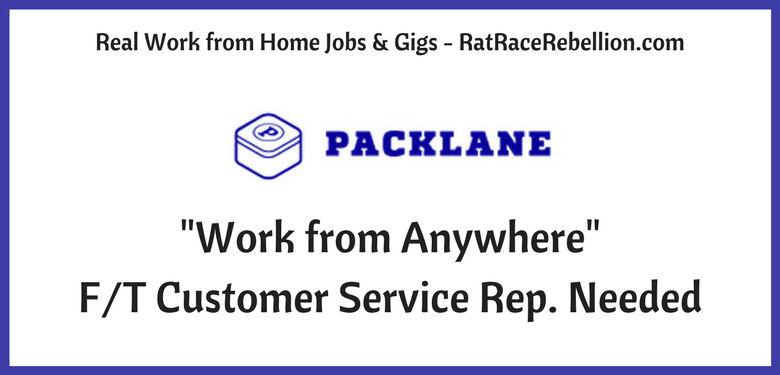 By Mike Haaren – Co-Founder – March 24, 2017
Work from Home Jobs – Full-Time Customer Service Rep. Needed at Packlane
[Update 3/27/17 – The company says this job has now been filled. But not to worry – we post new work from home jobs and side gigs every day but Sunday. To see them, just
click here
!]
Packlane is a growing California-based company that lets people and brands design and customize their own packages. "We give you the tools to create something exciting on the outside, thus exciting your customers about what's on the inside."
They're seeking a full-time "work from anywhere" Customer Service Rep. For this role, they want a detail-obsessed people person who is reliable and accountable, and knows printing processes and Adobe Creative Suite. (No mention of the salary or benefits.)
What You'll Be Doing (Quoted from the Lead)
• Show off your proficient, positive, and proactive personality in every communication with our customers—not just on email, but also on live chat, where thinking on your feet is key.
• Be a steadfast Know-It-All when it comes to order status, product info, technical issues, pricing and more. And if you don't know it all, you'll know how to track it down. Fast.
• Keep our customers' accounts up to date, managing refunds or credits when necessary.
• Become our CSSME—Customer Service Subject Matter Expert. In other words, know your stuff, write it down, and make sure it goes viral.
• Remember that part about solving (not deflecting) problems? Yeah, that.
To go straight to the job, click here. For more on the company at its site, click here. To get a sense of the company from its blog posts (never a bad idea when you're evaluating an employer), click here. For more work from home jobs, see our Newest Jobs & Gigs page. Good luck!
PLEASE SHARE this post – turn your friends into Rat Race Rebels!