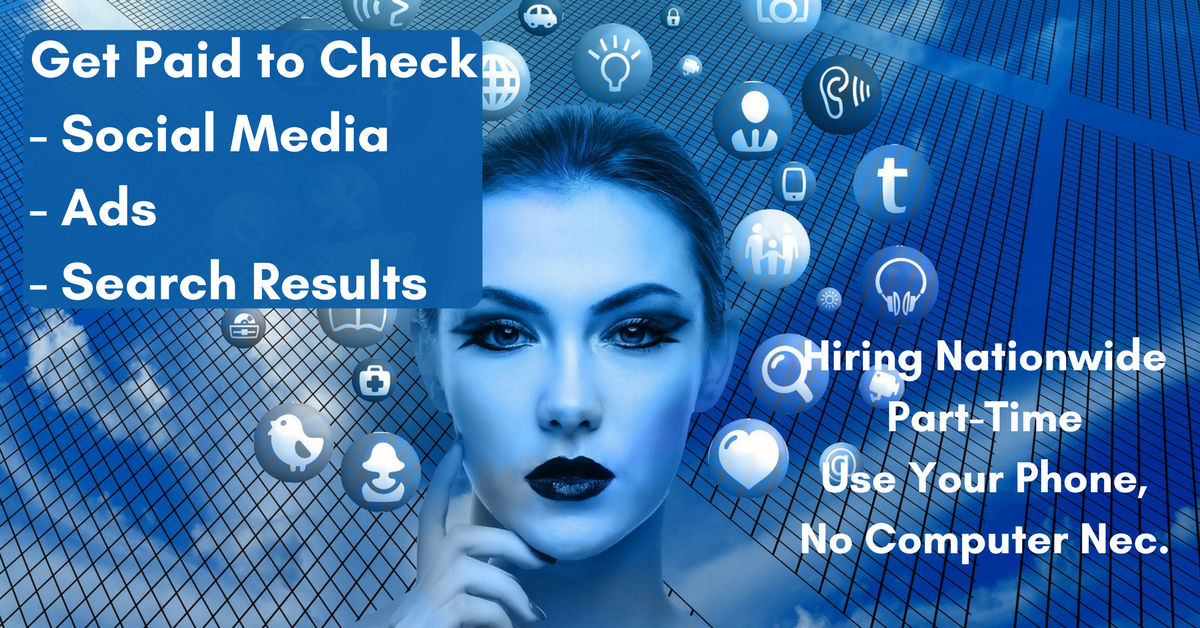 By Mike Haaren – Rat Race Rebellion Co-Founder – March 15, 2018
Work from Your Smartphone, No Computer Needed – Entry level position, no college required – Training provided – Reported avg. pay about $12.79 – Nationwide
Appen, a legitimate hirer of home-based workers, is looking for more part-time people to check social media, online ads and search results. Training provided. "Social Media Evaluator positions are flexible, part-time and only require between 1 and 4 hours a day with your choice of 5 to 7 days a week up to 20 hours a week," the company says.
What's the Pay?
Average pay ranges from $12.75 to $12.83/hr., per employee reviews on Glassdoor. According to one of our FB members, starting pay is $9/hr. However, Appen hasn't confirmed these figures.
Hiring States
Work from anywhere in the US.
What You'd Be Doing
According to online feedback, the social media work involves reviewing Facebook's newsfeed posts. You'd be deciding if they're relevant, rating them, and gathering related data. The ads and search results work is for "the world's top Internet search engine companies…" You'll log in via Appen's proprietary tool and enter your input on whether information is relevant and effective.




Here's the job in their words:
If you love social media and are an active user, now is the time to get paid for your time on social media platforms! Social Media Evaluators with Appen evaluate the quality and relevance of information in their local area or country of residence in categories such as news feeds, advertisements and search results. Tech companies around the world need the knowledge and experience of the very people who use their services. Social Media Evaluators have a direct impact on the effectiveness and relevancy of the service these companies provide.
The Social Media Evaluator is a work-from-home opportunity where all you need is a computer or smartphone and the desire to make a positive impact while working in the social media platforms you enjoy.
These are entry-level positions and Social Media Evaluators can learn new technologies and receive income just by having the experience of participating in social media.
Don't miss this opportunity to be part of a Appen's rapidly growing global Social Media Evaluation services providing critical data for the world's top internet search engine companies!
Work Schedule:
· Social Media Evaluator positions are flexible, part-time and only require between 1 and 4 hours a day with your choice of 5 to 7 days a week up to 20 hours a week!
Requirements:
· Must be currently residing in and able to perform work tasks in the United States
· Access to a computer or smart phone that is less than 3 years old
· High-speed internet connection
· Ability to read and write in English to understand and perform work tasks to customer specifications




Characteristics for Success:
· Ability and desire to work from home doing internet-based work within social media platforms
· Active user on social media platforms such as Facebook and Instagram
· Good English spelling skills
· Basic level of computer and/or smart phone operational knowledge
· Ability and willingness to comprehend and follow instructions independently
· Experience as a freelancer or other work-from-home opportunities
Compensation:
· Dependent upon project
***
Social Media Evaluator reviews on Glassdoor give Appen 3.4 stars out of 5. These jobs depend largely on workflow, so they may or may not last long. You'll probably want to treat them as extra-cash temp gigs. Contractors have also said that layoffs can occur when the company wants to hire people at a lower rate. If so, one more reason to consider the gig temporary!




To go to the job listing, click here. Appen has a lot of different jobs open, and it can take a while for them to reply to applications, so don't despair! For more jobs like these, check our Newest Jobs & Gigs page. To be the first to hear about jobs like these, like our Facebook page. Good luck in your side gig plans!
PLEASE SHARE this post – turn your friends into Rat Race Rebels!