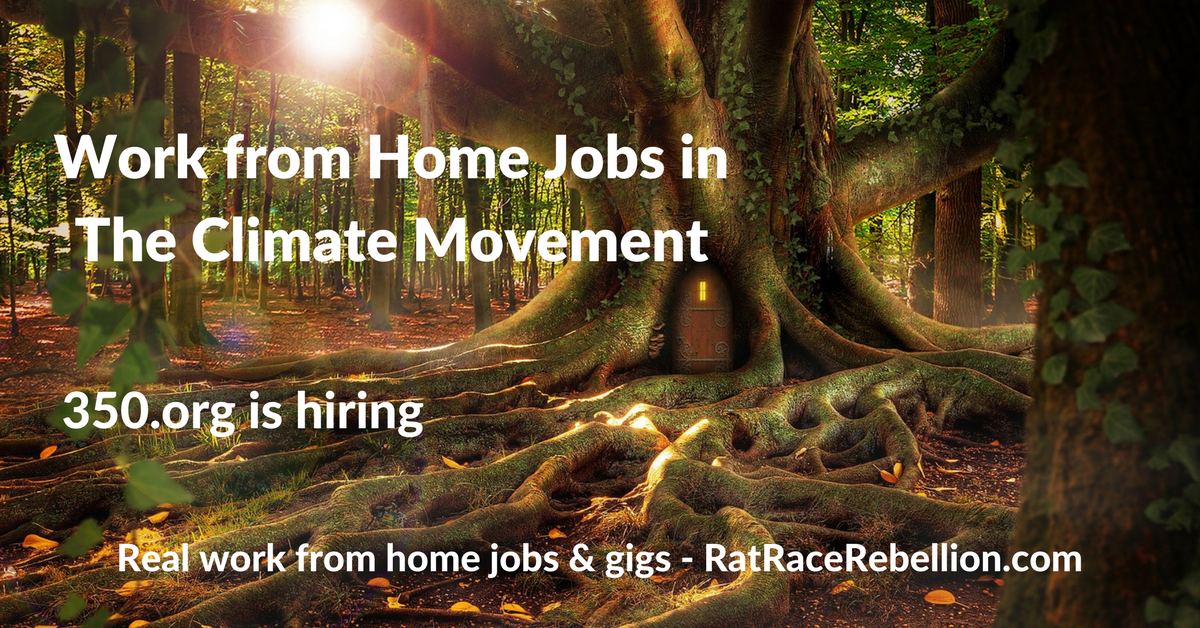 By Mike Haaren – Rat Race Rebellion Co-Founder – Nov. 14, 2018
More Work from Home Jobs in the Climate Movement – US and Other Countries – With Benefits
If you'd like to work in the climate movement, or know someone who would, one of its leading nonprofit organizations has more openings for home-based workers. (If you don't believe in climate change, or don't believe it's man-made, you'll find many more jobs to choose from on our Daily Jobs page.)
350.org has a number of open jobs internationally. Employee reviews on Glassdoor give the company 3.6 stars out of 5.




Current Openings (Quoting from the Site)
Data Specialist 
This job can be performed remotely. You can work from any timezone ranging between GMT-8 hours to GMT+1 hour.
Digital Content Producer 
Remote, can be performed anywhere
Justice & Equity Coordinator 
CA, CO, GA, MD, MA, ME, MT, NY, NC, PA, VT, VA, WA, or Washington, DC.
North America Director 
CA, CT, CO, DC, GA, MA, ME, MD, MT, NC, NJ, NY PA, VA, VT, WA, and WI
Organising and Campaigning Products Manager 
This job can be performed remotely.
Supporter Services and Engagement Coordinator 
Flexible – Remote (anywhere in the world)
Web Products Manager 
Flexible – remote
Africa Regional Campaigner 
Anywhere in Africa
Assistant Campaigner 
Japan
Canada Digital Organizer 
Anywhere in Canada
Indonesia Team Leader 
Jakarta, Indonesia
Italy Organiser (temporary) 
Italy
Japan Communications Coordinator 
Tokyo, Japan
Training Coordinator 
Africa, Latin America, Asia, or Pacific
The organization's team is based throughout the world, so it combines remote work with in-person retreats. "We've even been known to throw a dance party or two."
"We offer equitable and sustainable compensation, no matter where you are in the world," the nonprofit says. "Our benefits are fantastic," it adds. "Make sure to ask about them during the interview process."




For the job listings, click here. For details on the hiring process, scroll down on the page. For more jobs like these, check our Newest Jobs & Gigs page. To see jobs as soon as we post them, like our Facebook page and check your feed. May you be working from home soon!
PLEASE SHARE this post – turn your friends into Rat Race Rebels!