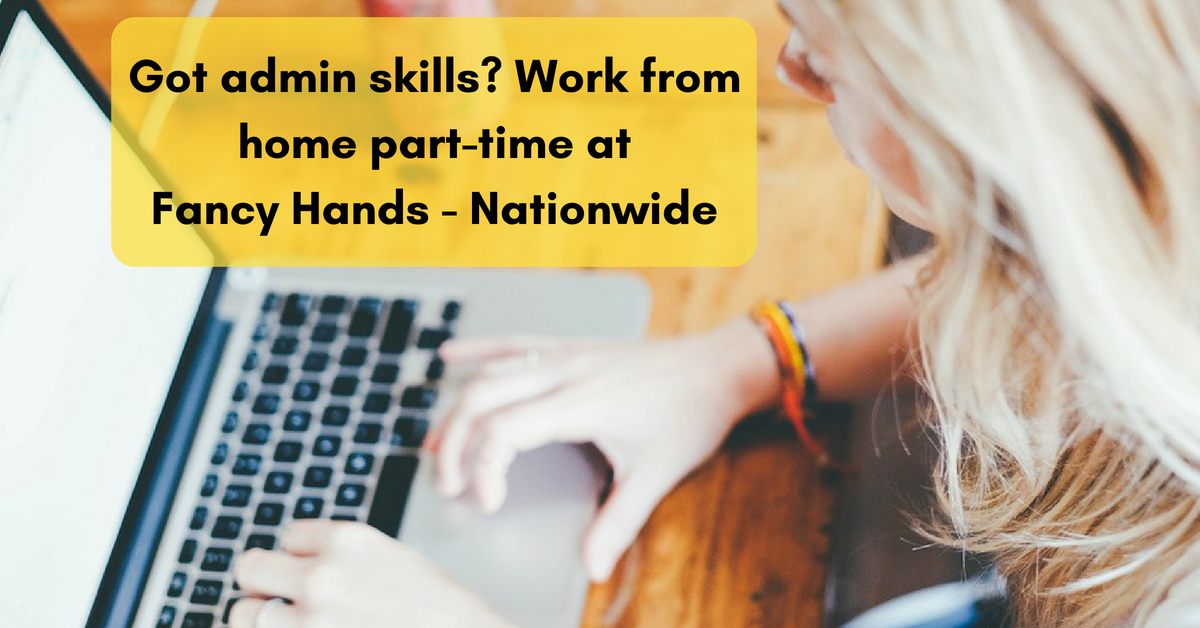 By Mike Haaren – Rat Race Rebellion Co-Founder – Aug. 28, 2018
Work from Home Jobs – Basic Administrative Tasks – Set Your Own Schedule
If you're looking for a side gig from home, Fancy Hands is looking for people nationwide to do basic administrative tasks. The company says it needs people 24 hours a day — it accepts clients from all over the world — so you can work at 4 am or 5 pm or noon or midnight. It's up to you.
Tasks run the gamut. Depending on your skills and the tasks you choose, you might be doing data entry, handling reservations for a restaurant, finding a dog walker, adding appointments to a Google calendar, arranging for a housekeeper to clean an apartment, or cancelling a customer's cable TV. "Tasks are worth anywhere from $3.00 to $7 per task and go up from there," the company says.
Qualifications include communications skills, a computer with a reliable Internet connection, and a headset (or iPhone buds) with a microphone.




The position in their words:
We're currently hiring people to work as assistants for thousands of very discerning users of this site. If you have fast internet connection and the ability to use common websites and software, this could be a lot of fun. We're looking for smart people who want to help build a great company and get paid. Keep reading if you're interested. Are you good on the phone and great at internet research? This could be the perfect position for you.
The work
Making phone calls on behalf of people. Canceling their cable (a lot harder than it sounds).
Scheduling appointments (doctors, business, etc)
Tracking down the best price for something.
Finding hotels that meet certain criteria.
Data entry
Who we're looking for
Communication skills are a must. People will tell you what to do, you must be able to figure out what they're asking for, and be able to get a clear response back to them.
You need to have a computer and a reliable internet connection.
People with knowledge of different fields.
Self starter, you should want to take on more responsibility and try new things.
Important You need to have an audio headset (with a microphone) to do this job (in some cases iPhone headphones work just fine).
The pay
To start, you'll get paid per task depending on how quickly the task is finished, what time of day it is, and how complicated the task is. For example, let's say you have 5 different tasks to make reservations at a restaurant. To start, tasks are worth anywhere from $3.00 to $7 per task and go up from there.
If interested, you may be promoted to a managerial type position, managing other assistants and helping ensure everything runs smoothly.
Payments go out every other week (on Tuesday) via Dwolla
Many people work for Fancy Hands for extra cash, or for work-at-home experience, or to keep their resumes current while they're looking for full-time jobs or jobs with benefits. (Fancy Hands hires independent contractors rather than employees.) The company has 1.9 to 2.3 stars out of 5 on Glassdoor, which is lower than many we see, and 3.3 on Indeed. Workflow and per-task pay can vary, so you probably shouldn't count on it as a primary job. The title of the role is Virtual Assistant.




For more detail or to apply, click here. For more jobs like these, be sure to check our Newest Jobs & Gigs page. To get our new job postings ASAP, like our Facebook page and check your feed for our posts. May you be working from home soon!
PLEASE SHARE this post – turn your friends into Rat Race Rebels!
[social_warfare]