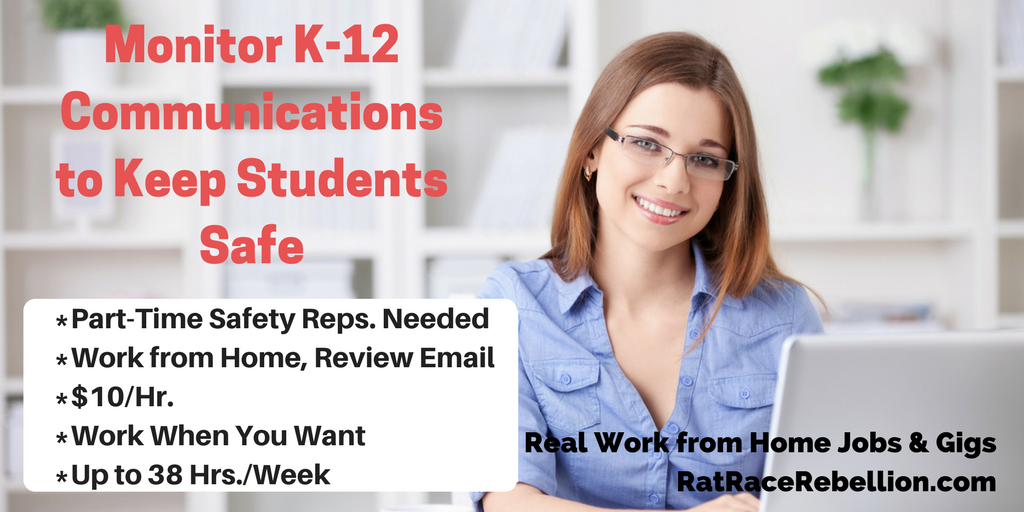 By Mike Haaren – Co-Founder – May 3, 2017
Work from Home Jobs – Part-Time Safety Representative – $10/hr. – Non-Phone Job – "Hiring from anywhere in the US"
SHORT FUSE ALERT – The last time we posted this job, it filled very quickly. So be sure to apply now or share with friends who might be interested. Good luck!
Gaggle monitors K-12 student email and other communications for cyberbullying, threats of violence, drug use and other content of concern to schools and parents. Gaggle hires people to work from home — Safety Representatives – to do the monitoring.
Gaggle is currently hiring new part-time Safety Representatives at $10/hr. Up to 38 hours of work per week. "Choose your own hours and work when you are able."
Requirements
Requirements include experience with social media and internet culture, an awareness of the slang used by children and teenagers, and a love of reading.
Gaggle currently provides safe student communication tools to more than 15,000 schools. It manages over 2 million accounts and stores more than 750 million emails.
Workflow can vary, says the company, and it can't guarantee a length of time for the job. "We will do our best to make sure you are aware of possible lulls in available work as well as when we might expect a surge in items to review," the company adds.
Employee reviews give Gaggle 3.9 stars out of five. To go straight to the job, click here. (Although Honolulu is mentioned in the header, we called the company and they confirmed that they are "hiring from anywhere in the US.") For more on Gaggle, click here. For more jobs like this, see our Daily Jobs & Gigs page. To be the first to hear about jobs we post, like our Facebook page. Good luck in your work from home goals!
PLEASE SHARE this post – turn your friends into Rat Race Rebels!