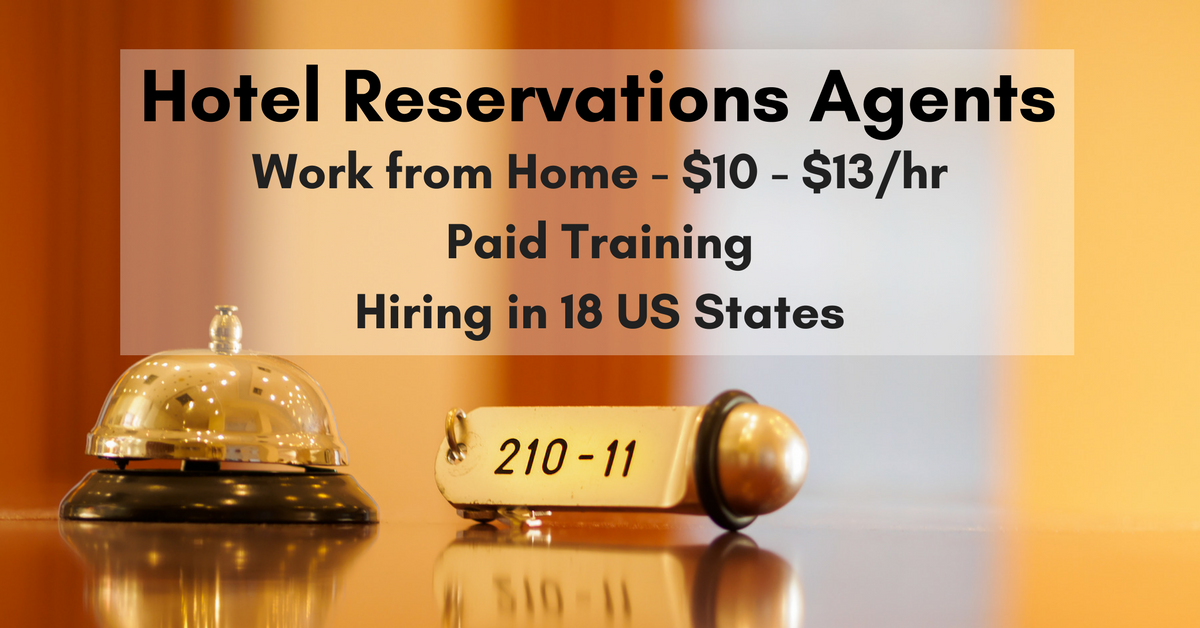 by Chris Durst     July 17, 2017
Travel Outlook is a virtual company that provides voice reservation services for a select group of hotels. The company is now hiring work from home Reservations Agents to handle incoming reservation calls.
They are now accepting applications from people who reside in the following 18 states: Arizona, Florida, Georgia, Indiana, Iowa, Louisiana, Maine, Maryland, Mississippi, Nebraska, North Carolina, South Carolina, South Dakota, Tennessee, Texas, Vermont and Virginia.
Salary: $10.00 to $13.00 /hour (according to a job listing they placed on Indeed.com)
Here's the job in their own words:
"You're applying for a position as one of our work-from-home reservations specialists. This means that you will work from a suitable home office, receiving incoming reservation calls that have been routed to you by our sophisticated contact center phone system. Working from home offers many benefits.
Productivity – Many people prefer an at-home environment to be able to concentrate and work more productively.
Comfort – Home offices are more comfortable. You can design your own work area, sit on the couch, stand, pace – do whatever feels best.
Commuting – With the average commute to work over 25 minutes, working from home means you can start and end your day with sanity and peace.
Nutrition – With full access to your own kitchen, you can prepare meals and snacks during approved breaks.Besides saving money, this is often a healthier option.
Exercise – No need to carry workout clothes, a hair dryer, and makeup kits to the office.
Compensation – Those who work from home team effectively earn more than office-bound counterparts — some studies estimate 10-15% more, saving on gas, the bus or subway, eating out, clothes or on dry cleaning – all of these work-related items add up, and mean more cash to put toward an emergency fund, the house and family, or to fund a retirement account."
"CUSTOMER SERVICE and COURTESY IS PARAMOUNT
You will have a crucial position within our company, because you will be the main representative for our company to both our clients and to their hotel guests. Most likely, in the past you have made a hotel reservation over the phone….think about how the person you spoke with made an indelible first impression in your mind about the hotel. Your role is absolutely critical in our clients' success. In addition to a warm personal presence, our team members must demonstrate creative problem solving. The most important part of your job will be to provide pleasant, effective service whenever you are called on, and you can expect the same experience when working with other Travel Outlook personnel. We need to make everyone we work with – especially our hotel clients and their guests – feel cherished and important.
SALESMANSHIP
Professional salesmanship is also important, and we will provide highly-focused, proven sales training for you which focuses on two important areas of hotel sales proficiency: conversion, and nightly rate maximization. Conversion is the measurement of how often you will convert an incoming phone call to a hotel reservation, and, of course we strive to convert as many calls to bookings as we can for our hotel clients. Travel Outlook is known for achieving some of the highest conversion rates in the industry. Rate Maximization refers to the nightly hotel room rate that the caller pays to stay in the hotel, and our sales training focuses on achieving the highest hotel rate for each call. This requires the ability to listen to the caller, and to recognize and capitalize on opportunities to book at the higher rate. We'll go over these techniques in detail during our sales training."
"Requirements:
TECHNICAL REQUIREMENTS Often, we connect directly into a hotel's property management system, so you may learn to enter information into multiple property management systems as well as learning about the features and benefits of each particular hotel. To achieve this, we have specific requirements regarding training availability, your technical skills, your computer equipment, and your Internet connection. The application process covers these in detail, but at minimum, the basic requirements are:
A Windows-based computer system (Windows 10 or 8.1 recommended)
A high-speed Internet connection (25Mb down/5Mb up or higher required)
A quiet and distraction-free work environment that would prohibit any ambient background noise.
Additional Info:
TRAINING Please note that you must also agree in writing to a background check before employment with us, and we will conduct this check. Employment status is contingent on an acceptable background check. Travel Outlook also reserves the right to perform third-party drug testing on all employees as permitted under your state's law.
Once hired, you will complete 20 – 40 hours of group training prior to answering any incoming calls. This includes:
sales techniques
introduction to hotel property management systems
learning about our different client hotels
"shadowing" of live calls with one or more of our current agents.
All training and regularly scheduled hours will be paid bi-weekly in the appropriate pay period. You will be required to complete all four sections of training within four weeks of being hired. Training will take place Monday through Friday between the hours of 7 am and 5 pm MST and will include approximately 30 hours of group and paid self-led sessions.
Additionally, as you progress with Travel Outlook, each month you will be required to complete up to 8 hours of paid continuing education outside of your regularly scheduled work hours.
Many on our team have found that working in our industry can be interesting and fulfilling. We are always adding new clients in different areas, and you are always welcome to visit these hotels in accordance with our company policies."
Click here for full details and to apply (though it states "Santa Fe, NM" a the top of the page, please read the page for hiring locations). For more jobs like these, check our Newest Jobs & Gigs page. To be the first to hear about jobs like these, like our Facebook page and check your feed for our posts. May you be working from home soon!
PLEASE SHARE this post – turn your friends into Rat Race Rebels!