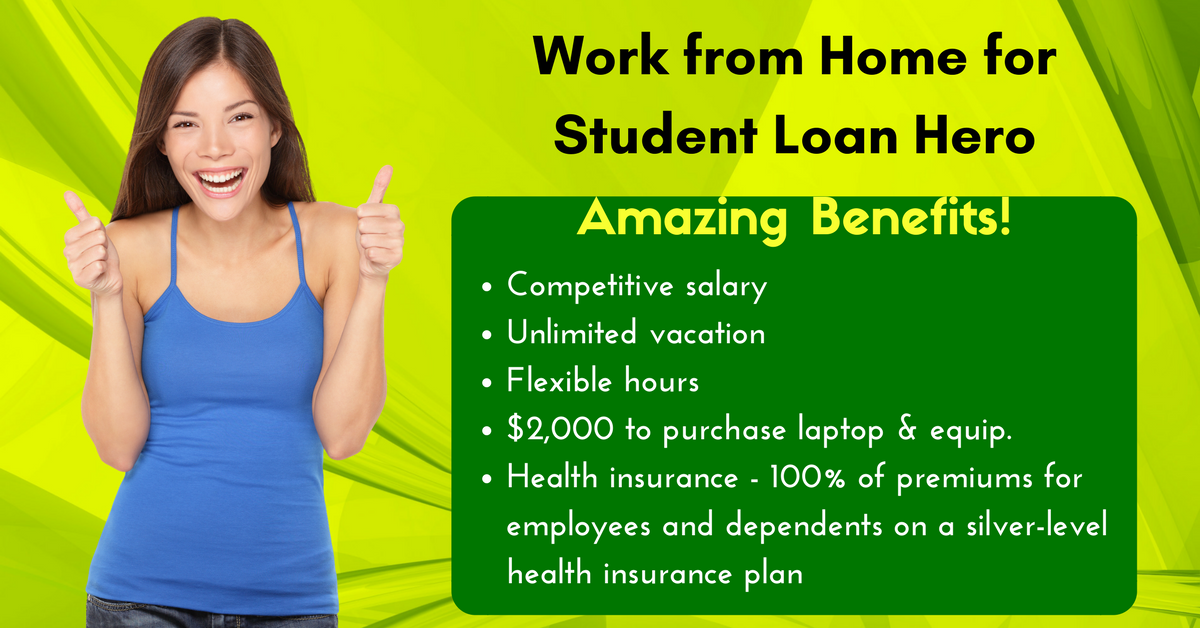 by Chris Durst
Student Loan Hero offers both current and former students free loan calculators, as well as unbiased, personalized advice and repayment plans through an easy-to-use online dashboard.
The company has work from home positions available in four departments – Content, Marketing, Operations, and Product.
The company offers great benefits, check this out:
Competitive salary: Based on experience and location.
Equity: We'll give you vested shares in the company.
Vacation: Unlimited.
Flexible hours: Work when you're most productive.
Work remotely: Work from wherever you want in the world. (Costa Rica, anyone?)
New equipment: We'll hook you up with a $2,000 technology stipend to purchase a laptop or whatever helps you work.
Remote workspace: We'll pay up to $500/month for a remote office space (e.g., co-working space).
Wellness: We cover 100% of premiums for employees and dependents on a silver-level health insurance plan, plus you get up to $150/month for gym, fitness classes, nutrition counseling, weight loss programs, nutritious food delivery service, acupuncture, massages, workout equipment, or race registrations.
Continuing education: Up to $100/month for courses, books, or anything you'd like to learn!
Financial contribution: Receive a 100% match of up to 3% of annual salary to a retirement account, or a 100% match of up to $2,000 toward student loan repayment assistance.
Their current job postings include:
Assignment Editor: "The Assignment Editor is responsible for the team's development of content related to a specific vertical. This position is essential in leading content idea generation, story packaging, and coordination of writers to cover relevant topics while meeting productivity goals."
Content Partnerships Specialist: "Their responsibilities will include: identifying potential content partners, securing syndication deals, securing byline/column opportunities, managing day-to-day partner relations, ideating new story angles, delivering those stories to be published, and communicating feedback from partners to our content team."
Content Writer – Personal Finance: "The mission of the Content Writer is to craft amazing blog posts and other content that knocks our readers' socks off. We want the reaction to our writing to be "Wow! This is the most insanely useful resource I've ever read on the topic!"
Marketing Copywriter: "The Marketing Copywriter's role is to take web pages, emails, and other content and create copy that improves conversion rates and gets results."
VP of Content: "The VP of Content leads the development and optimization of the editorial team, and oversees SLH's content strategy, which includes: content monetization goals, SEO strategy, and strategic partnerships."
Paid Marketing Specialist: "The mission of the Paid Marketing Specialist is to nurture Student Loan Hero's growing user base and optimize campaigns to drive top and bottom of funnel traffic, while also keeping a close eye on revenue and ROI."
VP of Marketing: "There are over 44 million Americans living with student loan debt. As the Vice President of Marketing you'll be responsible for creating, implementing, and optimizing our marketing strategy that helps us find, connect, and assist student loan borrowers."
Customer Experience Manager: "The Customer Experience Manager is focused on continuously improving our customer experience. From answering support tickets to building out customer support processes, this position is responsible for designing, implementing, and evolving the customer service experience."
Director of Conversion Optimization: "As the Director of Conversion Optimization, you'll be responsible for identifying conversion rate optimization opportunities across multiple digital and website funnels, and working cross functionally with our team to create, launch, and measure optimization efforts."
Digital Product Designer: "As (Digital) Product Designer, you'll lead all aspects of the design process, including user research, product ideation, interaction design, and visual design."
UX Researcher: "As a User Experience (UX) Researcher, you'll work closely with our Product Designer and Product Manager to research and identify customer needs, and derive insights that inform product strategy."
For more job options, see our Daily Jobs & Gigs page. To be the first to hear about jobs like these, like our Facebook page. Good luck in your work from home goals!
PLEASE SHARE this post – turn your friends into Rat Race Rebels!