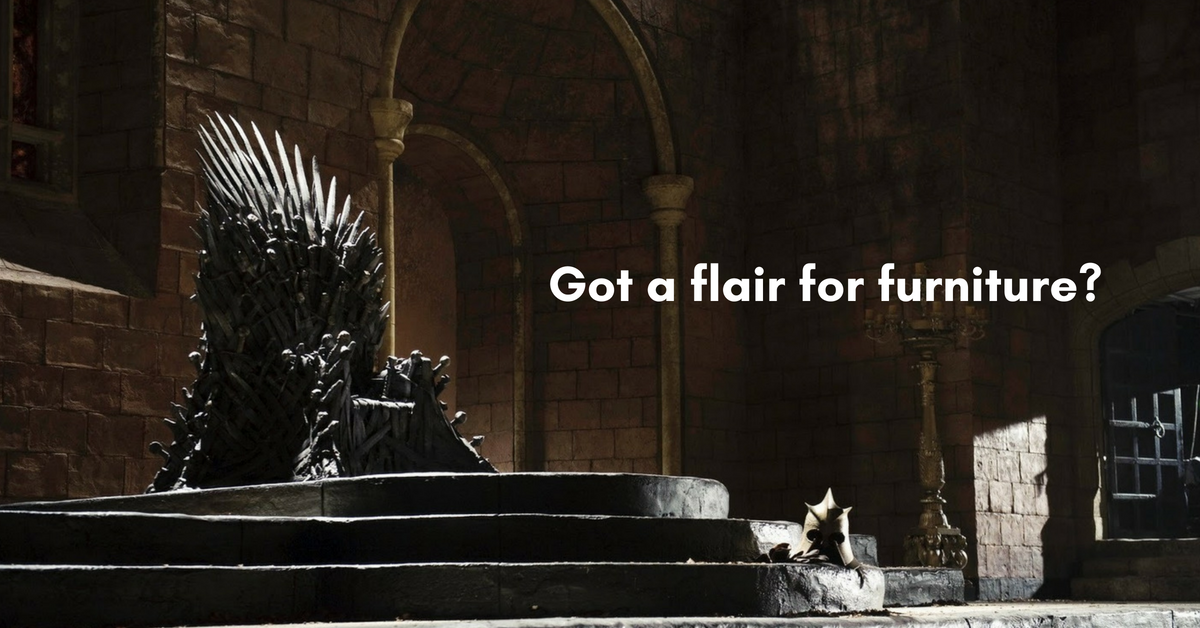 By Mike Haaren – Rat Race Rebellion Co-Founder – May 14, 2019
Work from Home Jobs – Design Specialists Needed – Interior Design
Modsy may not let you design the next Game of Thrones throne room, but they are recruiting full-time Design Specialists and Premium Design Specialists. The site lets people visualize new furniture in their rooms, online, before they buy it. They also create designs to help customers see what furnishings might suit them best. As a Design Specialist, "you will be engaging with our customers to perfect their interior design experience with Modsy," the company says. The company is hiring from CA, GA, IL, NC and OR.
The primary differences between Design Specialists and Premium Design Specialists appear to be experience and employment status. It looks like Design Specialists are contractors and Premium Design Specialists are employees, but that's not official.
There are probably differences in pay, too. Per Indeed, the hourly average for Designers at Modsy is $16.19. Reviews on Indeed say that you start at $15/hr. (presumably as a Design Specialist), but that you are soon paid "per room." This can reduce your hourly rate to $10, one reviewer says. It can also be difficult to get assignments, and management has some issues, reviewers on Indeed and Glassdoor mention. "Your mileage may vary," of course. The company overall gets 3.2 stars out of 5 on Indeed, and the Designer role (which used to be called "Stylist") gets 2.9 stars out of 5 on Glassdoor.




The Design Specialist job in their words:
By joining our Customer Success team as a Design Specialist, you will be one of the main points of contact with our customers. This role has a high level of customer interaction with a strong focus in sales. You will be engaging with our customers to perfect their interior design experience with Modsy.
We are looking for someone who is a team player and is a fast learner. This person also shares a love for design, and feels comfortable and confident offering style advice helping customers make purchasing decisions. We are looking for someone who can go above and beyond with our customers, and can problem solve to ensure that our customers receive fast and delightful service and who ultimately love and buy the furniture in their designs.
Responsibilities
– Respond to all customer inquiries regarding services, orders, designs, and online interactive tools through email, chat, and phone
– Assist with elevated customer interactions to help ease customer frustrations
– Use Modsy's 3D layout tool to create new designs in a customer's space based on their feedback.
– Recommend products from their virtual 3D rooms
– Consult with customers during real time one-on-one chat sessions to assist in redesigns and room edits
– Connect with contractors as necessary to meet build-out completion deadlines
– Partner with other stylists to ensure customer's needs and requests are successfully captured in the designs
– Overcome objections to purchase furniture
– Adhere to customer follow-up timelines
– Gather feedback from customers and record in appropriate spreadsheets
– Report system issues and enter tickets to fix




Skills and Requirements
Bachelor's Degree
Must be a resident of CA, OR, GA, NC or IL
Strong retail and sales background preferred
Design savvy with passion for home furnishings and decor
Worked in a performance oriented, customer-centric environment
Tech savvy, proficiency in Microsoft Suite and Google Drive, ability to learn new programs quickly including Modsy's 3D Style Editor.
Highly data driven to deliver upon overall company goals and metrics
Excellent verbal and written communication skills
Natural ability to collaborate with teams across the organization and thrives in a dynamic, fast paced environment
Ability to work weekends and some holidays
Full time position




To go straight to the openings, click here and scroll down. For more jobs like these, see our Daily Jobs & Gigs page. To be the first to hear about jobs like these, like our Facebook page. May you be working from home soon!
PLEASE SHARE this post – turn your friends into Rat Race Rebels!