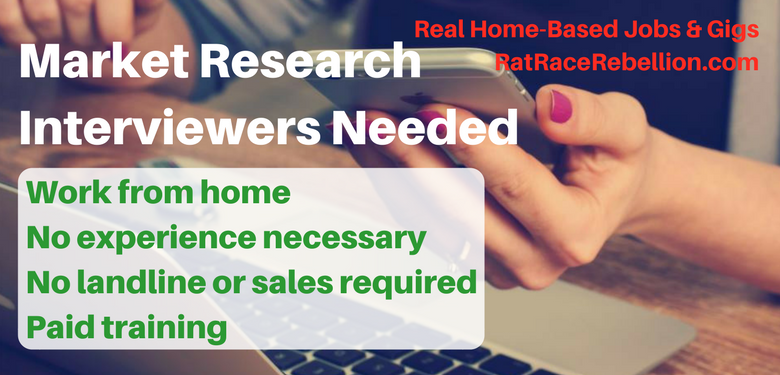 By Mike Haaren – Co-Founder – March 13, 2017
Work from Home Jobs – No Experience Necessary – P/T Market Research Interviewers – No Sales or Landline Necessary – Paid Training – No State Hiring Restrictions Mentioned
No experience? No problem in this job at MaritzCX. They're looking for part-time Market Research Interviewers to do brief customer-satisfaction surveys over the phone. No landline or sales required. You'll be an employee rather than an independent contractor.
What's the job? You'll be reading from a short script, asking consumers about the products and services of Maritz's corporate clients. You'll key in their replies numerically and move on to the next call. The calls are made automatically by autodialer, so you won't need to enter phone numbers yourself.
Pay
Pay starts at your state/county minimum wage with a $.50 increase per hour after 30 days of perfect attendance. You can get other raises with performance appraisals after two months and six months, and yearly after two years of employment. "Top performers can increase their hourly rate by $1.25 per hour over the first twelve months," the company says.
Requirements
Requirements include a quiet place to work, a noise-cancelling headset, high-speed internet, good people skills, a clear speaking voice and a PC with MS Office.
Perks
Paid training
Weekly pay via direct deposit
Monthly incentive programs based on project performance (gift cards)
Employee referral program (gift cards)
Flexible weekly schedules that you create based on project hours
Paid time off
Scheduling (Quoted from the job listing)
Schedules submitted weekly to work around any personal obligations.
20 hours/week requirement, 28 hours max.
Weekends required. No exceptions, sorry.
Monday through Friday:
*The Minimum weekday shift is 4 hours. The maximum weekday shift is 6 hours.
The earliest start time is 2pm PT/3pm MT/4pm CT/5pm ET
The latest start time is 4pm PT/5pm MT/6pm CT/7pm ET
The latest shift lasts until 9pm PT/10pm MT/11pm CT/12am ET
Saturday:
*Minimum of 3 hours required each Saturday. The maximum Saturday shift is 8 hours.
The earliest start time is 8am PT/9am MT/10am CT/11am ET
The latest start time is 10am PT/11am MT/12pm CT/1pm ET
Sunday: (Certain projects do not operate on Sunday)
The earliest start time is 9am PT/10am MT/11am CT/12pm ET
The latest start time is 10am PT/11am MT/12pm CT/1pm ET
Employee reviews on Glassdoor give MaritzCX 3.2 stars out of 5. Reviews on Indeed give it 3.6 out of 5. To go to the job, click here. If you decide to apply, good luck!
PLEASE SHARE this post – turn your friends into Rat Race Rebels!