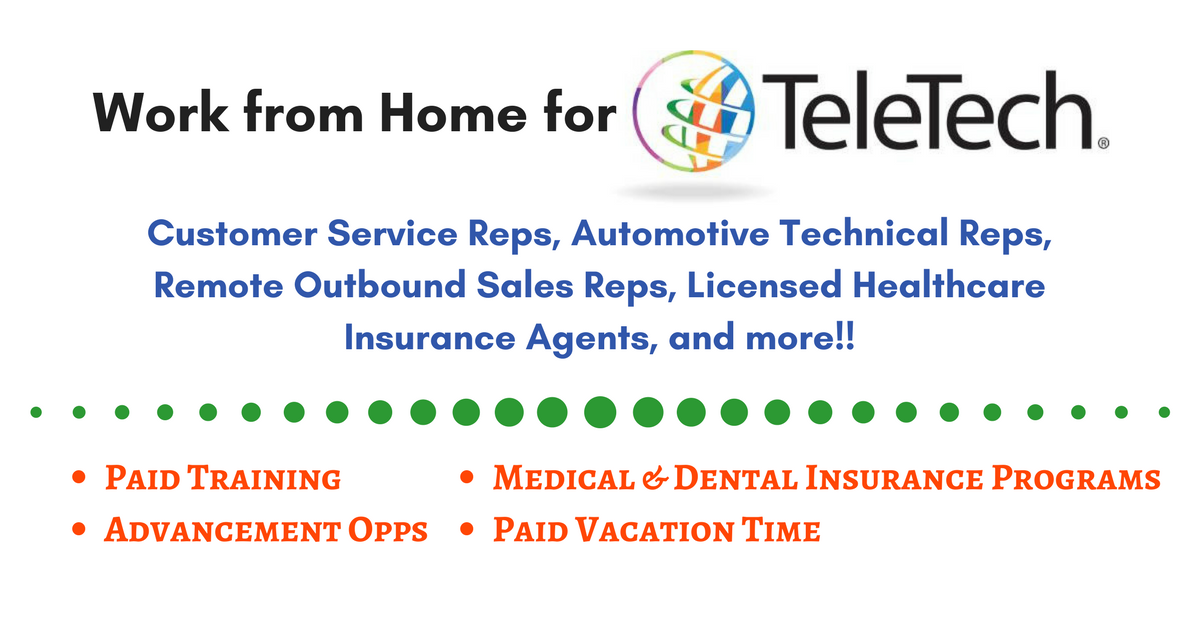 by Chris Durst     Aug. 4, 2017
Please note that  these roles are not open in CA, ME, MD, NJ, RI, WI, OR, WA, NY, CT, MA, VT, HI, AK, DC, AZ, CO, KY, NV, OH, Chicago IL or the Virgin Islands.
TeleTech has a variety of work from home jobs available right now. These include Customer Service Reps, Automotive Technical Reps, Remote Outbound Sales Reps, Licensed Healthcare Insurance Agents, and more.
From their site:
"[email protected] provides you with specific product and client training through a certification program to prepare you for the on-the-job requirements of your assigned client project. All training is paid, mandatory and is conducted both online and over the phone.
Work schedules are determined based on the hours of availability you indicated you are available for during the application process and that you agree to work during your offer process. Specific hours vary by client project. You will receive a set schedule for Training, and while in Training, you will receive your schedule for Production."
Click here for details about the specific positions. To see more jobs like these, check our Newest Jobs & Gigs page. To be the first to hear about jobs like these, like our Facebook page and check your feed for our posts. Good luck!
PLEASE SHARE this post – turn your friends into Rat Race Rebels!