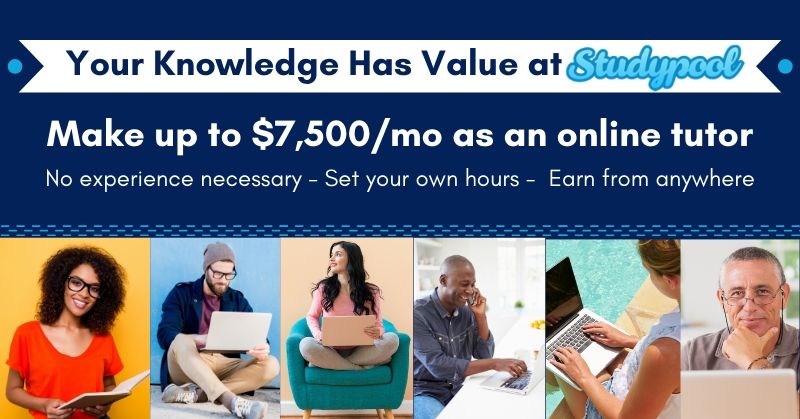 by Chris Durst        Sep. 30, 2020
Whether you're an experienced tutor OR you have no tutoring experience but are confident you'd be great at it, Studypool needs and wants you!
That's right — Studypool understands that KNOWLEDGE and the ability to assist others do not always stem from job experience! We're doing this sponsored post to make sure all of our RRRebels can learn about and share this opportunity.

Studypool is an online education platform that helps students all over the world with their studies. With over 10 million students and 50k tutors, Studypool is one of the most popular online tutoring services. It's been featured by Forbes, Nasdaq, and Dave Ramsey as a great way for people to make money. Especially now during the coronavirus, Studypool is an amazing way for tutors to make up to 6 figures working from home.
Highly-Rated by Current Tutors
We've been hearing great things about Studypool and, when we dug in a bit more, we found out why.
Current tutors give the company high ratings — 4.1 out of 5 on Glassdoor and 4 out of 5 stars on Trustpilot.
Chief among their praise of the company, tutors cite "amazing" support from the Studypool staff, flexible scheduling, steady flow of tutoring opportunities, and a good compensation model.
What You Need to Know
We asked the folks at Studypool some questions to get details that we know are important to you.
RRR: Tell us a bit about what Online Tutors do.
Studypool: For the most part, online tutoring involves answering specific academic questions from students related to school work. For example, "Need help with a math concept" or "Need help with proofreading a paper."
That said, some users post questions that aren't traditionally academic in nature — like "Need help with a resume/job application."
---
RRR: Do you have any geographical limitations — excluded states or countries — for tutors?
Studypool: Absolutely not! Studypool welcomes tutors from all around the world. Tutors can work where they want and when they want, with tutoring on Studypool a fantastic way to work remotely.
Tutors who are fluent in other languages besides English are also welcome to apply. Due to an increase in students learning online across the globe, there's more demand for tutoring in languages such as Spanish, French, Chinese, etc.
---
RRR: What about hours — full-time, part-time – what can tutors expect? 
Studypool: Questions are posted 24/7 so Studypool tutors can choose their own hours and how much they want to work. A lot of tutors use the platform to supplement their income but a lot of more established tutors use this as their full time occupation (making up to US $7500 monthly).
---
RRR: As a rule, that kind of flexibility is only available to Independent Contractors. Are Studypool tutors contractors or employees?

Studypool: All of our tutors work as Independent Contractors. It affords them complete control over their workload!
---
RRR: Is there any limitation to how long someone can work as a Studypool tutor?

Studypool: None at all! Studypool is open to students and tutors 365 days a year with questions being posted at all times throughout the day.
There are seasonal surges that mirror the school calendar, for example during this month (April 2020), we are seeing a record number of questions being posted on the platform.
Most students who have a good experience working with a tutor return and ask more questions for that tutor, thus it is beneficial for the tutor to focus on developing repeat customers to secure strong earnings.
---
RRR: Do you require any kind of specialized training or experience?

Studypool: No special training or qualifications are required – indeed as part of the application process, tutors are asked to complete a Knowledge Quiz with this and their work on the platform itself leading to special badges to recognize their specialties and skills.
---
RRR: What can you tell our RRRebels about compensation?

Studypool: The pay rate really does depend on the student and the tutor. The student will post a recommended budget but the tutor is free to submit a bid with whatever budget they are willing to answer the question for. The amount of money one can earn really does depend on how active on the platform they are and how many questions they work on – however the most successful tutors can earn up to 6 figures per year.
RRR: What would you say are the benefits of tutoring with Studypool?

Studypool: The two big ones are flexibility and earning potential!

Flexible work schedule and the ability to work from anywhere (so long as the tutor has internet access).
New tutors who show promise in their application are awarded badges to help them get assigned to questions, thus helping the tutor earn money quickly after signing up.
Not only is online tutoring the perfect side job/supplementary job, it's ideal for social distancing.
---
RRR: Thanks so much for your comprehensive replies. Are there any parting thoughts you'd like to share with our audience?

Studypool: We're really proud of what we've built, so there's always more to say!
We want people to understand that Studypool is a fantastic way to either supplement an existing job or even utilize as a full time occupation. So, it's a great fit for so many people.
You, the tutor, are in charge of your own earning potential – the platform is set up to reward strong performances and help tutors form long lasting, professional relationships that can offer a lot financially.
Regarding growth, an ever-increasing student base means that there are more and more opportunities than ever before to find work with no minimum or maximum commitments – work as much or as little as you would like!
There is a constantly active review process with tutors' work being evaluated and good performances being rewarded with subject badges and other perks – with Studypool promoting the tutors profile and recommending tutors to students, tutors can focus on tutoring itself and not invest valuable time on self promotion.
Additionally, the trend to online work has been accelerated by the COVID-19 outbreak. It's really the perfect time to get involved in a rapidly expanding and evolving industry.
CLICK HERE to apply to become a Studypool tutor. We look forward to hearing your success stories soon!
PLEASE SHARE this post – turn your friends into Rat Race Rebels!