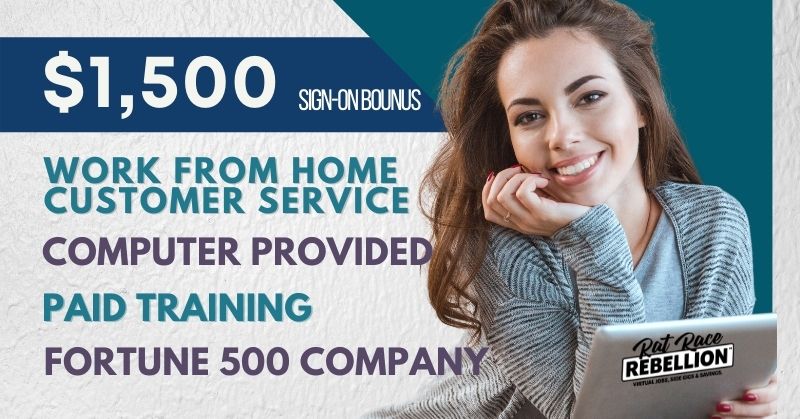 by Chris Durst        Jan. 6, 2022
Update 1/7/22: The company has now stopped taking applications for this position. Good luck to all who applied!
UnitedHealth's Optum division is looking for work from home Customer Service Reps across the US.
This position involves calling members to schedule in home visits with a Physician or a Nurse Practitioner, answering inbound calls from members and assist them with their inquiries, and ensuring that the appointments are scheduled accurately and resolve any scheduling issues or concern.
The company will provide you with a work computer and paid training to help ensure your success in the job.
Additionally, Optum is currently offering a $1,500 sign-on bonus.
Pay rate is not noted in their ad, however, UnitedHealth generally pays a very competitive wage and offers an attractive benefits package.
Here's what the company has posted about this opportunity:
"You'll enjoy the flexibility to telecommute* from anywhere within the U.S. as you take on some tough challenges.
Who says house calls are a thing of the past? At UnitedHealth Group, we're always looking for new ways to run our service centers, improve our service levels and help people lead healthier lives. Here's an opportunity with one of our most exciting business areas: Optum – a growing part of our family of businesses that make UnitedHealth Group a Fortune 10 leader. Now's your chance to make a real impact by being an integral part of our progressive house calls program. Join us as we go beyond basic care to health programs integrated across the entire continuum of care.
This position is full-time (40 hours/week) Monday – Friday. Employees are required to work an 8-hour shift between our normal business hours of 11:00 am to 7:30 pm CST or 11:00am to 7:30 EST. It may be necessary, given the business need, to work occasional overtime or weekend.
There are several steps in our hiring process – it's a thorough process because we want to ensure the best job and culture fit for you and for us. In today's ultra-competitive job market, the importance of putting your best foot forward is more important than ever. And you can start by completing all required sections of your application. (i.e. profile, history, certifications and application/job questions). Once you submit your resume, you'll receive an email with next steps. This may include a link for an on-line pre-screening test that we ask you to complete as part of our selection process. You may also be asked to complete a digital video interview, but we will offer full instructions and tips to help you. After you have completed all of these steps, you can check on the status of your application at any time, but you will also be notified via e-mail. http://uhg.hr/OurApplicationProcess
*All Telecommuters will be required to adhere to UnitedHealth Group's Telecommuter Policy.

Primary Responsibilities:
Call members to schedule in home visits with a Physician or a Nurse Practitioner
Answer inbound calls from members and assist them with their inquiries
Ensure that the appointments are scheduled accurately and resolve any scheduling issues or concern
This is high volume, customer service environment. You'll need to be efficient, productive and thorough dealing with our members over the phone. You also must be able to work a flexible schedule that includes evening hours. Hear directly from our business leaders to find out more about our Housecalls Customer Service roles and the impact you can make for our members: https://uhg.hr/HouseCalls3/5/21 Opens in a new window
You'll be rewarded and recognized for your performance in an environment that will challenge you and give you clear direction on what it takes to succeed in your role as well as provide development for other roles you may be interested in.
Required Qualifications:
High School Diploma / GED (or higher)
1+ years of work experience
Experience with Microsoft Word, Excel and Outlook (create/edit/save/send documents, spreadsheets and correspondence)
Ability to maintain confidentiality and adhere to HIPAA requirements
Must be able to work an 8-hour shift between normal business hours between 7:00am to 7:30pm
Preferred Qualifications:
Experience working in the health care industry
Experience working with Medicaid or Medicare
Experience working in a customer retention focused role
Telecommuting Requirements:
Required to have a dedicated work area established that is separated from other living areas and provides information privacy
Ability to keep all company sensitive documents secure (if applicable)
Must live in a location that can receive a UnitedHealth Group approved high-speed internet connection or leverage an existing high-speed internet service
Must be able to connect directly into internet – via hard wire (either directly to modem or router)
Soft Skills:
Ability to type and talk at the same time while navigating through multiple screens
Experience working in a metric-driven work environment
Experience using an auto dialer system
UnitedHealth Group requires all new hires and employees to report their COVID-19 vaccination status.
**PLEASE NOTE** The sign on bonus is only available to external candidates. Candidates who are currently working for a UnitedHealth Group, UnitedHealthcare or related entity in a full time, part time, or per diem basis ("Internal Candidates") are not eligible to receive a sign on bonus.
Careers with Optum. Here's the idea. We built an entire organization around one giant objective; make the health system work better for everyone. So when it comes to how we use the world's large accumulation of health – related information, or guide health and lifestyle choices or manage pharmacy benefits for millions, our first goal is to leap beyond the status quo and uncover new ways to serve. Optum, part of the UnitedHealth Group family of businesses, brings together some of the greatest minds and most advanced ideas on where health care has to go in order to reach its fullest potential. For you, that means working on high performance teams against sophisticated challenges that matter. Optum, incredible ideas in one incredible company and a singular opportunity to do your life's best work.SM
Colorado, Connecticut or Nevada Residents Only: The salary range for Colorado residents is $15.00 – $22.02. The salary range for Connecticut / Nevada residents is $15.00 – $24.13. Pay is based on several factors including but not limited to education, work experience, certifications, etc. In addition to your salary, UnitedHealth Group offers benefits such as, a comprehensive benefits package, incentive and recognition programs, equity stock purchase and 401k contribution (all benefits are subject to eligibility requirements). No matter where or when you begin a career with UnitedHealth Group, you'll find a far-reaching choice of benefits and incentives."
CLICK HERE for full details and to apply. For more jobs like these, check our Newest Jobs & Gigs page. May you be working from home soon!
PLEASE SHARE this post – turn your friends into Rat Race Rebels!