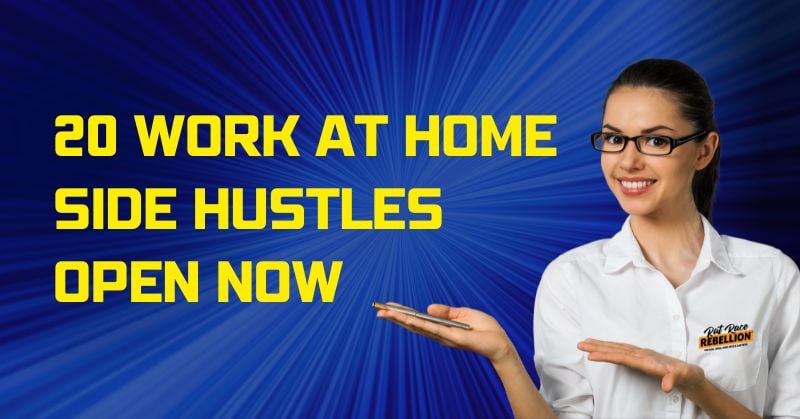 by Mike Haaren       Updated Sept. 27, 2023
As we write, these job listings are online and applications appear to be open. But jobs can fill at any time, so apply or share quickly if you're interested! Sorry, but we have no role in the HR processes of other companies. If you encounter difficulties in the application process please contact them directly. Some links below may be affiliate links, which pay us a small commission if you use them. Good luck in your hunt, and may you be working from home soon!
If you're looking for something you can do at home on the side, here are some screened options open now. To fuel your search, keep in mind that some side hustles can provide other benefits besides extra cash:
They can update and strengthen your resume with fresh experience.
They can show other hirers that you have work at home experience — a requirement or preference that we're seeing more and more often in job listings.
They can give you new references for future job applications.
And they can help maintain your morale by providing paying work.
Transcription, Captioning, and Audiobooks
Many of these side hustles require no or little experience, and no college degree. They are also usually available nationwide.
Here are a few to choose from.
Get Paid to Narrate Audiobooks on this Amazon-Owned Site – ACX: Narrators needed. Hundreds of titles available… If you have a good voice and would like to get paid to narrate books, this Amazon-owned company is looking for audiobook readers. Pays about $100 per completed audio hour.
Work at Home Transcribers – Scribie: "Pays $5 to $20 per audio hour… Good English comprehension; ability to interpret conversations; ability to apply context and identify mistakes; a verified PayPal account; laptop/desktop computer and internet connection; headphone/headset…"
For Good Listeners Who Can Quickly Repeat What They Hear – 3Play Media: Get paid to repeat what you hear (from home) from a live event. Speech recognition software then translates your words into captions for audience members…
Make $240 – $1,500 a Month Captioning Videos from Home – Rev.com: Sorry, but they say they don't hire from CA or MA. No experience necessary, training provided. Get paid to type captions for videos. Rev has hired many RRRebels in this role and as Transcriptionists as well.
Greeting Card Writers
If you have a flair for humor or poetry — or you're good at finding phrases that convey heartfelt emotions — you can get paid to write for greeting card companies.
Blue Mountain Arts: Reportedly pays $300 per poem. "Contemporary prose or poetry written from personal experience that reflects the thoughts and feelings people today want to communicate to one another, but don't always know how to put into words."
NobleWorks: If you're the one who makes people laugh, NobleWorks might fit. "As one of the leading humor card publishers, we strive to find funny, unique, risqué and carefully-crafted card suppliers to help stock our virtual shelves."
Get Paid for Your Heartfelt Stories, Kids' Puzzles, and Jokes
Here are some other places that will pay you for your writing.
Chicken Soup for the Soul: If you're good at telling a story, send it to Chicken Soup for the Soul. They pay $250 for funny, heartwarming, or exciting stories. They also buy poems.
Sell Your Funny Line or Story – Reader's Digest: For you funny-bone ticklers, here's another paying outlet. "We'll pay you $25 for any joke, gag, or funny quote and $100 for any true funny story published in a print edition of Reader's Digest unless we specify otherwise in writing."
Get Paid for Your Stories, Puzzles, or Poems for Kids – Fun for Kidz: "We will pay a minimum of 5 cents a word for both fiction and nonfiction, with additional payment given if the piece is accompanied by appropriate photos or art. We will pay a minimum of $10 per poem or puzzle, with variable rates offered for games, crafts, cartoons, and the like."
Get Paid to Take Surveys and Polls
Surveys won't stand in for primary income, but they can be a fun way to generate cash for smaller things. Do them when you have a little time on your hands. Share your opinions on TV shows, movies, snacks, race relations, politics, household products — they run the gamut!
Here are a few to choose from.
Get Cash for Your Opinions – Prime Opinion: Sign-up bonus up to $5, pays up to $5 per survey, per the company. Cash out from $1. Get paid for your opinions on current affairs, consumer products, TV shows, etc.
Share Your Opinions for Visa Gift Cards and More – Opinions by Sync is a market research company looking for people to participate in online interviews, focus groups, online communities, and more to earn extra income. "The average study pays $100 and we always have new opportunities available on a range of topics…"
Get Paid for Your Opinions – SayMore: Take surveys for gift cards for Amazon, Walmart, Target, Starbucks, Sephora and more. Participate on desktop, tablet, or mobile.
Earn Cash for Your Opinions, Test Products – Survey Junkie: Earn points redeemable for cash or (if you prefer) gift cards for Visa, Amazon, Walmart and other major brands. Keep an eye out for product testing offers. Also offers free onboarding points, extra points for linking your online activity, and periodic giveaways.
Sell Your Cell Phone Pics and Vids
If you're the one whose pics or videos make people ooh and ahh, here are some places to turn your clicks into cash.
Dreamstime: This is a place where you can "rent" your pics. Earn up to $12 per license per photo.
Foap: Another legitimate site for your vids and photos. "When a brand, agency or just anyone who finds your work outstanding purchases a video or picture from your online Foap portfolio, we share the profit with you 50/50," the company says.
Scoopshot: "Scoopshot allows you to share and sell your mobile photography/video content to newspapers, online news websites and brands. If you witness something unusual that might be newsworthy send it to Scoopshot and participate in tasks, too — the best photos snap the rewards. Any money that you earn goes directly into to your PayPal account…"
Get Paid to Tutor
There are lots of openings for online Tutors. Not all require a college degree, and the subjects can range from basic English conversation to advanced calculus and beyond.
Here are a few to choose from.
Online English Teachers, No College Required – NativeCamp: Work from anywhere. Teaching experience may be required… "Salary is based on your work performance… Organize your life and earn by working from any location with totally flexible working hours and schedule… Training and teaching material always available…"
Online Tutors – Skooli: "Skooli tutors are professional teachers and subject-area experts. Holding one of the following sets of credentials helps our team identify you as a top tutor: Bachelor's degree (or higher) in related field. Government issued teaching license. Specialized instructor qualification (eg. Mathematics certifications)…"
Online Language Tutors – Verbalplanet: "Ultimate flexibility. Take control with complete freedom to set your own hours and lesson rates. It's free to use with no membership fee and you keep 100% of what you earn with nothing to pay to us…"
Work at Home Part-Time Tutors — Wyzant: "Choose your own hourly rate… Millions of people visit Wyzant.com every month in search of private tutors. Having a profile on Wyzant makes it easy for students and parents to find and contact you through a trusted, secure marketplace. Additionally, Wyzant will notify you of new tutoring jobs in your area every day…"
Hope you've seen something that fits! For more screened gigs like these — and for work at home jobs — check our Newest Jobs & Gigs page. To be the first to hear about openings like these, like our Facebook page. May you be working from home soon!
PLEASE SHARE this post – turn your friends into Rat Race Rebels!