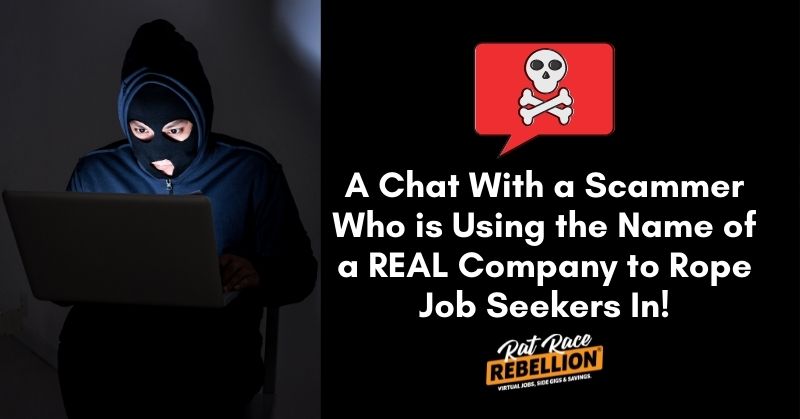 by Chris Durst     Jan. 6, 2022
Those of you who have been here for a while know how much I like to toy around with scammers. There's just something enormously satisfying about stringing them along and giving them false hope while they think they're, well… stringing ME along and giving ME false hope.
---
A couple of days ago, my daughter came across this post in a Facebook group. (Yes, there's a horse in the screenshot — looks like she was playing a video for my grandson when she took the screenshot.)
It appeared to be a simple post made by a member of the group who just wanted to help other members to find work, right? WRONG!

The company mentioned in the post, Conduent, is a well-known company that does hire people to work from home. So, if someone did a quick Google search to see if it was legitimate, they might well discover that and feel this is a real opportunity.
That said, while Conduent is a real company with real work from home opportunities, THIS POST IS NOT FROM THEM – IT'S FROM A SCAMMER POSING AS THEM.
Note: In addition to being all over Facebook, this "job" is also being posted to LinkedIn, Upwork, and many job boards. In addition to posing as Conduent, these scammers are also using other corporate names including, Comcast, Apple, Amazon, Bridge Staffing, and others. If you are ever unsure, go directly to a company's actual website and check their job listings there.

Now, Let's Go Fishing For Scammers!
Naturally, I sent a private message to the person who made the post and expressed "my excited interest" in this amazing opportunity. They were quick to reply.
Following, you will find a transcript of the conversations I had with the scammer — enjoy, learn, be safe! My notes/comments are in red.

Scammer: "This is strictly an online and work from home job the working hours are flexible and you can chose to work from anywhere of your choice,the pay is $25 per hour training is $15per hour and will be get payment every weekend via direct deposit or credit card and the maximum amount you can work a week is 25hours.if you are employed you are going to be working as a full employee and not an independent contractor. Reply YES if interested!!!
Job Duties & Responsibilities
1. Transcribe, review, and interpret all lease data before entry into the database.
2. Ensure all data is accurately and quickly entered.
3. Review all documents that come in for accuracy (this makes the data entry people's jobs easier).
Can you handle this effectively?"
Me: YES!
Scammer: I will direct you to the supervisor online now. I would like to know if you are familiar with google hangouts?
[While some companies will use Google Hangouts to video interview candidates, it is not common practice for them to conduct a full interview via CHAT ONLY.]
---
Screened Extra Cash Opportunity: Love Entertainment? Get Paid for Surveys - EveryoneSez: Hollywood loves feedback, so if you're an entertainment fan, get paid for your opinions. Earn gift cards for Amazon, Target, and other major brands.
---
Me: Yes!
Scammer: Do you have the hangouts installed now on your phone?
Me: Yes
Scammer: You will undergo an online interview with the company hiring agent now. Here is your interview code WASS7644 Here is the email :} [email protected]
you are to message via Google Hangout asap
On your iPhone or Android,open the Hangouts app .
At the bottom right, tap Add .
and select the email given to you
Enter your interview code
Tap send
Provide my name as your facebook recruiter
Message her now before your interview code expired
[So many things…
First, the language — "you will UNDERGO an online interview." One might undergo surgery but, in the US, this is not the usual lingo when discussing an interview.

Second, can we talk about the lack of punctuation and capitalization?
Third, are we supposed to believe that there's an HR manager just sitting there waiting to conduct interviews with random people who have, thus far, provided NO INFORMATION about their qualifications?
"Interviewing" anyone and everyone is something scammers do all the time in job scams. Since there is no real job, they don't care who you are or what you abilities are — it's all about roping in as many people as possible as quickly as they can.

And finally, the sudden urgency – "Message her now." Once a scammer thinks they have you on the hook, they want to leverage your excitement to move you quickly into their trap.]
---
Hungry for more antics, I jumped over to Hangouts to see that they had in store for me next. Here's what followed:
Me: I am here for my interview Wass7644. I was told that I had to hurry before the code expired
[The scammer used a stolen Conduent logo to appear as they they were a real company rep. I removed it from all but their first entry in the following conversation.]
---
Scammer: Welcome to CONDUENT COMPANY : I believe you are here for the job interview and briefings where you will get to know all about the job position as well as the company information and history ?
Me: That's correct. I'm very excited about this opportunity and I look forward to hearing all about the company.
Scammer: Your Primary duties include: Preparation of Balance sheets (Mini), account balancing, invoicing recording,proper data analysis of sales records and recording pay slips into accounting database
[This EXACT language has been used in similar scams for going on 10 years. Scammers have pretended to be from a bunch of different companies, but the "job description" is largely the same. Want to see what I mean, check out this Google search.]
Can you handle the Job duties if you are being trained towards it ?
The Supervisor, who would be attached to you online, He/She would assign logs of duty daily and you would be required to work according to instructions, using the Microsoft Office tools and the Accounting software. Now the function of the Accounting software is to arrange, formalize and manage the data you have processed, sent to your supervisor via E-mail understood?
Me: Understood! How do I proceed?
Scammer: We are going mainly into the interview now and I advise you should read any question I ask you. After due examination,you are to send back your answer back to me over here. Be quick with your answers and also ask questions if necessary..
Me: Thank you. I am ready.
[Now, it's time to start saying things I would NEVER say in a real job interview. Since the scammer is keeping me waiting in between responses (because they are sending the same canned messages to a number of potential victims, um, "job candidates" at the same time), I decide to start poke them a bit about that.]
---
Screened Extra Cash Opportunity: Video Watchers — $5 Signup Bonus – Swagbucks: Get paid for watching vids, or using Swagbucks' search engine (powered by Yahoo), or taking surveys. One more legitimate extra-cash option.
---
Me: Not to be rude but, you told me to answer quickly but then you disappeared. This cannot be a quick conversation if you keep disappearing.
Scammer: My name is Mrs Susan reachel , am here to brief and interview you more about the opening position, please introduce yourself ,Sex,Age, indicating your location

Me: I am located in the United States. In Connecticut. [Notice I skipped the sex, age, and any kind of introduction. They won't care since this isn't a real interview and these are just BS questions. And, don't get me started on the legalities of those questions if this was an actual interview!!]

Me: May I ask where you were located? [Just to see if they are capable of going off script.]

[They kept me waiting a long while in between questions, so I thought I'd toss this out there…]
Me: Oh my gosh. Why do you keep disappearing?
[Completely ignoring my rude comments and question about his/her location, the scammer continues on script.]
Scammer: What inspired you to go into the Data Entry/Executive Assistant/Medical Billing/Administrative Assistant /IT Manager/Payroll Manager/Customer Service Field?How long have you been seeking for a new job ? [The WHAT FIELD? If this doesn't give you a sense of just how broad a net they're casting for this scam, nothing will!]

Are you seeking for part time or full time job?Why do you want the job?Are you currently employed ?
What is your greatest strength and weakness?What are your career goals?Are you aware this is strictly an online job for now and work from home job?
How much training do you think you need to become a productive employee?How would you describe yourself?
Do you have a printer,scanner,photocopier and Fax machine?
Do you have an idea of how to use ms excel?
[That was 12 – TWELVE – questions in this one message! I will selectively answer just a couple of them because that always works well in a real interview, right?]
Me: I have only been looking for a new job for about 2 weeks.
I do have all of the equipment that you mentioned.
I'm proficient in the use of Microsoft Excel.
My greatest strength is having no weaknesses. [Hee hee. I couldn't resist.]

And answering questions promptly [A jab at their slow responses, of course.]

Next?
[I only answered 4 out of the 12 questions – and poorly at that – but our hale and hearty scammer is ready to forge ahead!]
Scammer:In a agrade of 100% how much can this company depend on you for your loyalty,diligence,hard work,team spirit and sincerity ?
How will you like to be paid Weekly or Bi weekly ?
What means of payment would you prefer Direct deposit,or Credit Card Transfer ?
What is the name of the bank you operate with to know if it tallies with the company's  payment ?
Do you have a credit card debt to pay off cause we help to build up our employees credit scores..
What is your credit scores..
Are you with Verizon postpaid or AT&T postpaid
---
[READ THIS VERY CAREFULLY!!! These are questions that are designed to assess how many ways they can leverage the information you are giving them to make a grab for your money.
What bank do you use? Read that, "We need to know if this is a bank that will deposit and make available immediately the 'money' we send you before it bounces."
Do you have credit card debt they can help you pay off? Read that, "We will ask for your card information and tell you we need it to pay off your debt. That we must handle it internally. Then we will charge your cards to the max, and probably even sell your information on the dark web."]
What is [sic] your credit scores? Read that, "A higher credit score usually equals a bigger 'score' for us!"
Are you with Verizon postpaid or AT&T postpaid? "We will get enough details from you to access your wireless account and order new phones shipped to an address that is not yours. You will not even know about it until you see your next bill and we'll be long gone by then."
THIS IS MANY SCAMS ROLLED INTO ONE!]
---
Screened Extra Cash Opportunity: Pays $30 per Referral and $30 to the Person Referred — Doing Some Shopping? (Online or Off-) Get Cash Rebates – Rakuten: Pays a bonus of $30 per referral to you and $30 to the person you refer. Cash rebates for shopping purchases, often triple cash back or more. So the 5% rebate you might normally get is raised to 15%. A legitimate extra-cash option.
---
Me: I am happy to be paid either weekly or bi-weekly.
I have a credit card that needs to be paid off and that's exciting that you would help me pay it
I use Verizon for my telephone service
Me: What are you wearing, Jake from Statefarm? [Yep, I just asked that!]

Scammer: Well you have done well so far and you seem like a perfect fit for this position,
I need you to hold on online because i need to forward our conversation to the Head Dept to enable them see if you are committed and good  for this job.I need you to hold back online okay
[Oh goodie! The "Head Dept" as opposed to what? The arm department, the foot department?]
Me: Thank you! I'm very excited
Scammer: Your interview consideration and percentage is on my desk now
Are you ready to know your stand? [They seriously asked if I was ready for my results and then disappeared for about 25+ minutes.]

[5 minutes pass]
Me: Did I get the job?!
[5 minutes pass]
Me: Please don't keep me waiting! The anticipation is killing me LOL
[5 minutes pass]
Me: Please tell me
[5 minutes pass]
Me: Hello?
[5 minutes pass]
Me:This is a very strange conversation. You asked me if I would like to know how it went and then again you disappeared
Scammer: You scored (91%) on the question's answered and for your consideration stand..You've just been confirmed qualified for the position
[91%?! They must have deducted points for my Jake from Statefarm comment. I was sure I did better! LOL!]
Due to your level of experience and communication skills,  the company has decided to give you a chance for you to work for the company as a full-time/Part-time Data entry clerk and  will like to see your diligence,Charisma,Commitment towards this job. Congratulations!
This firm is looking to create more employment opportunities for people who lives in less privileged communities and the physically disabled. This also helps to decrease the rate of unemployment in the country which benefits the economy that is why we are offering much more benefits a good pay.
YOU'RE WELCOME TO CONDUENT COMPANY!!
Me: Thank you! I am so very excited!  [Blushing and giving my best pageant wave. Wiping a single tear from my eye.]

Me: What do I have to do next?
Scammer: CONDUENT BENEFITS :

401( k ) retirement account, Education assistance, Health, Dental, Life and AD&D Insurance, Employee Wellness, Sick leave, Vacation and Holidays with Generous Company Discounts. The pay rate are $25 an hour and you can work at your convenience hours understood?
Scammer: YOU'RE HIGHLY WELCOME TO CONDUENT COMPANY
I need you to provide me with the following;
Your full name :__________
Address (PO Box is not Valid)_________
City:_______________
State :_____________
Zipcode:____________
Phone numbers:_________
Email:___________
Picture of any of your ID(front and back):_________
To enable my secretary enlist them into the Company's Register for proper documentation
Me: How long have you been running this little con game? [That's right. I came right out and asked.]

123 Gotcha Way, Madashell, CT. 00666

8609687825

["Gotcha" Way; "Mad As Hell", Connecticut; and, of course, a zip code of "666."  Phone number =860-you-suck.]
Me: Is that everything you need?
[I had hoped I could skate past this one so I wouldn't have to find a fake to send them. Alas, a good scammer never misses the opportunity to gather details that they might be able to use or sell later.]
---
Screened Extra Cash Opportunity: Take Surveys & Short Polls for Toluna — Toluna pays in points redeemable for PayPal cash or checks, or (if you prefer) gift cards for Amazon, Walmart, Target and other major brands. Daily sweepstakes and other ways to earn are included. Not for core income, but can help with frills or bills.
---
Me: Oh! Yes
Me: For some reason it's not uploading properly [Buying some time to cook up a dummy license.]

Me: I've tried four times and it keeps delaying and then bouncing
Me: Is there a way for us to continue and I will provide that at a later date
Me: How about this? This is my old one. Picture of it in my phone so I'm just using that. That had my maiden name and my old address on it so I got rid of the maiden name. Please use the address that I sent to you earlier

[I pulled this photo from the State of CT DMV page, did a really poor job of blurring the "Susan Sample" name, and sent it.]
Me: And here's the back!

[Then, just for good measure, I sent the backside from a FAKE ID website with the whole site page showing!]
Scammer: Here are the names of working equipment and materials the company will be providing you to start with
[And THIS is where the type of scam this is starts to reveal itself. Watch it unfold…]
Mac book pro 2021
-Laser Printer.
-Fax Machine.
-Scanner.
-Copier(large).
-Laminating Machine w/5 Cartridges.
-Fellows Micro-shred confetti-cut paper shredder.
-BS 1 Accounting software  ,my-ob business essentials software 2009,For Peach Tree premium 2017 US Patent Single Users Pack, simply accounting 2015,Adobe Photoshop 52011,Adobe Acrobat 8 2017,Ariba 8 2012ASP 32007,CSS 6 2017,Dreamweaver 7 2016,HTML 11 2016,Illustrator 3 2014,Microsoft Access 8 2016,Microsoft Excel 8 2016,Microsoft Word 11 2016,MySQL 5 2011,PHP 5 2016 ,UNIX 2 2007,Windows 7 1 2016,Windows XP 8 2016,XML 5 2007,Vendor Management  7 2017.
-G1-Time tracker.
-Training booklet.
[They have yet to tell me what I will be doing, but this is one helluva package! Just look at all of those Windows versions!]
Scammer: NOTE: The company would provide full funding to all programs and equipment's needed, to get you started with training.you are getting all your working equipment from the company certified vendor
This is not a sales job I believe you understood
Remember the company will provide all equipment needed for you to work with
Me: Okay. And how will I received the equipment?
Me: Do I have to go pick it up from the vendor?
Me: This is very exciting. I can leave to pick it up right now!
[I know where this is going, so I want to play along and pretend I actually believe I will be receiving all of this stuff.]
Scammer:  All equipment and other working materials and tools Will be coming to your home address once they are installed  and you will be getting a tracking number for it okay
Me: Do I need to do anything or just wait for the boxes to arrive?
Scammer: Your employment 🎁package and other Application documents to fill out will be coming along with your equipment to your home address through FedEx okay
Me: Thank you so much! I will look forward to receiving the packages
Me: Do you have any idea when I should be expecting them?
Scammer: I will keep you posted on that okay. I believe you have enough space room for the arrival of your equipment and working materials?
Me: Absolutely I do
[Let's see if the scammer has a heart at all. Here's a little fabricated story to test them a bit.]
Me: Are we done here for now? I have to go feed my children. You are like an angel. I have seven children and their father just passed away. I am having a very difficult time getting enough money to feed them. This job has come at the perfect time!
Scammer: The  software's and your working materials will be provided to you by the company. You will receive a payment Via direct deposit to purchase a(Apple pay card) for the installation of  your working equipment's.This will be installed by the company certified Vendor. and All equipment's will be labeled on them with the company name,they will have you connected to the company database UNDERSTOOD?
[Nope. No heart. But they did just reveal a bit more of the scam.
See that reference to an Apple Pay Card? That's an important part of the con.]
Me: I understand
Me: So, I will receive the equipment and then you will send me a direct deposit to get the equipment install?
Scammer: Your working equipment and materials will be installed before been shipped to your home address ok
Scammer: The card will be used for the installation of your equipment and working materials from the company certified vendor before shipping to your home address
Scammer: Here's the card [There was an image of a generic Apple Pay card with this message.]

This card will be used by the certified vendor to set up your online portal and your equipment and softwares will be installed immediately and your equipment will be ready for shipment to your home address through Fedex
Me: Will you be sending me a check so that I can purchase the card?
Scammer: The company will provide you a payment to purchase a (Apple pay cards) for the installation of Those equipment before they shipped it to your home address I believe the company can ensure your commitment and full trust with their funds ?
[So, we're supposed to believe that, rather than paying an equipment vendor directly, this well-established company is going to send us money to buy an Apple Pay card that, in in turn, we will use to pay the vendor.
That makes sense, right?

In truth, if I let the scam unfold, they would either:
(1) deposit money into my bank account and immediately have me purchase an Apple Pay card with those funds. Then, send them the Apple Pay card number so they can "give the go-ahead to ship my equipment. Then, I would discover the deposit didn't clear and now I owe my bank and the scammer has a valuable Apple Pay card; or
(2) they would mail me a "cashier's check"  I would deposit immediately and that would eventually bounce, but only after I had purchased the Apple Pay card and provided them with the numbers to use it.
Either way, I'd be on the hook to my bank for a LOT of money!]
---
Screened Extra Cash Opportunity: Get Paid for Your Opinions – YouGov: YouGov's surveys are quoted in all the major media. They cover trending topics like race relations, politicians, the state of the economy, sports and much more. Get paid in cash or (if you prefer) gift cards for Amazon, Walmart, Target and other leading brands.
---
Scammer: All we need from you is good work and trust, you will enjoy every moment working with us!!  [How cute. They want to make sure I trust them.]
Me: I am a very trustworthy person. I promise you I am at least as honest as you are!
Me: Are you an honest person? Can I trust you?
Scammer: Yes ma'amYou're free and safe with this company
[Oh, OK. If you say so. But, they're not done yet! Now, they will try to get my credit card details — just so they can help me out with any debt I might have. Real companies do that, right?]
Scammer: What are the debts you have to pay off on your credit card debts because the company accounting department pay off employee credit card debts and make payment into it
Me: It's just a shame that you're such a damned liar
Me: There's a special place in hell for people like you.
Me: The scam is getting old. If you would only invest the time that you spend in trying to con other people out of their money into actually working, you might actually be able to earn an income honestly.
How can you do this and not feel any shame. I'm genuinely curious
Have you tried to find a real job?
What are you qualified to do?
What led you to this place were you make a living scamming other people?
Scammer: I hate the word of scam
And just like that, they blocked me and the conversation was over.
PLEASE SHARE this post – turn your friends into Rat Race Rebels!