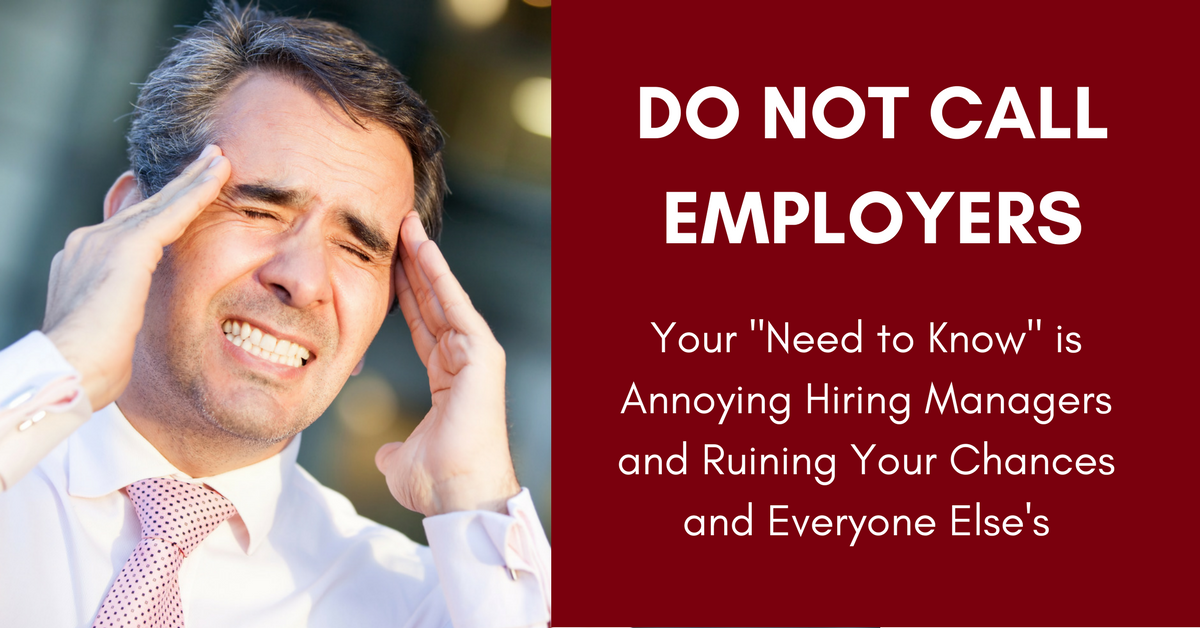 by Chris Durst      Feb. 10, 2018
My apologies in advance if this comes across as harsh, but we speak with HR managers every day and this must be said – for your sake, our sake, their sake and the sake of the other job seekers who use our site.
Yesterday we received an email and a phone call from a very good, very reputable, very ANNOYED hiring manager.
He was calling to order us to remove the post about his jobs from our site. Not because we had done anything wrong, but because he was bombarded with unwanted, unsolicited phone calls from RRR visitors.
This means that now, because some folks were overzealous, many others will not see or have a chance at these jobs (and it doesn't help our reputation either).
WHY DID THIS HAPPEN?
First, let me say this is NOT THE FIRST TIME a company has asked us to remove their jobs from our site for this reason and it frustrates the hell out of us each time it happens.
In short, he and his staff lost a whole day of productivity because they were busy answering phone calls from people who:
Did not read the job description or try to do their own homework on the company
Did not follow the application instructions
Mistakenly think a phone call will build a rapport and name-recognition with the hiring manager
Called because they "just wanted to make sure they were legit"
Had questions about pay, benefits, etc.
and any number of other things.
The bottom line is, when we post a company's open positions to our site that employer is expecting applications, not a flurry of unsolicited phone calls.
We know that everyone who visits our site is looking for work and that they will do whatever they can to land a job. That said, you have to try to put yourself in the shoes of the hiring manager and his or her colleagues (and often times the receptionist who handles and forwards incoming calls).
The person you are calling has taken the time to write a job description and post it online. They provided all of the information they feel is relevant. Imagine their frustration when calls come in asking them for details they have already provided or details that will be provided to qualified candidates after they have applied.
They have provided interested persons with an application procedure – either an online application form or an email where your resume and credentials can be sent. When someone calls for more information about how to apply, the impression they make is that they cannot understand or follow directions, and/or do not pay attention to details.
The hiring manager and his/her staff go to work each day with tasks to handle. When they have to field unsolicited and unnecessary calls all day you can be darned sure their frustration level goes through the roof as their productivity goes down.
BUT EVERY JOB COUNSELOR I EVER HAD TOLD ME CALLING SHOWS I AM REALLY INTERESTED! How can this be?
Typically, job counselors and career advisors are accustomed to helping people find work with local companies. In most cases, when you apply with a local company that is looking for traditional on-site employees, a phone call is fine.
However, companies that hire people to work from home across the country received hundreds (and in many cases thousands of applications) and this is when the phone calls get to be a real problem. It is rarely a good idea to call a company that is offering work from home position unless they specifically request a call in their job description and application process.
For your sake, our sake, and the sake of all job seekers who use this site, please DO NOT CALL COMPANIES ABOUT OPEN POSITIONS. It may well put you on the "Annoyed me – do not hire" list and, when dozens of people call saying, "I saw your job listing on Rat Race Rebellion …" it really hurts our relationships with hiring companies.
Bottom line – unless there are specific instructions to call, don't.
PLEASE SHARE this post – turn your friends into Rat Race Rebels!
[social_warfare]