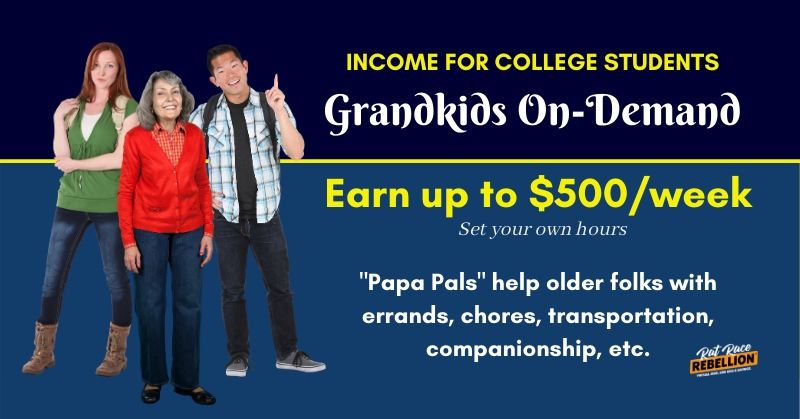 by Chris Durst          Jan. 27, 2020
We just discovered a cool new income opportunity for college students and we're excited to share it with our RRRebels!
Papa is a service that connects college students — "Papa Pals" — with older adults who, "need assistance with transportation, house chores, technology lessons, companionship, and other senior services."
Not a college student? Please share this post with your favorite people who are!
Here's what Papa has to say about this opportunity:
"Good Source of Income: Earn extra money while you're not studying. Earn up to $500 a week plus car allowance.
Work When You Want: Set your own schedule. Work mornings, afternoons, weekends or all of the above.
Improve Your Resume: Improve your resume with a gratifying and fun experience by assisting the elderly.
Additional Incentives: Earn signing bonuses, weekly bonuses and higher pay rates by completing visit goals.
Papa Pals compensation depends on the location, length of the visit, time of day and distance driven with the member. The hourly rate is as follow:
Florida: $11/Hour
Michigan: $11/Hour
Pennsylvania: $11/Hour
Texas: $11/Hour
Mississipi: $11/Hour
Tennessee: $11/Hour
Arkansas: $11/Hour
California: $13/Hour
Illinois: $13/Hour
Indiana: $11/Hour
Missouri: $11/Hour
Louisiana: $11/Hour
Virginia: $11/Hour
Georgia: $11/Hour
Kentucky: $11/Hour
Kansas: $11/Hour
South Carolina: $11/Hour
The average Pal makes $30 per visit (2 and a half-hour visit plus commute) and our best Pals earn more than $1,500 per month.
First Two Weeks Bonus: Pals who complete 5 or more visits during the first 2 weeks, starting the day they were approved, will receive a $50 bonus. (In order to receive the bonus please create a support ticket within 30 days of completing the 5 visits so that we can verify and process the request.)
Do you compensate Pals for driving the Members?
We compensate Papa Pals 45 cents/mile when they drive the member more than 10 miles during the visit.
For Example: If you drove 25 miles with the member we will compensate 15 miles x 45 cents = $6.75
Do you compensate Papa Pals for commuting to a visit?
Starting January 1st we'll be updating the commute compensation to the following:
5 – 10 miles commute: 6 cents per mile
10> – 20 miles commute: 7 cents per mile
20> – 30 miles commute: 8 cents per mile
30> – 40 miles commute: 9 cents per mile
40> – 50 miles commute: 10 cents per mile
For example: If your visit is 35 miles away you will receive 70 miles of commute allowance and will be compensated 70 x 9 cents = $6.3
Papa Pal Weekly Bonuses
Papa rewards the best Pals with weekly bonuses. We offer three different tiers that allow Pals to make more money as they complete more visits:
Tier 1: Earn $20 extra by completing 5 visits or 10 hours in a single week
Tier 2: Earn $50 extra by completing 10 visits or 15 hours in a single week
Tier 3: Earn $90 extra by completing 15 visits or 20 hours in a single week
Click here for full details and to apply. Be sure to read the Papa FAQ for even more information. To see more jobs like these, check our Newest Jobs & Gigs page. To be the first to hear about jobs like these, like our Facebook page and check your feed for our posts. May you be working from home soon!
PLEASE SHARE this post – turn your friends into Rat Race Rebels!
[social_warfare]