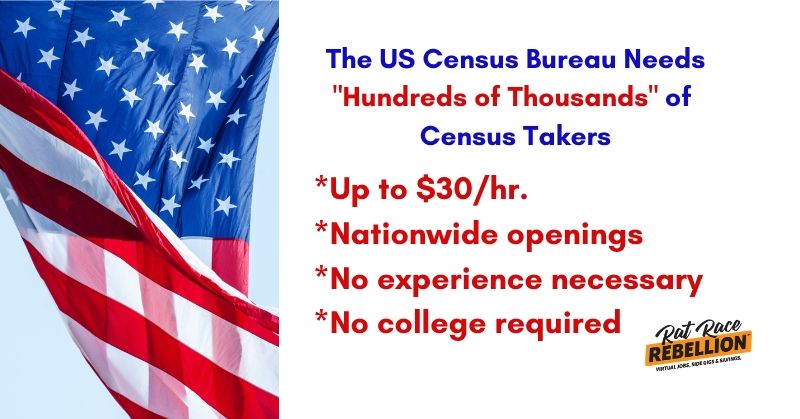 By Mike Haaren — Co-Founder, Rat Race Rebellion — Updated Feb. 29, 2020
If you'd like a part-time temp gig that gets you out of the house and pays up to $30/hr…
The US Census Bureau is recruiting "hundreds of thousands" of part-time temporary Census Takers. Pays up to $30/hr., plus mileage and expenses reimbursement. But apply or share quickly if you're interested — "Most job offers will be made between January and April 2020," the US Census Bureau says.
Pay depends upon location. Paid training provided.
Here's what the Census Bureau has to say about the positions (excerpted).
In advance of the 2020 Census, the U.S. Census Bureau is recruiting thousands of people for temporary jobs across the country.
This is your chance to play a part in history! Temporary census positions offer the perfect opportunity to earn extra income, while at the same time, helping your community. Did you know: The results of the 2020 Census help determine how billions of dollars in federal funding are spent locally for schools, hospitals, roads, and more. So it's important that everyone is counted!
Census takers will interview household residents and update address lists using electronic devices (such as smartphones and tablets) issued by the Census Bureau. Selected applicants will attend paid training before beginning work.
Prior to the census, census takers will use maps and address lists to determine if addresses are correct. Later, they will visit homes that haven't responded to the census, speaking with residents and using electronic devices to collect census data.
Number of Positions: Hundreds of thousands.
Hours: Schedules are flexible and dependent on where you're working. Many of the positions require availability to work in the evenings and on the weekends.
Timeline: Most job offers will be made in January and February 2020. Paid training occurs in March and April. Census takers will help collect responses from homes that have not yet responded to the census between May and early July.
To be eligible for a 2020 Census job, you must:
— Be at least 18 years old.
— Have a valid Social Security number.
— Be a U.S. citizen.
— Have a valid email address.
— Complete an application and answer assessment questions. (Some assessment questions are available in Spanish. However, an English proficiency test may also be required.)
— Be registered with the Selective Service System or have a qualifying exemption, if you are a male born after Dec. 31, 1959.
— Pass a Census-performed criminal background check and a review of criminal records, including fingerprinting.
— Commit to completing training.
— Be available to work flexible hours, which can include days, evenings, and/or weekends.
Click here for more and to apply. For more on pay by location, click here. For more jobs like these see our Newest Jobs & Gigs page. To be the first to hear about jobs we post, like our Facebook page and check your feed for our posts. Good luck in your applications, whatever the job or gig that interests you!
PLEASE SHARE this post – turn your friends into Rat Race Rebels!
[social_warfare]