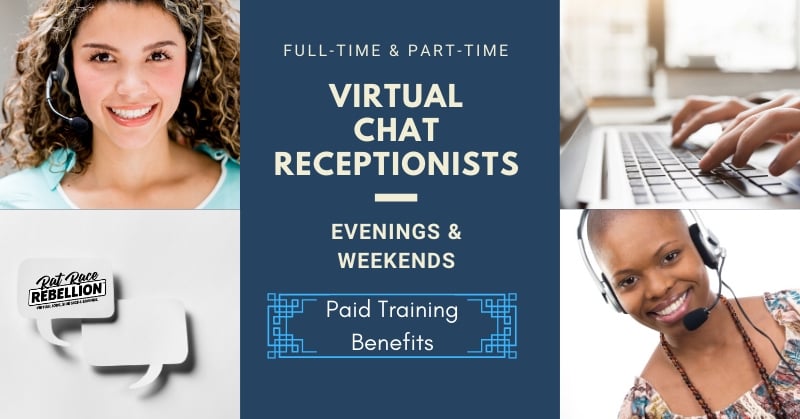 by Chris Durst     Dec. 10, 2019
We just received an email from Smith.ai saying, "We are looking to expand to 24/7 soon, so we are needing to fill open spots for our chat position by 1/1/20. We are mainly looking for people to fill weekends (Saturday & Sunday) as well as graveyard shifts for all 7 days. Open availability is a big plus." The job listing mentions phone work, but the application process appears to give you a choice between chat and phone. We'll update here if/when we learn more!
Their starting pay is a bit low – "entry-level rate is $10 per hour ($11 per hour for bilingual agents) and we pay weekly." However, benefits and "periodic raises based on performance" are also offered.
Here's what the company has to say about this opportunity:
"Working at Smith.ai allows you to earn income and grow your career from the comfort and convenience of your home, all while helping small businesses thrive. Work remotely, yet closely, with a team of receptionists operating around the country to answer calls and web chats on behalf of businesses. We promote a fun and productive work environment that is challenging, varied, and highly rewarding.
We operate Monday through Friday from 5:00 a.m. to 9:00 p.m. PST / 8:00 a.m. to 12:00 a.m. EST. We hire for both full-time (40hrs/week) and part-time positions. For part-time positions you must be available 4 hours a day, 5 days a week (the more the better). Shifts are broken into 2- to 5-hour blocks and are scheduled based on the business needs of Smith.ai and its clients, as well as your availability.
Primary Responsibilities
Answering calls and/or web chats for a variety of different businesses and professionals.
Taking messages, screening new clients, booking appointments, collecting payments, and transferring calls
Understanding caller needs and providing business information
Being part of a team and contributing to continued excellence
Must Have
Great work ethic and professional demeanor
Prior receptionist or call answering experience
Ability to follow instructions and clearly summarize details
Ability to multitask and work well under pressure
Great communication skills and positive attitude
Technical Requirements
Desktop or laptop computer with Google Chrome browser installed
Reliable broadband internet connection. Must have a less than 50 ms ping, greater than 10 Mbps download and greater than 3 Mbps upload (tested by https://www.speedtest.net and https://networktest.twilio.com)

Strong typing skills: at minimum 40 wpm for call answering (tested by https://livechatinc.com/typing-speed-test/) and minimum 50 wpm with 100% accuracy for chats

Call answering only: a quiet environment for answering calls, plus headset with a microphone arm attached
Compensation & BENEFITS
This position offers an hourly rate. Our starting, entry-level rate is $10 per hour ($11 per hour for bilingual agents) and we pay weekly. Periodic raises are given based on performance and longevity with the company.
Benefits include:
Medical, dental, and vision insurance
Retirement plans
Cash bonuses
Paid training
We invest in our team members and support their growth towards career advancement in both client-support and management roles as their experience grows."
Click here for full details and to apply. To get our job posts ASAP, be sure to follow us on Facebook. May you be working from home soon!
PLEASE SHARE this post – turn your friends into Rat Race Rebels!
[social_warfare]