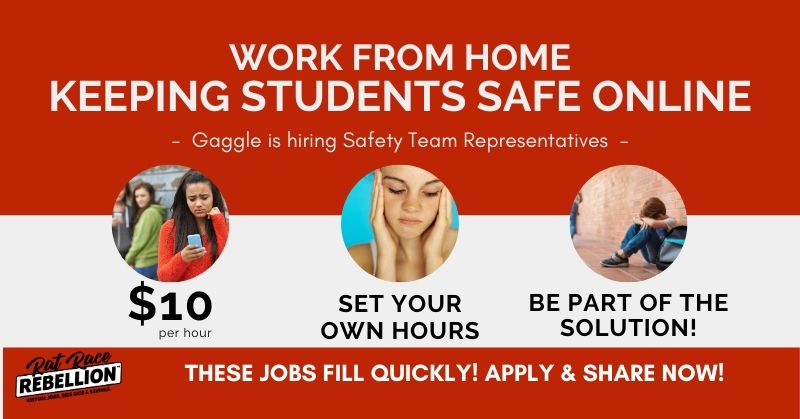 by Chris Durst Apr. 29, 2020
Update: 2:40PM EST  – As noted, these jobs fill quickly! Gaggle has just stopped accepting new applications. We'll be sure to let you know when they are hiring again. In the meantime, be sure to check today's job leads for other jobs and gigs that might be perfect for you.
THESE JOBS FILL QUICKLY – DON'T DELAY IN APPLYING AND SHARING!
Gaggle monitors K-12 student email and other communications for cyberbullying, threats of violence, drug use, suicidal intentions, and other content of concern to schools and parents. Gaggle hires people to work from home — Safety Representatives — to do the monitoring.
The company has posted openings for Content Reviewers/Safety Team Representatives.
AT-A-GLANCE
| | |
| --- | --- |
| Status: | Contractor |
| Hours: | Set your own; minimum of 10 hours per week |
| Pay: | $10.00/hour |
| Hiring in: | No state exclusions noted in job posting |
| Operating System: | PC or Mac – Chromebook is OK |
| Phone /Non-Phone: | This is NOT a phone-based opportunity |

Here's what Gaggle has posted about this opportunity:
"Gaggle is seeking Independent Contractors for temporary, non-renewing contract positions monitoring online student activity. This contract work allows you the flexibility to work within the constraints of your own schedule. The choice is yours, work when it works best for you! Gaggle Safety Management offers a 24×7 service that is used to identify and uncover drug use, bullying, threats of school violence, teen depression, suicidal intentions, and abusive domestic situations of students in grades K-12 through various forms of communication. Although you would not be an employee of Gaggle, the Independent Contractors we are looking for will work with the Gaggle Safety Team and are able to make a positive impact in the lives of K-12 students across the world."
"Responsibilities:
Monitor and analyze student activity to identify potentially inappropriate usage including words, phrases, statements, and images
Quickly and efficiently process content, while maintaining a high level of accuracy
Process for a minimum of 10 hours each week
Escalate questionable findings to Safety Team Representatives for additional in-depth analysis
Additional tasks as assigned
Requirements:
Experience using various computer and web-based applications in a professional environment
Interest and enthusiasm for reading, as the position requires focused attention to reading various lengths of content
Ability to delineate between potentially harmful student matters and harmless situations
Experience with tech and social media culture
Knowledge of trends and slang used by children and teenagers to help identify potential issues
Ability to exhibit tolerance of and respect for others' opinions
Strong communication skills
Adaptability to change
Ability to work independently; experience working as an Independent Contractor preferred
Access to high-speed internet (satellite is not acceptable)
Access to a computer, chromebook, or laptop
Minimum operating system: Mac: El Capitan or above, Windows 7 or above, Fedora 28 or above
Minimum processor required: Core i3+
Experience with Slack or other business-based chat applications is a plus
Additional Considerations:
The non-renewing, Independent Contractor assignment is not guaranteed for any length of time, workloads and hours will vary
Contracts can be terminated at any time
There is potential for contract renewal depending on workflow and personal ability to fulfill responsibilities outlined above
This contract requires you to be able to view content of a sensitive nature including exposure to graphic content that may contain nudity
Because Gaggle strives to enter into contractual agreements with Independent Contractors who contribute to Gaggle's mission of student safety, background checks are required for all prospective Independent Contractors – this screening includes, but is not limited to, both a National Criminal and National Sex Offender Registry check
Due to the sensitive and confidential nature of the material we review, applicants who work, volunteer, or have children at a school district with Gaggle services will not be considered"
Compensation: $10.00 /hour"
CLICK HERE for full details and to apply. NOTE: When you start the application process, you'll see the phone number to call if you encounter problems. Please DO NOT use that number for general questions or to check on your application status. For more jobs like this, see our Daily Jobs & Gigs page. To be the first to hear about jobs we post, like our Facebook page. Good luck in your work from home goals!
PLEASE SHARE this post – turn your friends into Rat Race Rebels!