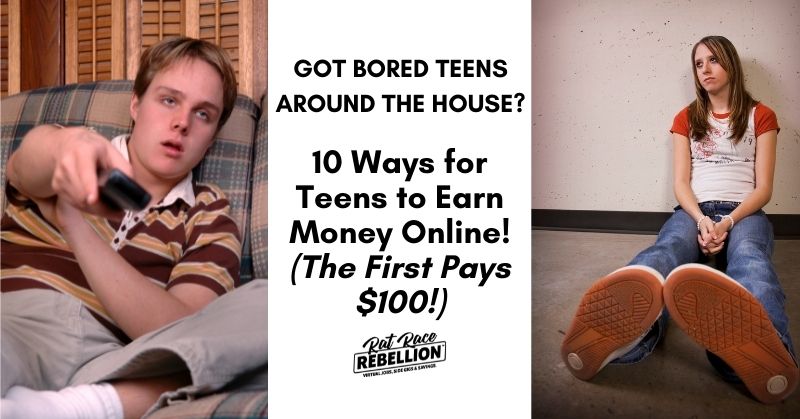 By Chris Durst      June 17, 2021
If your teen would like to make their own money (or if you would like your teen to make their own money), there are some solid money-making opportunities for teens online. Generating their own income can be an important step on the path toward the financial responsibility and independence we wish for them — and it just may give your wallet a rest too ;-)!
Here are just a few of the ways your teen(s) can start to build their own wealth… a little at a time!
---
Personal Activities Focus Group for Ages 16-25
Age: 16-25
Pay: $100
"Bullseye Research Services, an independent marketing research company, is currently looking for people between the ages of 16 and 25 who would like to take part in a 12 week study about personal activities and interests. Each week you will be asked to take a 5-10 minute online survey.
In appreciation of your time, we are offering $100 for full participation in this study. You will need to have a computer to participate in some of the surveys as they will not all be accessible using a smartphone.
To find out if you qualify for this study then please click on the link below and you will be taken to a short qualifying survey.
Qualified participants will be contacted by phone. You will not be contacted for any reason other than for your participation in this research study."
---
Mistplay
Age: 13+
Pay: Gift cards including prepaid Visa gift cards, Amazon, Google Play, iTunes, Nintendo, Xbox, PlayStation and more.
To get started, just download the app from the Google Play store.
"STEP 1: Discover New Games
Games recommended just for you.
STEP 2: Play and Collect Units
The longer you play, the more you earn!
STEP 3: Redeem Rewards
Redeem your Units for awesome rewards."
---
---
SliceThePie (Review Music, Fashion, and more)
Age: 13+
"It's simple. We pay you to write reviews on new songs, fashion items, accessories and commercials before they are released. Your reviews go directly to unsigned artists/fashion designers etc. to give them feedback. You also help us to find the best brands and artists to put forward for radio placement and other opportunities.
How do I review on Slicethepie?
Once you've logged in, you'll be asked to choose which category you'd like to review. If you've chosen music: hit the play button and start listening to the track. You can start writing your review straight away, comment on what you liked/disliked, be specific about the aspects of the track (i.e. vocals, instrumental, rhythm, production etc.). Note you'll need to listen to at least 90 seconds of the track. Once you've rated out of ten you can submit. If you've chosen to review fashion or mobile: have a look at the pictures and information on the product provided and comment on the design, material, whether you'd buy it etc. Rate the item out of 10 and answer any other questions. Once you're happy, submit your review, then on to the next one! In order to review you'll need to have a good internet connection, with a minimum bitrate of 300kbps. Don't forget you will soon be able to review on the Slicethepie app."
---
Swagbucks – $5 Sign-Up Bonus
Age: 13 and up
Pay: Cash or gift cards
Pays cash via Paypal or (if you prefer) in gift cards for Amazon, Walmart, Target and other leading brands. Earn points for answering surveys, watching entertaining videos, shopping online, and more. Redeem your points for the rewards.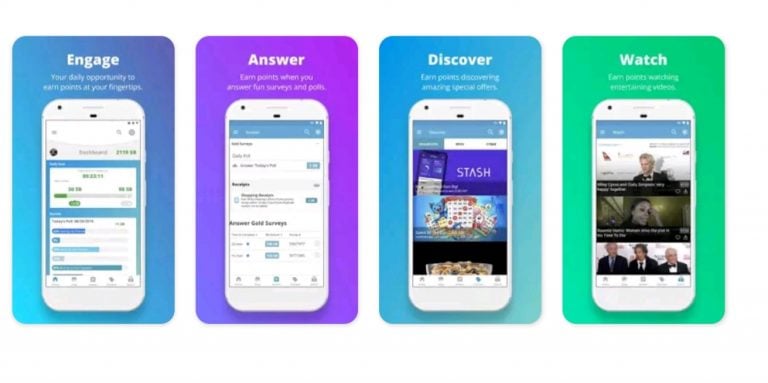 How do you earn points?
"Answer Surveys
Share your opinions and get free gift cards! Earn SB points when you answer fun surveys and polls.
Watch Videos
Watch entertaining videos and get free gift cards! Earn SB points for watching playlists that we've put together just for you!
Discover Offers
Get free gift cards when you check out exclusive deals and offers from well known brands. You earn SB points when you sign up for new services, check out free samples, and more!
Search the Web
Earn SB points when you search the web using our Yahoo! powered search engine!
Play Games
Get free cards for playing games! You can earn SB points when you make in-game purchases through our partners at GSN, or play our original free games and earn randomly.
Shop Online
Cash back shopping at over 1500 retailers including Amazon, Walmart, Target, and Starbucks. Earn SB points for every dollar you spend plus get access to exclusive deals and coupons to your favorite retailers."
Right now, they're offering a $5 bonus when you sign up and earn 2,500 SB within the first 60 days of membership. (Bonus will be awarded within 1 day after you qualify.)
---
---
LifePoints
Age: 16+
Type: Surveys
Paid in points that can be exchanged for PayPal vouchers that you can transfer to your bank account, for for gift cards.
The site offers mini-polls that pay just a few points for just a few minutes, and longer surveys that pay 100 – 150 points.
---
Fiverr
Age: 13+
If you have a skill, you can promote and sell it on Fiverr.
Fiverr is a popular site that enables people to sell their skills to a global marketplace of buyers. Many people list their price at $5, but you can charge more.
In their words,
Be creative! You can offer any service you wish as long as it's legal and complies with our terms.
Maybe you'd be a great spokesperson for companies selling to teens.
If you're a gamer who has a talent for a particular game, sell your strategies to other gamers.
If video isn't your thing, perhaps you'd like to do voiceover work.
Perhaps you're a mathematical ace who can help other teens understand math in a way their parents and teachers can't.
You could use your art skills to create logos or make custom drawings of people's pets.
There are over 100 categories you can browse to get ideas… Sign up for free, set up your Gig, and offer your work to our global audience.
Parents – this is an open online marketplace. Be sure to help your kids out to ensure they're sending the right message and not communicating with people who don't have their best interests in mind. That said, many teenagers are making great money on Fiverr and are not encountering any trouble — it's a safe as you help them make it!
---
Etsy
Age: 18, or 13 with a parent or guardian as co-owner of the shop
"Etsy is a global online marketplace, where people come together to make, sell, buy, and collect unique items.
Support independent creators
There's no Etsy warehouse – just millions of people selling the things they love. We make the whole process easy, helping you connect directly with makers to find something extraordinary."
---
---
Udemy – Create an Online Course
Minimum Age: "If you are younger than the required age [18], you may not set up an account, but we encourage you to invite a parent or guardian to open an account and help you enroll in courses that are appropriate for you."
Udemy is a popular online course marketplace and there are actually a lot of teenagers selling their online courses on their platform.
This is a great place for knowledgeable kids to strut their stuff and make some good money in the process.
Courses run the gamut from makeup and hair tutorials to business and IT, music instruction, lifestyle, design and much more.
---
Ebay (Make $ by finally cleaning your room and getting rid of your old STUFF)
Age: Any, with parent's account
If you hate cleaning your room but you love money, now's the time to decide whether the love outweighs the hate!
Heck, you might offer to clean the garage, basement, and attic for a cut of the profits as well. 😉
Whatever you're trying to sell, chances are that it can be sold on eBay. They allow you to list up to 50 items per month with no fees, but they do take a small commission when an item sells. You will have to manage the shipping and handling yourself. But you'll be selling in a marketplace of over 170 million buyers. You get to decide whether you want to auction your items off to the highest bidder, set a "Buy It Now" price, or both.
---
FindFocusGroups.com
Minimum Age: Varies, requires parental participation/supervision
There are a surprising number of paid online focus groups that need feedback from kids. FindFocusGroups.com is a good site to check out regularly to see what's available.
---
For more ways to make extra cash, see our Daily Jobs & Gigs page. To be the first to hear about options like these, like our Facebook page and check your feed for our posts. Good luck in your next steps!
PLEASE SHARE this post – turn your friends into Rat Race Rebels!