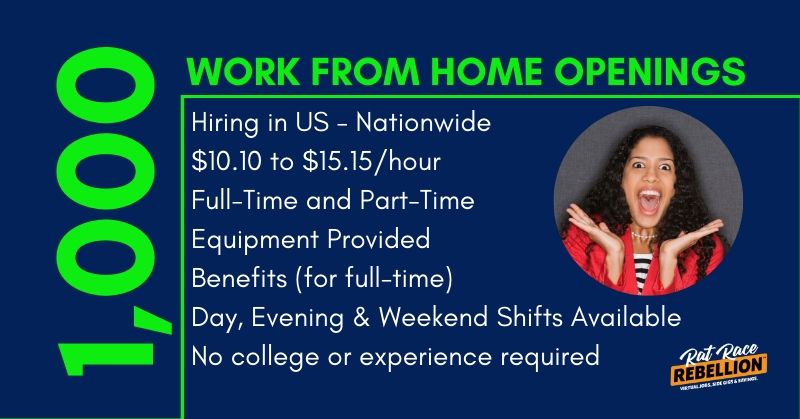 by Chris Durst       Apr. 8, 2020
Mass Markets, an MCI company, have posted a listing for 1,000 Work from Home Call Center Reps to support federal, state, and commercial clients.
Both full- and part-time positions are available and, according to their listing, "you will handle inbound customer inquiries, or troubleshoot basic technical issues, and assist customers in adding or removing products and services."
Pay ranges from $10.10 to $15.15/hour and full-time employees will receive a benefits package.
Additionally, the company will provide equipment if you do not have your own.
The company indicates they are hiring NATIONWIDE and does not list any state restrictions.
Here's what the company has posted about this opportunity:
"WE'RE HIRING 1,000 WORK AT HOME STAFF TO SUPPORT FEDERAL, STATE, AND COMMERCIAL CLIENTS
MCI is looking for nationwide work at home customer service, help desk, technical support, and sales representatives to support April demand. In these roles, you will handle inbound customer inquiries, or troubleshoot basic technical issues, and assist customers in adding or removing products and services. There are full-time and part-time positions available for almost any schedule, day, night, seven days a week. In a lot of cases, you can make your own schedule. The positions offer competitive base pay ($10.10 HR to $15.15 HR) commensurate with experience, role, schedule, level, plus benefits for full-time, paid vacation, and variable bonus and contest incentives. All it takes to get started is for you to complete an easy online application and an informal interview with a talent acquisition specialist. If you do not have your equipment, MCI will provide it. You will need a home broadband connection.
SCHEDULE
NEED A SCHEDULE THAT WORKS WITH YOUR LIFE?
Mass Markets is able to offer a wide range of full-time and part-time scheduling options for qualified candidates. There are multiple shifts and weekly work hour variations available to our team members. Please ask a Talent Acquisition Specialist about the different types of creative scheduling options that are available at your location. Whether you are a busy parent, student, or just want control of your work life balance, flexible, customized scheduling is one of the perks of working at Mass Markets.
Apply sooner rather than later, the best shifts go quick.
WHAT DOES A CALL CENTER REPRESENTATIVE DO?
This position improves customer satisfaction and supports the sales process. Handle outbound sales inquiries and take incoming customer service calls using state-of-the-art contact center technology. As you become a highly trained expert on products, technology, and business process, you will work on behalf of some of the most recognized brands in the world. This role requires you to interact with hundreds of customers each week across the country to resolve support issues, sell new products and services, and ensure best in class customer experience. In addition to being the best in the business when it comes to customer interactions, you will need to be confident, fully engaged, a team player, and dedicated to bringing a positive and enthusiastic outlook to work each day.
Our entry-level Contact Center Representatives are responsible for the following tasks:
Listen to customers, understand their needs, and resolve customer issues
Utilize systems and technology to complete account management tasks
Recognize sales opportunity and apply sales skills to upgrade
Explain and position the products and processes with customers
Appropriately escalate customer dissatisfaction with managerial team
Ensure first call resolution through problems solving and effective call handling
CANDIDATE QUALIFICATIONS – WONDER IF YOU ARE A GOOD FIT?
Mass Markets provides all new employees with a paid world class training so all positive, driven and confident applicants will be considered for the role. Ideal candidates for this position are highly motivated, energetic and dedicated. Having fun and interacting with all different levels of the team is part of the job and hard work pays off with recognition, bonus and contest incentives. You will learn to be a confident, fully engaged, team player, and will need to be dedicated to bringing a positive & enthusiastic outlook to work each day.
Other Contact Center Representative Qualifications Include:
Highly reliable, willing to learn and acquire new skills
Enjoy talking to people, helping them resolve their frustrations
Motivated by lucrative bonus plans and daily contests
Exhibit professional communication and customer service skills
High school diploma or equivalent; College Students, Interns, and recent College Graduates are welcome
Ability to learn customer service software applications
Must be proficient with basic PC skills
Ability to multi-task, stay focused and self manage
Minimum 18 years of age
Candidate must have a wired, high speed internet connection and a quiet and secure place to perform work for our clients at home
Previous experience in retail, bartending, receptionist roles, phone jobs, sales, purchasing, hospitality, collections, customer service, food service, or office/administrative roles is preferred, but not required since we train all new employees for the job.
COMPENSATION DETAILS – WANT AN EMPLOYER THAT VALUES YOUR CONTRIBUTION?
At Mass Markets we believe that hard work should pay off, so we make sure that our compensation and total rewards are exceptional. Our people are not just employees; they are our most important resource! Standard starting compensation includes a base hourly wage commensurate with experience, an hourly attendance bonus, and a weekly performance bonus. Regular reviews and raises are awarded based on tenure and performance, so our employees make more each year.
Employees earn generous paid time off as well as paid holiday's and paid training opportunities. Regular daily, weekly and monthly incentives are part of the overall compensation our team members enjoy and include cash uploads to company issued Visa card, prizes such as computers, tablets, phones, TV's, trips, tickets, and even cars.
All employees are eligible for MEC medical plans after 30 days and group medical, dental and vision benefits after 90 days. Optional Roth IRA retirement accounts, Term Life Insurance and Whole Life Insurance plans are available to all employees each open enrollment period.
CLICK HERE for full details and to apply. To see more jobs like these, check our Newest Jobs & Gigs page. To be the first to hear about jobs like these, like our Facebook page and check your feed for our posts. May you be working from home soon!
PLEASE SHARE this post – turn your friends into Rat Race Rebels!