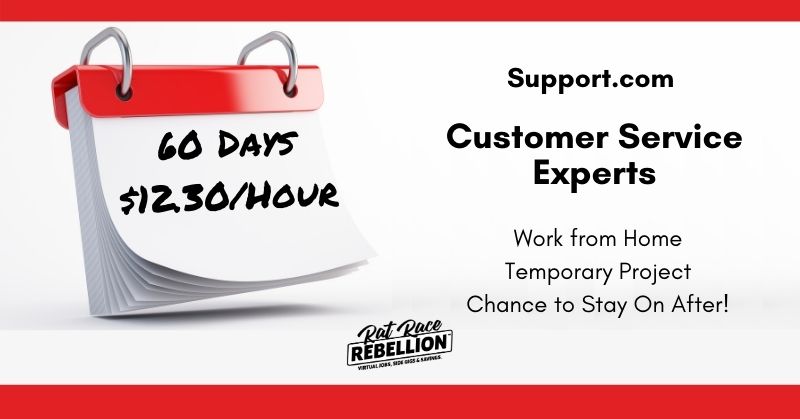 by Chris Durst       Nov. 2, 2020
Support.com is a legitimate company that's been around since 1997. They've been hiring work from home tech support employees for quite a few years.
The company has posted openings for Full-Time Customer Service Experts.
These are temporary positions that are expected to last for 60 days, and the pay is $12.30/per hour.
Here's what the company has posted about these opportunities:
"Support.com has a unique project opportunity that will allow temporary incoming employees to participate in a 60 days paid project, with a pre-determined end date. Once this project ends, successful participating employees will have an opportunity to return to a non-project, full time based employee role later in the year.
The Customer Service Expert provides inbound customer service support for some of the most admired brands in the world. The Expert will assist our client's customers by professionally handling customer services, billing questions and processing payments. This is an exciting work from home opportunity requiring you to work and engage with others in a virtual environment, while providing our client's customers with a high-quality customer service experience.
As a Customer Service Expert, you will be fully trained to perform the following duties.
As a member of this best-in-class homesourcing services team you will:
Ensure a superior customer experience, measured through quality monitoring and voice of the customer feedback.
Act as our client's brand ambassador, responding to inbound calls and greeting customers in a professional and empathetic way.
Resolve customer requests by determining scope of customer issues, investigating problems, developing, and communicating solutions.
Achieve all effectiveness and efficiency metrics with quality standards, call logging and efficiency metrics as determined by company and client.
Accurately and thoroughly documenting all customer interactions.
Process payments using various pay services
Educate customers on payment methods and pros/cons to each
Skills:
Excellent written and oral communication skills with primary language being English
Ability to learn new concepts quickly
Passion for delivering exceptional customer service on a consistent basis
Strong organizational and multitasking skills
Ability to problem-solve
Ability to follow written instructions
Ability to work in a fast-paced changing environment
Ability to work in a very structured environment with scheduled rest and meal periods
Type 30 to 40+ words per minute
An extreme attention to detail
Strong computational skills

Qualifications:
1 year of related experience in a customer service environment
Experience in the work from home environment is a plus
Experience in Healthcare is a plus
Must have the flexibility to work any schedule within a 24×7 environment
Must be at least 18 years
Must be able to utilize own computer or laptop
Working for Support.com:
$12.30 per hour*
Testing required
Extra Hours May be Available
100% Work from Home
Paid Training
*Project pay based on temporary 60-day end date"
CLICK HERE for full details and to apply. For other jobs like these, check our Newest Jobs & Gigs page. To be the first to hear about jobs like these, like our Facebook page and check your feed for our posts. May you be working from home soon!