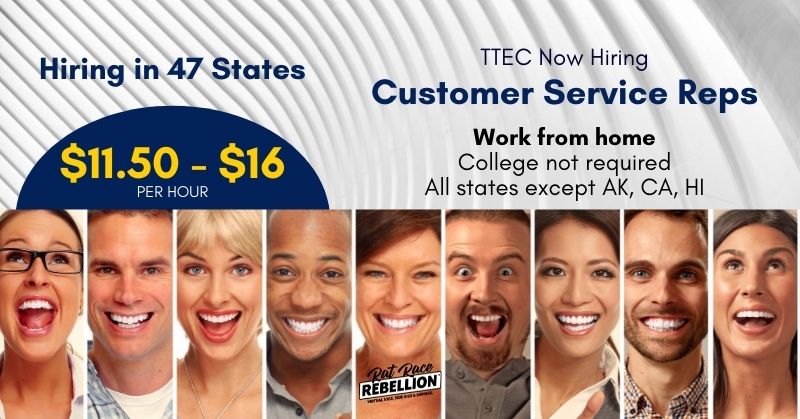 by Chris Durst        Nov. 15, 2021
TTEC has openings for work from home Customer Service Representatives in all states EXCEPT AK, CA and HI.
Both full-time and part-time positions are available.
No college required. The main requirements are a HS diploma or equivalent and at least six months of customer experience.
Pay is listed as $11.50 to $16.00, "Depending on the program, role and local minimum wage guidelines…"
Here's what the company has posted about these positions:
"We're hiring and are looking to connect with you to help us deliver exceptional customer service experiences as a Work from Home Customer Service Representative. Full time and Part time opportunities available. Part time hours vary depending on business needs and require weekend availability.
About TTEC
We help global brands provide a great experience to their customers, build customer loyalty, and grow their business. We were founded on one guiding principle: customer experiences that are simple, inspired, and more human deliver lasting value for everyone. Your role brings that principle to life.
TTEC at home
Now is the time to do this all from your contemporary home office through our TTEC at home program. We don't miss a beat for our clients and their customers. And we don't miss a beat for you. As a TTEC at home team member, you'll enjoy the same benefits, training and customized support to be successful in your position as associates at our physical locations. We stay connected through video meetings, regular coaching sessions, collaborative forums, and yes even fun engagement activities so you can connect with colleagues from across the country both professionally and personally. And last but not least, a work at home associate job can level up into a full career through our gamified training and career development.
What You Can Expect:
Knowledgeable, encouraging, supporting and present leadership
Diverse and community minded organization
Career-growth and lots of learning opportunities for aspiring minds
TTEC at home offers full-time, part-time, and seasonal roles. Depending on the program, role and local minimum wage guidelines, base hourly wages range from $11.50 to $16.00.
And yes…all the competitive performance bonus opportunities, health and wellbeing, financial and income protection, and paid leave benefits you'd expect and maybe a few that would pleasantly surprise you. For full details on our benefits, visit https://mybenefits.ttec.com/us/candidates/.
Why You? What You Bring
Connections are everything here at TTEC. That means we connect with our customers, our teammates and most importantly with you. And the ability to connect yourself is what you bring to the table… along with the following::
High school graduate or equivalent
Exceptional communication skills
Ability to thrive in a dynamic environment
Six months or more of customer service experience
A quiet, private place in your home where you can work without background noise (trust us, you'll appreciate the quiet)
The Equipment You'll Need
Your own computer with these technical requirements (sorry no Apple, Chrome OS or tablets)
Internet speed > 15 Mbps. A hardwired direct connection to your home router is recommended. Wi-Fi connections are permitted on some assignments
While we recommend a USB wired headset, if you have a headset already, you may be able to use that (except for Bluetooth headsets)
Smart phone or another device that runs IOS or Android (iPad etc.) for your daily log-in
If you're a military veteran, active duty guard or reserves, or a military spouse
We value your experience and believe you're prepared and battlefield-ready in the civilian world to take on TTEC's most innovative and challenging projects. Your hands-on experience with globalization means you're prepared to interact with our clients and employees around the world. Overcoming adversity and adapting to change has prepared you to execute in our dynamic environment. We are looking for team members where leadership is baked in from Day One. Where innovation and disruption are part of your DNA. We know that no job is as important as serving one's country, but we hope you'll find delivering amazing customer experiences to be another purpose worth serving!"
CLICK HERE for full details and to apply. For more jobs like these, be sure to check our Newest Jobs & Gigs page. To get our new job postings ASAP, like our Facebook page and check your feed for our posts. May you be working from home soon!
PLEASE SHARE this post – turn your friends into Rat Race Rebels!
[social_warfare]