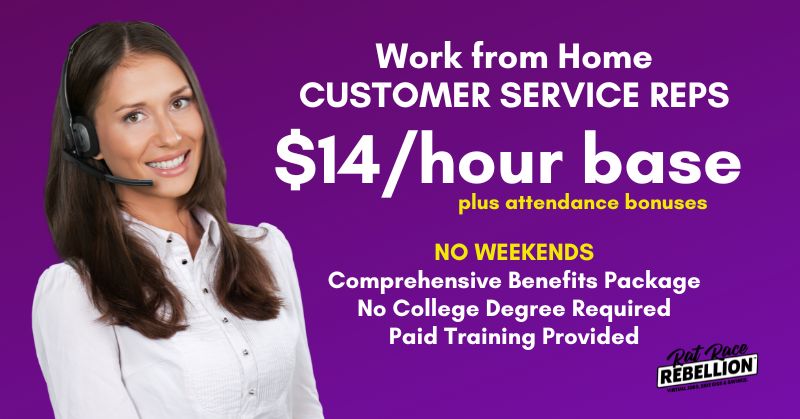 by Chris Durst       Sept. 8, 2023
As we write, this job listing is online and applications appear to be open. But jobs can fill at any time, so apply or share quickly if you're interested! Sorry, but we have no role in the HR processes of other companies. If you encounter difficulties in the application process please contact them directly. Good luck in your hunt, and may you be working from home soon!
Firstsource Healthcare, a healthcare BPO company, has posted openings for work from home Customer Service Representatives.
The pay isn't high — the base is $14/hr. — but the job does offer attendance and performance bonuses.
The benefits package includes health, dental, vision, life, 401k, paid time off, and paid holidays.
No geographical hiring restrictions are noted in the listing.
Current and previous employees rate Firstsource 3.4 out of 5 stars on Indeed and 3 out of 5 stars on Glassdoor.
Here's what the company has posted about the job:
Firstsource Healthcare has immediate full time Work from Home positions available as Customer Service Agents.
The responsibilities for this position include but are not limited to the following duties:
Handling a high volume of inbound calls for Healthcare Member and Provider inquiries
Be able to answer Healthcare Member and Provider inquiries and type information into the computer system simultaneously
Web camera visibility
Our agents start at $14 an hour base pay + attendance & performance bonus incentives.
Opportunity to select a competitive benefits package (health, dental, vision, life, 401k)
Paid Time Off
Training; 8:30AM-5:00PM EST Monday-Friday EST
Production Hours; 8 hour per day schedule between the hours of 8am to 8pm EST Monday-Friday.
Must have Internet to include a router with Ethernet jack for connectivity to PC
50 Down/20-25 Up
Must have a private workstation to perform your work
Call center experience, minimum 6 months
Health insurance experience preferred
High School diploma or equivalent is required.
Minimum typing speed = 30-35 wpm preferred
Substantial understanding of the job
Apply knowledge and skills to complete a wide range of tasks.
Excellent written and verbal skills.
Problem-solving skills.
Basic knowledge of personal computers required
Strong reading comprehension and writing skills
Follow established procedures to meet customer needs.
We are an Equal Opportunity Employer. All qualified applicants are considered for employment without regard to race, color, age, religion, sex, sexual orientation, gender identity, national origin, disability, protected veteran status, or any other characteristic protected by federal, state or local law.
CLICK HERE for full details and to apply. For more jobs like this, check our Newest Jobs & Gigs page. To be the first to hear about jobs like these, like our Facebook page. Good luck as you make your work from home plans a reality!
PLEASE SHARE this post – turn your friends into Rat Race Rebels!