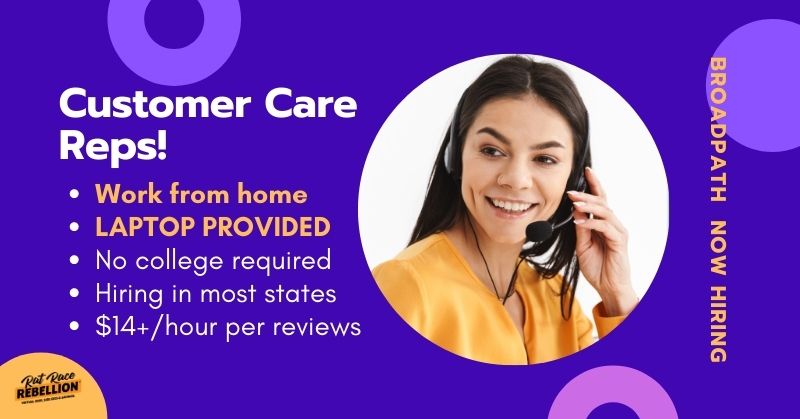 by Chris Durst       Jan. 26, 2021
BroadPath Healthcare Solutions is hiring Customer Care Representatives.
The company has not specified whether the positions are full- or part-time or whether there are any states excluded from their hiring areas. That said, we do know that CA and HI were excluded in the past.
Likewise, pay isn't quoted, but Indeed and Glassdoor reviews put the rate at about $14/hr.
The company provides you with a laptop to be used in performing in this role. Be sure to note that equipment includes a webcam, as the company monitors employees while they work. If you prefer not to be monitored, you'll probably want to skip this job and continue your search.
Here's what the company has posted about this opportunity:
"Customer Care Representatives process inbound calls/chats and interact with the processing agents on transaction status and compliance inquiries. They handle on average 50-100 calls a day and process transactions totaling tens of thousands of dollars every day. In addition to transaction processing, they answer a wide range of inquiries and solve a wide range of customer service issues and problems. Although most calls go smoothly, this job entails intensive customer service. There are occasional calls which involve consumers who are upset and/or angry. Because of this, strong customer service skills including diplomacy and the art of diffusing tense situations is required. Our Customer Care Representatives must always provide quality customer care, follow all departmental procedures, and meet or exceed departmental productivity standards. This job has a highly regimented schedule and requires a full day of assisting customers on the phone while sitting or standing at an ergonomic station in your work from home office space. Excellent attendance and strict adherence to daily schedules is required in order to be successful in the job
Responsibilities
Support our client's products by answering calls / chats from consumers and agents. Process transactions (domestic & international) by working with their CRM tool. Provide customers with our client's products and services while meeting or exceeding department productivity standards and quality customer care standards. Although assistance is available, you will be expected to be primarily self-reliant and utilize the extensive on-line knowledge base that is provided
Seek product up-training to maintain knowledge of products through daily job aid updates and established training opportunities.
Properly escalate telephone calls to escalated departments, process online call sheets and required documentation.
Collaborate with Escalations, Compliance, and Fraud Departments

Basic Qualifications
Minimum Qualifications to be successful in this position:
2 or more years of call center experience
Experience in a money or financial customer service capacity, i.e. credit advisor, cashier, etc.
Ability to model the values of Respect, Courage, Passion, Teamwork and Integrity
Core competencies of communication, leadership, ability to drive change, innovative outlook and problem analysis
Excellent attendance and strict adherence to daily schedules
Maintain daily productivity and time management requirements
Show excellent customer service skills, as indicated by Quality Assurance scores and other measures
Preferred Qualifications
Minimum Education of a High School diploma or GED"
CLICK HERE for full details and to apply. To see more jobs like these, check our Newest Jobs & Gigs page. To be the first to hear about jobs like these, like our Facebook page and check your feed for our posts. May you be working from home soon!
PLEASE SHARE this post – turn your friends into Rat Race Rebels!
[social_warfare]