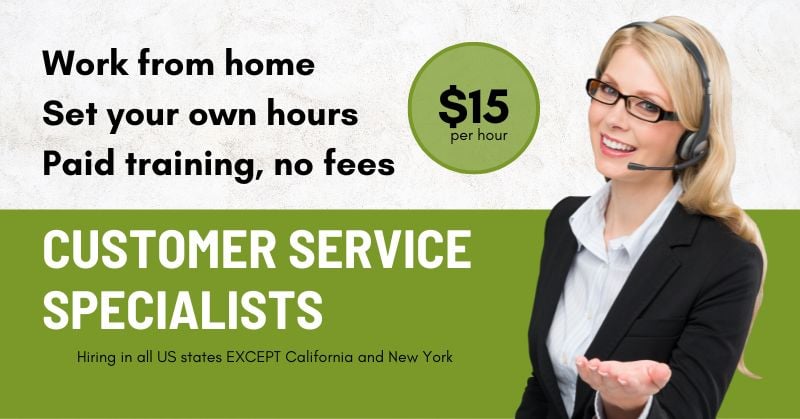 by Chris Durst      May 24, 2023
Direct Interactions has posted openings for part-time and full-time Work from Home Customer Service Specialists. Employee status, choose your own hours.
At least 20 hours per week are required (you select when you can work).
Hiring from all states except CA and NY.
In this role you would answer incoming calls and assist companies, processing unemployment insurance claims and doing related tasks.
The pay rate is $15/hr. There is a paid training program.
Overall, Direct Interactions receives good reviews from past and current employees and is rated 3.4 out of 5 stars on Glassdoor.
Here's what the company has posted about this opportunity:
At Direct Interactions, you will work with some of the kindest and most professional contact center agents in the country. You will help people in need and know that you made a positive difference in their lives. Even if you have not worked in contact centers for long or even not at all, we are interested in learning more about you! We pride ourselves on being all about the clients we serve as well as those we work with. Most people spend more time at work then they do with their own families, so why not join the DI family while still being able to have a work life balance!!!! We partner with various companies and states to provide their customers with white-glove service. We offer flexible scheduling that will still allow you to have a work life balance.
What's Next?
To be considered, you must first be invited to go through our job tryout phase assessments (this correspondence will come via email if selected). Please continue to monitor all inboxes in your email so that way you do not miss an email or any deadline to respond by.
Requirements
Must be a self-starter
Must demonstrate a passion for providing outstanding service
Must maintain composure across a variety of customer and peer interactions
Experience working in a team environment (IE cooperating with co-workers, joint problem solving etc.)
Routinely demonstrates listening skills and is attentive to the needs of those you will be assisting
Excellent verbal communication skills including correct grammar and pronunciation along with tone and pitch
Ability to remain calm under pressure in a fast-paced contact center environment
Ability to remain calm while taking back-to-back calls
Ability to show empathy for those that may be frustrated or anxious
Ability to pay attention to detail and multitask while navigating through multiple programs and information
Ability to use a computer quickly and accurately
Must possess the ability to remain poised in high stress situations
Must be willing to conquer goals and challenges
Must type at least 30 WPM
Ability to be flexible and handle changes efficiently
Must be proficient in Excel, Word and Outlook Office products
Additional Requirements
Must pass a criminal background check paid for by us (Direct Interactions)
Legally able to work in the United States
Must be a current resident living in the United States
Must have at least a high school diploma or equivalent
MUST NOT RESIDE IN CALIFORNIA OR NEW YORK; We do not hire in those states at this time
Job Details (what you will be doing)
Process unemployment insurance claims
Answer incoming calls via computer software and assist customers
Research information in databases to resolve customer issues
Maintain composure in escalated situations
Operate accurately and efficiently in a fast-paced environment
Handle multiple responsibilities at one time
Training
Training is done virtually and will consist of virtual instructor led and self-paced learning
You must first attend a mandatory orientation session
Orientation, training & nesting spans across 9 days and is all paid
100% attendance is required in all phases of the on-boarding process (orientation, training & nesting are mandatory)
Orientation: Typically on a Friday (1 hour session)
Training week 1: Monday- Friday (6 hours a day) actual dates and times TBD
Training week 2: Monday-Wednesday (8 hours a day) actual dates and times TBD
(More information about the times of the 2nd week of training will be discussed in class)
*we are letting you know beforehand what a training schedule may look like
Shifts
Agents must be available to work at least 20 hours per week within the hours of operation noted below
Hours of operation for the client
Monday- Friday 8:00 am to 5:00 pm EST
At least 20 hours per week are required (you select when you can work)
**8 HOURS WORKED ARE REQUIRED EVERY MONDAY NO EXCEPTIONS**
if a holiday falls on a Monday, the 8 hours become mandatory on the following Tuesday
Pay Rate
$15.00 per hour
This is a W2 (employee) position
We are paid biweekly via direct deposit
All mandatory events are paid (orientation, training & nesting)
Employee Benefits
Accrued paid time Off (PTO)
Sick time
Technical Requirements
Desktop or laptop; Apple/Mac, Tablets or Smart devices, Windows Mini PCs, Chromebook, and Android systems are NOT compatible
Operating system – Windows 10 or higher
Your computer must have at least 8GB of RAM installed and a Processor speed of 2.00GHz or higher
US based Internet service provider (ISP)
High-speed Internet via hard wired ethernet connection, no Wi-Fi, satellite or cellular hotspot or cellular internet
USB headset with noise-canceling microphone; 3.5 mm headsets are NOT approved and will not work with our software
A smart phone that is less than 3 years old that you are able to install our required software on for multifactor authentication (used for our programs authentication process and not for work)
A second monitor is not required, but strongly recommended
*If you are selected, your offer is contingent upon successfully completing and passing a background check and a technical assessment of your PC performed by our IT team.
Currently, Apple computers or tablets (Mac laptop, iPads or desktops), Windows Mini PCs/streaming laptops, Chromebook, and Android systems are NOT compatible with any of our client's software.
*There are NEVER any fees associated with applying or working for Direct Interactions.
WE ARE NOT HIRING IN CALIFORNIA OR NEW YORK AT THIS TIME

CLICK HERE for full details and to apply. For more jobs and ways to make extra cash, see our Daily Jobs & Gigs page. To be the first to hear about jobs like these, like our Facebook page and check your feed for our posts. May you be working from home soon!
PLEASE SHARE this post – turn your friends into Rat Race Rebels!
[social_warfare]