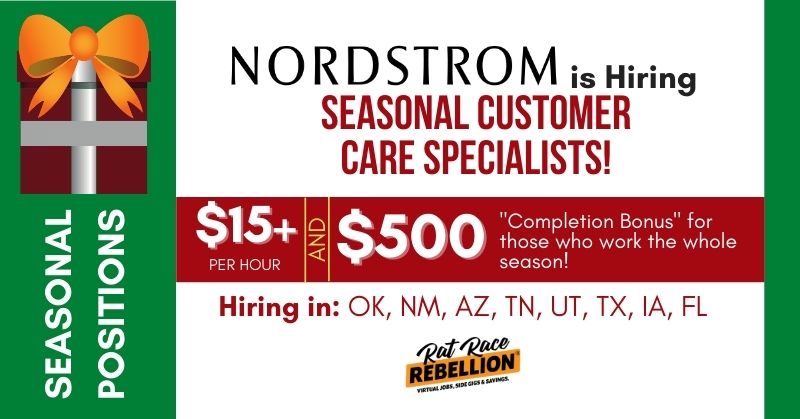 by Chris Durst     Oct. 21, 2020
Nordstrom is ramping up for the holiday season, and that means adding Seasonal Customer Service Specialists to the payroll!
The company is hiring in (pay rate in parentheses) :
Oklahoma – ($14.55-$15.35)
New Mexico – ($15.35)
Arizona – ($14.55-$15.35)
Tennessee – ($14.55-$15.35)
Utah – ($15.35)
Texas – ($14.55-$15.35)
Iowa – ($14.55-$15.35)
Florida – ($15.35)
If you don't live in a hiring state, be sure to share with friends and family who might benefit from this opportunity!
Training is paid and they are also paying a $500 COMPLETION BONUS to those who complete the seasonal assignment.

Here's what Nordstrom has posted about these positions:
"You will be the voice of Nordstrom, fielding real-time calls, e-mails and live chat from customers across the country. A successful candidate is caring and compassionate, enthusiastic, solutions-oriented, and committed to keeping customer satisfaction and outstanding Nordstrom customer service at the core of every action and decision.
Hours of Operation: 24/7
Shifts: 5 days a week, 8-hour shifts (one weekend day, per week required); schedules will be available at time of offer
Paid! Training: Monday – Friday for first 3 weeks in the role. Attendance at training is required and training times will align with shift schedules.
A day in the life…
Consistently deliver Nordstrom's legendary customer service by supporting our customers via phone, chat and/or email.
Our Customer Care Specialists are empowered to answer inquiries, resolve concerns and connect our customers with the products and services that create loyal Nordstrom customers.
Our inbound contact center is a fast-paced environment where Customer Care Specialists successfully troubleshoot and resolve a high-volume of contacts by navigating multiple systems. Our Work from Home Customer Care Specialists engage and collaborate with their team members virtually inclusive of team and recognition meetings.
Multi-tasking is key as this role requires the ability to assist customers while accurately entering customer information, notes, messages and orders via phone, live chat and/or email into our order management systems.
To deliver renowned customer service, you will be trained and empowered to provide great service. In this environment you'll need to achieve and maintain performance measures with an emphasis on customer satisfaction, quality, reliability, and attention to detail.
You own this if you have…
Passion for providing excellent customer service
A talent for critical thinking and problem solving
A quiet secure home workspace and the ability to be available to accept customer contacts for an 8-hour shift with scheduled meal and rest periods.
Great verbal and written communication along with active listening skills
A high level of self-motivation to multi-task and manage time effectively with minimal supervision
Demonstrated computer experience and technical troubleshooting acumen, as well as the ability to navigate through multiple systems at once with dual monitors
The ability to work a set schedule, with required overtime as business needs; flexibility required during peak hours
Strong professional and personal accountability – both are critical to your success in a virtual environment
The ability to work a set schedule, with required overtime as business needs; flexibility required during peak hours and severe weather
6+ months experience within an inbound call center required
6+ months experience within a retail environment preferred
Technical requirements…
19-inch or greater dual monitors with built in DVI connections
USB mouse and USB ergonomic keyboard
Headset/Mic combination – USB connected
Webcam – USB connected
High Speed Internet: Minimum upload speed 15 MB and Minimum download speed 2 MB/s
Candidates must provide and meet all technical requirements prior to start date – which is a week prior to training
We've got you covered…
Our employees are our most important asset and that's reflected in our benefits. Nordstrom is proud to offer a variety of benefits to support employees and their families, including:
Medical/Vision, Dental, Retirement and Paid Time Away
Life Insurance and Disability
Merchandise Discount and EAP Resources
A few more important points…
The job posting highlights the most critical responsibilities and requirements of the job. It's not all-inclusive. There may be additional duties, responsibilities and qualifications for this job.
Click the state you live in to apply for the correct location – Oklahoma – New Mexico – Arizona – Tennessee – Texas – Utah – Iowa – Florida.  For more jobs like these, check our Newest Jobs & Gigs page. To be the first to hear about jobs like these, like our Facebook page and check your feed for our posts. May you be working from home soon!
PLEASE SHARE this post – turn your friends into Rat Race Rebels!